Having a website is a necessary first step to promote your business online, but it's only the first step of many. Having a website and an address means nothing to the outside world if you haven't planned on how you're going to tell people about it. When you put your website online for the first time, it's essentially the world's smallest needle, hidden in the world's largest haystack. Your potential customers will never find their way without a plan to guide them there.
At Sanctuary, we offer a comprehensive menu of internet marketing solutions and tools that will help you start the traffic flowing and keep customers coming back for more. We never start a project without planning and with your goals and budget in mind. From this starting point we can help build the perfect marketing plan that fits your needs and your budget.
Our services can include any of the following: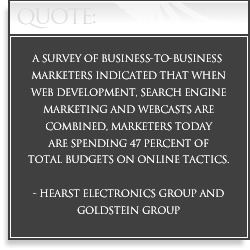 Please click on the service links below for detailed information or scroll down for a short summary of each service that we provide:
SEO (Search Engine Optimization):
One of the most popular online marketing practices includes getting properly listed in the organic (free) search results on Google, Yahoo and Bing. A broad term to describe everything that's involved with this discipline is called SEO or Search Engine Optimization. When we're hired to provide this service, our goal is to get you positioned in the top 1-30 search results for your business's most relevant keyword searches. Once you're positioned well, you'll increase your traffic and revenue. Our goal is to get you to the top by fully "optimizing" your website and content ongoing – among many other specialized techniques.
Click the following links to learn more about what SEO is and our SEO services.
Keyword and keyword discovery
For us, online and search engine marketing starts with research. At SMG we want to determine if it makes sense for your business to market online before we take your hard earned money. We believe in providing you keyword discovery research first. This essentially means that we report on all the keywords and key phrases related to your products and services that people have used in the last 60 days. Once we have this information in hand, we're able to determine the best course of action for your marketing plan based on fresh, real world results. By properly utilizing this research it helps us determine a very targeted plan to optimize your website and internet marketing plan from the ground up.
Pay-Per-Click Campaign Management:
Another way to get immediate results is to run a pay-per-click campaign on Google and Yahoo. Based on the amount you want to pay per click, your ad will show up on the right side of the search results when someone searches for your keyword/phrase. The price of a "click" depends on the category you want to be positioned within and can range from pennies to many dollars per click. If this is something that you don't have time for or feel that it's better handled by someone more experienced, we can help. Based off of our initial research we'll recommend keywords to target for your campaign, set up your account and spending limits, monitor and optimize the campaign and provide final reporting every month.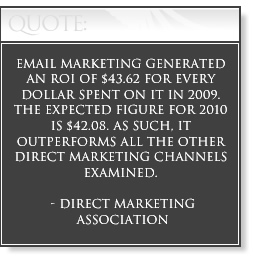 Email Marketing
We believe that once you get someone to visit your website you shouldn't miss a chance to retain some contact information so you can stay in touch and "top-of-mind" over time. Staying "top-of-mind" when your potential client is ready to purchase is a key ingredient to effective marketing. Our e-marketing software/service that we call "Subscriber Manager" allows you to easily integrate and manage e-newsletter subscriptions on your website as well as design, manage and schedule email "sends" to your subscriber base. Visitors can easily subscribe and unsubscribe without your involvement via your website so the management of your email list is simple and automated.