Company Description
Aurora, Ohio based company Freedom Health LLC is dedicated to finding, perfecting, and delivering superior, innovative products that address real and significant health-related issues for animals and the people who care for them. Focused specifically on digestive health in horses, Freedom Health is heavily involved in research, education, and awareness-building in addition to manufacturing several products.
Freedom Health is the maker of SUCCEED Digestive Conditioning Program and the SUCCEED Veterinary Formula, digestive support supplements for horses, and the SUCCEED Equine Fecal Blood Test, a diagnostic tool for equine veterinarians. Freedom Health currently sells its products throughout the U.S., Canada, U.K., Ireland, Australia, and New Zealand.
The Challenge
After connecting for the first time at an Equestrian New Media Meet-Up event in February 2010, Freedom Health reached out to us for a number of reasons:
They realized they were up against consumers' outdated beliefs and mis-understanding regarding key components of horse health and care. They needed to engage with horse people and share their perspectives on horse health and nutrition before their products could be discussed – and recognized that much of this conversation was starting to happen online.
Their approach to online strategy had been to educate, and was primarily one-way and academic. They recognized that internet usage and consumers were evolving, and their strategy needed to evolve to match. This meant moving away from a heavy emphasis on print advertising and PR and towards a more conversational, two-way communication online.
They were in the midst of market research and redrafting Freedom Health's core marketing strategies, making it the perfect time to address their web marketing effort.
They were attracted to our personal experience in the equestrian industry in addition to our online marketing expertise.
The Freedom Health website was highly technical, not optimized, and didn't lead consumers toward a specific action. But the real challenges were developing high-quality targeted content that showcased Freedom Health's unique message and innovative products, navigating a strict regulatory landscape that restricts information sharing, re-educating an audience notoriously set in its ways, and expanding their customer base to include diverse equestrian disciplines and, later, veterinarians.
The Solution
We took the in-depth research and strategy work that Freedom Health had already done and applied it across their online media, synching up with offline tactics as well. This initially included launching a completely overhauled website at succeed-equine.com in September 2010 with a fresh design, a blog, a store locator, lead generation forms, and all-new search and conversion optimized content developed around the new positioning. And that was just the beginning.
In the four years since the new site launched, we have continued to guide and implement Freedom Health's complete online marketing strategy, adjusting regularly to complement and support changing business needs and goals. Just a few highlights include:
Managing the SUCCEED blog and planning, researching, interviewing, and writing 4-5 blog posts every month.
Developing and maintaining social media accounts including running several contests.
Planning and creating email newsletters, promotions, and announcements.
Developing an educational awareness campaign with a separate website, social media accounts, and an annual awareness month.
Running surveys and performing ongoing research to better understand the audience and adjusting to meet their needs.
Creating several e-books from blog content and developing processes on the website for building Freedom Health's email list.
Analyzing site performance and visitor behavior and constantly improving the website and strategy to increase conversions and improve results.
Freedom Health is a great example of a company that truly knows and understands its audience, its products, and its business needs – and has worked with us to integrate that into everything that they do online.
The Results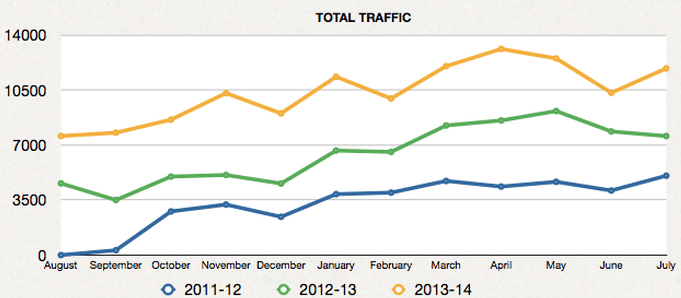 With the former website and online marketing strategy, Freedom Health received less than 1,000 visitors to their website each month – and didn't know if any of them were actually becoming customers.
Four years later, the main website is getting, on average, 12,000 visitors to the website every month – and that is constantly growing. As of Fall 2014, they receive a minimum of 20 email leads, 50 email subscribers, and 15 veterinarian registrations every month – not to mention the several hundred people who go to the website and use the store locator to find out where to buy Freedom Health products.
And with the heavy emphasis on high-quality, optimized content, 78% of the visitors who come to the website do so through search engines, mostly from non-branded search terms relevant to specific needs and questions, and convert at a rate of 2.44%.
"We decided to work with Sanctuary in 2010 because they seemed smart, made the effort to understand our business quickly and approached our business as part of our team to help achieve our goals. We continue to work with Sanctuary because they not only live up to those early impressions, but they continue to bring new ideas and approaches to the table, and they work with us to continually evolve and improve our online marketing efforts as our business evolves and as the online world around us evolves. The icing on the cake is the people – all top notch talents with great personalities and a 'let's get it done' attitude. I can't imagine working with anyone else."
Patrick Warczak, Jr.
VP of Marketing, Freedom Health, LLC