URL: www.whitmerslighting.com
Client Bio: Since 1988 Whitmer's Lighting has been providing the highest quality residential and commercial lights,  lighting services and home décor available in Northeast Ohio. Service, product quality, and customer contact always come first at Whitmer's when you arrive at their 12,000 square foot lighting showroom. Whitmer's is Ohio's Lighting Store.
Why we were hired:
We have worked with Whitmer's for many years and then we were given the opportunity to help them with their internet marketing strategy. Traffic to the website was minimal at best and the traffic that they were getting was a result of people searching for their name or simply coming to the site directly from other advertising. There was virtually no organic traffic from the search engines outside of customers searching for their name.
Goals: Whitmer's was not showing up in the search engines for anything outside of their name. Therefore they were not getting new customers. To solve this problem we needed to increase organic search traffic from the search engines for searches outside of their name. Ideally traffic would come from terms that are general in nature (Lighting Store, Lighting Showroom, etc.) relevant to Northeast Ohio Cities and do not contain the name Whitmer's Lighting.
Strategy:
Ultimately we realized that to grow the website traffic we would have to get Whitmer's to show up for searches that did not contain their company name. Ultimately we needed them to show up for general searches related to lighting and lighting services in the Northeast Ohio area. This would result in customers learning about the store, seeing the coupons on the website and ideally coming there to shop and ultimately discover their services.
Time Frame: Ongoing

4/2009 – Current
Results:
The results below show the traffic and traffic sources for whitmerslighting.com when we started the campaign and what it is now. (Prevous 559, Current 1375) Average monthly traffic to the site has more than doubled which has been a great investment and the traffic is consistent from month to month. More and more customers are now bringing in coupons from the website which the client feels is invaluable.
2009 Visits: 559/visits per month
2011 Visits: 1375/visits per month (+145.97%)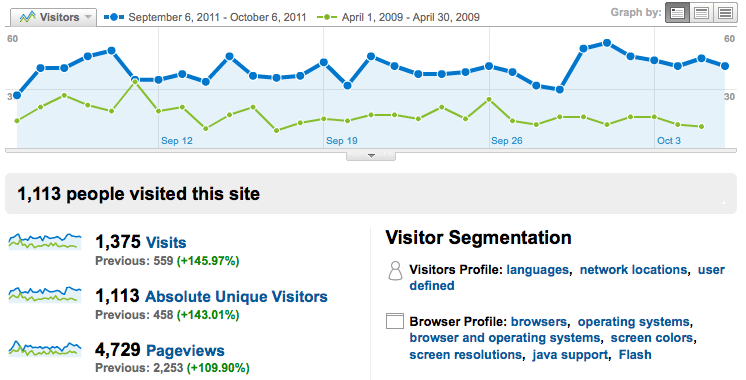 Sample Rankings: As of August 2011

Term: Ohio Lighting Store
Beginning Rank: None
Current Rank: #1
Term: Northeast Ohio Lighting Store
Beginning Rank: None
Current Rank: #1
Term: Lighting Showroom Ohio
Beginning Rank: None
Current Rank: #1
Term: Cleveland Ohio Lighting Store
Beginning Rank: None
Current Rank: #4
Term: Akron Ohio Lighting Store
Beginning Rank: None
Current Rank: #1