URL: www.bmsa.com

Client Bio: Since 1922, Black McCuskey has served their clients, the community and the legal profession as one of the leading law firms in the State of Ohio. They are solution-driven and focused on client satisfaction and the community they serve. From a major corporation with complex issues to an individual preparing a will, the attorneys at Black McCuskey develop successful strategies for each client by thoroughly understanding their concerns and objectives.
Why we were hired:
We were contacted by BMSA and engaged to optimize their website for the search engines. The firm that developed the website was not an online marketing firm and specifically focused on the design of the website and integrating it into a CMS system. There were no discussions or strategy to get people to the website once it was launched. So we were brought in to provide research, analysis and to ultimately make a nice looking website return results for BMSA.
Goals: To increase organic search traffic from the search engines. Ideally traffic would come from terms that are highly local and do not contain the name of the firm.
Strategy:
The strategy here is one that we employ with all of our clients that are concerned with ranking in the search engines. We performed extensive keyword research within all of their priority practice areas and then used the results of that information to optimize their content and CMS system. Within weeks the website started ranking for words and phrases that they were missing previously and ultimately driving new potential clients to the firm.
Time Frame:

One time optimization based on research. Ongoing campaign being considered.
Results:
The results below show the traffic and traffic increases after one year. As you can see, the traffic coming to the site from direct sources and referral sites continues to decline but they have experienced almost a 50% growth in search engine traffic from a simple investment into research and optimizing their website. In the future we're hoping that they will allow us to invest time into an ongoing campaign that will continue to increase traffic because we believe we have only scratched the surface with what we've accomplished.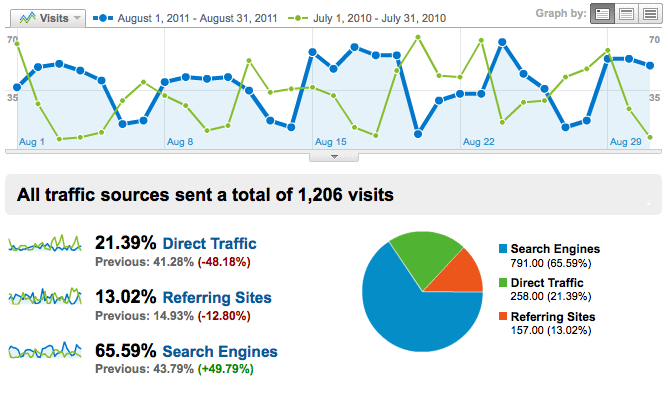 Sample Rankings: As of August 2011

Term: Law Firm/Law Firms Canton Ohio
Beginning Rank: None
Current Rank: #1
Term: Attorney/Attorneys Canton Ohio
Beginning Rank: None
Current Rank: #4/#2
Term: Lawyer/lawyers Canton Ohio
Beginning Rank: None
Current Rank: #6/#5
Term: Attorney/Attorneys canton ohio
Beginning Rank: None
Current Rank: #4/#2
Term: banking and finance law firm canton ohio
Beginning Rank: None
Current Rank: #1
Term: health care law firm canton ohio
Beginning Rank: None
Current Rank: #1