URL: www.rinoswoodworking.com

Client Bio: Rino's Woodworking Shop, Inc. pledges that no matter the size of your project, two cabinets or 50,000 linear feet of custom hardwood molding, you will receive the same superior level of pride, flexibility, craftsmanship and attention to detail. Rino's specialties include custom cabinets, custom molding, turnings, finishing, and installation. There are no limits; if you can dream it, Rino's Woodworking will build it.
Why we were hired:
We were hired by Rino's Woodworking to develop a new website and custom e-commerce system in 2007 so the company could reach a wider, national client base. Since Rino's is able to manufacture and deliver their products nationwide we have been working to expand and reach a wider audience since the beginning and ultimately grow sales through the website and by increased phone orders.
Goals:
To increase organic search traffic from the search engines and to increase conversions (sales, phone calls and email sign-ups on the website).
Strategy:
Increasing the search engine rankings and traffic related to every possible woodworking application that Rino's provides is a huge task. Therefore we've focused our efforts on several priority products that are highly profitable and easier to manufacture. By continually utilizing ongoing content marketing and optimizing the website for search we've focused our efforts on driving targeted traffic that is interested in buying.
Time Frame: Ongoing

2007 – Current
Results:
The results below show the traffic to the site that originated from organic search traffic. Over the course of the last two years, search engine traffic has increased by over 77% using a relatively small budget.
We should also point out that one of their primary target keywords (which is highly competitive) is the term "bar rail" which has enjoyed an increase of over 400% from when we started and now has a page 1 listing.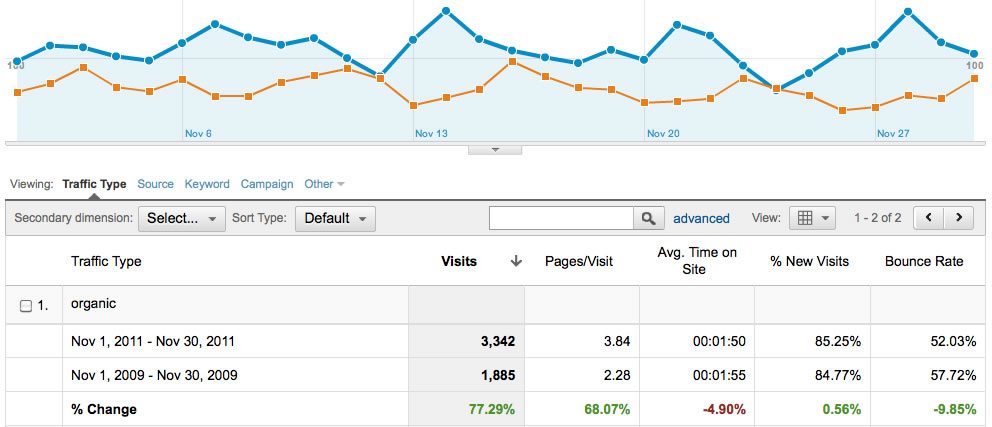 Sample Rankings: As of November 2011

Term: Buy Bar Rail
Current Rank: #1
Term: Buy Bar Rail Online
Current Rank: #1
Term: Wood Bar Rail
Current Rank: #1
Term: Custom Bar Rail
Current Rank: #1
Term: Bar Railing
Current Rank: #2
Term: BarRail
Current Rank: #1
Term: Bar Rail
Current Rank: Page 1, top 10
Term: Wood Molding (highly competitive)
Current Rank: Page 1, top 10
Term: Baseboard Molding (highly competitive)
Current Rank: Page 1, top 10