URL: www.sorbothane.com

Client Bio: Sorbothane® is recognized worldwide as the ultimate material for attenuating shock, isolating vibration and damping noise. No synthetic rubber or polymer can dissipate energy as effectively. Sorbothane® is a highly damped, visco-elastic polymeric solid that flows like a liquid under load. Since its introduction in 1982, Sorbothane® has been used in many energy absorbing product applications including Wilson Sporting Goods, the transportation of the Liberty Bell, The Air Force Memorial structure in Washington and on The Space Shuttle just to name a few.
Why we were hired:
We have developed several versions of the Sorbothane website but we were never granted permission to develop a strategy to grow the organic traffic through rankings in the search engines. We identified that there are many, many ways that potential clients could find Sorbothane.com when they are searching for general terms related to their business. Going forward they wanted us to start increasing the rankings and ultimately the traffic for terms related to their business and solutions.
Goals:
To increase organic search traffic from the search engines and to increase conversions (contacts and email sign-ups on the site).
Strategy:
Increasing the search engine rankings and traffic related to every possible application of Sorbothane is a huge task. We realized that to be successful we would have to continually create valuable content on the site related to what they can do for a customer.
That meant that we would have to continually work to understand terms like energy dissipation, static deflection and damping – among many other highly technical terms.
Ultimately we had to make sure that Sorbothane is showing up for searches when potential customers are searching for solutions to their problems.
Time Frame: Ongoing

6/2009 – Current
Results:
The results below show the traffic to the site that originated from a search engine query. Over the course of the last two years, search engine traffic has increased by over 191%, resulting in 5000 additional visitors to the site each month. We should point out that the bounce rate has also increased but this is expected due to the fact that our efforts focus on content. There will be a majority of visitors that just want information which they get from the page they landed on. At this point they will bookmark it, contact the client or leave.
Since an actual conversion is very profitable for Sorbothane, this level of bounces compared to the increase in traffic is very successful. On average there are now over 500 conversions a month to the Sorbothane contact page which shows that we are engaging customers so they look to contact Sorbothane for more information.
Traffic in 2009: 2554 visits/mo.
Traffic in 2011: 7438 visits/mo.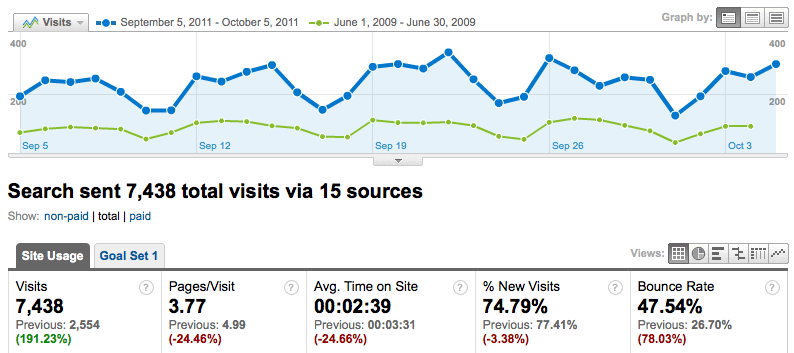 Looking at the data below, we're showing that overall visits to the site have increased as well as unique visitors and pageviews. This demonstrates that the site is engaging visitors overall.
2009 Pageviews: 18,542
2011 Pageviews: 35,847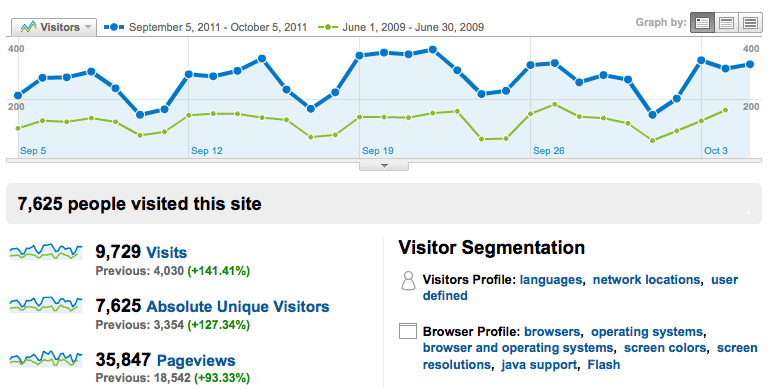 Sample Rankings: As of August 2011 (Update: Current Case Study Here)

Term: Best Shock Absorbing Material
Current Rank: #1
Term: Damping Material
Current Rank: #1
Term: Energy Absorbing Material
Current Rank: #1
Term: Machine Vibration Damping
Current Rank: #1
Term: Shock Absorbing Material
Current Rank: #1
Term: Vibration Damping Material
Current Rank: #1
Term: Vibration Isolation Material
Current Rank: #1