Below are just a few testimonials and kind words from our current and past clients. If you'd like a list of references all you have to do is ask. We look forward to adding your testimonial to this page in the near future.
A few kind words from our clients…
Wow!  The end product really hits the mark in meeting our stated objective to position CMA as one enterprise and a total solutions provider.  The website is professional, clean, and easy to navigate.  Internally, we have people really excited.  We appreciate all your hard work and patience in executing our vision!
I have been extremely impressed by the team at Sanctuary Marketing Group. Their team has been exceptional – not something I can say of many service providers in my 20+ years of business. Sanctuary thoroughly researched our company and our market, including thorough research of our competitors, our industry vertical, and our complex sales model. The Sanctuary team demonstrated an ability to understand our needs and goals which was much deeper than some of their competitors we were speaking with – which is the key reason we decided to hire Sanctuary. They employed a wholistic approach from the very start of our discussions.
Once we engaged them, they developed a website design which impressed me in the way it contains a great deal of information yet has a surprising simplicity and "cleanness" of design. Behind the look and feel of the website Sanctuary created, which is very impressive as noted, Sanctuary focused from the get-go of developing a plan for a comprehensive approach to our desire to strengthen our Internet marketing approach, which had been spotty at best. They developed a very comprehensive Internet marketing plan, from SEO to social media, and integrated all of those efforts with the new website.
All this said, I have been quite surprised at how affordable Sanctuary has made all these efforts. We are actually spending about half of what we spent every year on paid Google ads alone, with far better results. The value proposition Sanctuary offers is fantastic: we spend less and do much more.
Finally, I have found the individual team members at Sanctuary great to work with – they are a model of good client service: always available, always responsive. It's an approach we strive for every day in our own business, as we are a 100 percent client-focused service provider, and, as such, it's a pleasure to be served ourselves by a firm with the same client-sensitivity we pride ourselves on.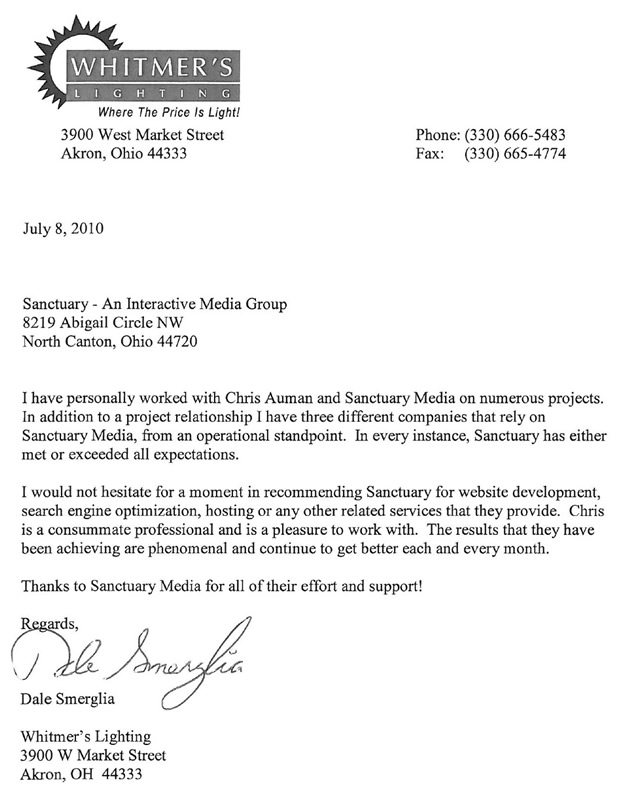 "We recently re-designed our website with Sanctuary and we couldn't be happier. They were very patient when it came to listening to our dreams. Chris is very talented and creative. I would recommend them to anyone who wants to have a spectacular website!"
"I would like to personally thank you for such a great web site launch and process. I am so happy with the final product! I have gotten so many great reviews internally and I'm excited to hear what our clients think as well. I appreciate your willingness and patience to work up to the last minute to get the site finished. It took a lot of hard work on your end to make it happen by our deadline and I thank you for that. Please pass along my email to everyone that worked on this project. Looking forward to working with you in 2012! Have a wonderful New Year!
"Sanctuary Marketing Group has been able to effectively produce customized website solutions as well as increase the traffic to our website through a focus on search engine optimization. Over the 5 years of being a client we have always be very pleased with their work and their personal and professional approach to their business."
"Sanctuary Marketing Group has been a great partner in developing an improved website presence for us including increased user functionality that our client base will certainly benefit from. In addition, their knowledge and advice on pay-per-click marketing will help with our efforts to grow our technology consulting practice. I would recommend them for anyone needing to create or improve their website marketing strategies".
"They're a first class group! I would recommend them enthusiastically to anyone looking for web design or online marketing help. Chris Auman is extremely easy to work with, very helpful along the way and he keeps you informed during each step. The only surprise you will experience is when you say "WOW" when you see the design he has created for you or your organization"
"Chris and Sanctuary is great to work with. They keep cool, work to find a solution, and they are always fair. Sanctuary has helped us develop some pretty impressive online training and certification programs."
Chris Auman and his team at Sanctuary Management have designed and maintained a beautiful website for me for over ten years. Their prompt response, their creativity and their professionalism are traits that I treasure. One of the smartest things I did in my writing career was asking Chris Auman to design my website. Numerous readers have written to compliment its clean, beautiful look. And any updates I've asked for have been done promptly and intelligently. I honestly couldn't ask for a better company to work with."
"They have helped us take our website from the stone age into the space age. We are now able to provide many more user-friendly features to our clients and other interested parties, with a look that rivals companies much larger than we are. In addition, WordPress has allowed us to update content on our end, saving us a great deal of time and money."
"My thanks to Chris Auman, President of Sanctuary Marketing Group, for putting up with a techo-idiot like myself. He has, however, empowered me with many tools that will now help me to keep my site current. My dislike for "most things technical" was one of the reasons my old site had gotten so…well….OLD!!! Mr. Auman, however, deserves much of the credit for the site's contemporary and user friendly design. He is as much an artist as anyone I have come across over the years."
"Chris and his company created an excellent website for us and delivered high-quality results on time. I would highly recommend him if you want a professional-looking website in a quick timeframe."
"They're the best! I cannot recommend them enough. They are professional and very quick with their work. Not only that they are very creative with their ideas and great at coming up with concepts for your project. They were more than willing to work with me to get exactly what I was looking for. And they were open to any changes that I wanted on my project and more than happy to change it until I got what I was looking for. All of my associates have been very impressed with my final product and I will be working with Sanctuary Marketing Group much more in the future. They are a great resource for many things. You will be just as happy as I was if you go with them!"
"Chris Auman is the designer I trust the most. I know when I send a project to Chris, he will think through my user interface, design and layout and recommend the best course of action. Chris always exceeds my expectations. He is one of the most knowledgeable programming, design and SEO specialist I have ever worked with. I highly recommend his work."
"Chris and his team are fantastic to be affiliated with. Very prompt replies to every email. Efficient and creative. I also appreciate the level of personal interaction."
"Sanctuary is where I turn to for a variety of online projects, including my own website. They are able to start from scratch or take my designs and bring them to life. They graciously accommodate my changes and patiently answer my many questions. I have always been pleased with the quality of the work, along with the can-do attitude in getting things done. I consider Chris Auman and Sanctuary Marketing Group a valuable resource."
"Sanctuary Marketing Group are dedicated professionals who have provided outstanding re-designs of my business (Royster Realty) website, and also the website for the Rotary Club of Hudson.They are readily accessible for support, and continually offer suggestions for enhancements. I will continue to recommend them."
"STOP RIGHT HERE! You have found your experts!!! I am an independent business owner with a long history of many Internet operations. Finding the right match for my needs has always been a challenging enterprise. Chris far exceeded my expectations in the quality of his work and in all communications. I reviewed his portfolio of work and knew from the outset that he was a very talented designer but he hit a grand slam with what he produced for me. I very rarely leave 5 stars for anyone, but for Chris…he gets 6! Thanks Chris!"
"I feel that I have been repeatedly assisted with respect and understanding even when I didn't know what I was talking about and needed lots of guidance. They continue to help me with any situation that may arise."
"They're extremely easy to work with! Professional service, quality design work and prompt turnaround."
"Sanctuary Marketing Group has helped us with our web design and programming needs for many years without disappointment. The quality of the work is always top notch and we're always very happy with the results. We'll be looking forward to working with them in the future and would highly recommend their services to anyone in need of website development, online marketing or programming services."
"I wouldn't hesitate for a nanosecond to recommend Sanctuary Marketing Group for any kind of online or design work. Not only is their work of the highest quality, but the President of the company (Chris Auman) is a creative problem solver and a person of great integrity and dependability."
"I was a bit apprehensive at first going with a service provider who I didn't know but I'm glad I did. Christopher went out of his way to make sure that my needs were met. His initial creatives were clever, on the mark and only required minimal changes. Turnaround was quick. SMG have earned their place on my list of preferred service providers. I expect a number of my prospective advertisers to point to my site and say "Bruce, I want my site done by the same guy who did those."
"Chris is the consummate professional. His work was creative, fresh, and completed on time."
A great service provider. Strongly recommended."
"Chris is an incredibly gifted developer and creative talent. He has the unique ability to fashion highly optimized, functional websites that are also visually appealing and intuitive to the user. The Sanctuary Marketing Group blog is a regular stop for me in my quest to keep informed and educated on what it takes to have a winning internet marketing strategy. Their capacity to distill down the myriad of challenges getting a site noticed on the web into bit size chucks of valuable information is remarkable. I would highly recommend Chris and Sanctuary Marketing Group for any web design or SEO projects."
"They are very responsive and do a great job for us!"
"They have been very enjoyable to work with. When I've had technical issues that needed to be addressed, they responded quickly and handled the problem in a very effective manner."
"Chris Auman is without a doubt a progressive, visionary artist without peer. I have used Chris for my last consecutive six projects because he consistently delivers fresh, innovative, and mind-blowing designs effortlessly. In fact, one of his designs won me a popular design award in Korea! I wouldn't trust my projects to anyone but Chris Auman and Sanctuary Marketing Group."