ForeverLawn, Inc. offers what are arguably the best application-specific artificial grass products on the market. But their key differentiator may be the professional service, installation and ongoing support provided by expert, local teams throughout the U.S. With this dealer network at the core of ForeverLawn's capacity for growth, it became essential to ensure these partner businesses were thriving with a steady stream of quality leads.
SERVICES: Local business listings, product websites, dealer websites and landing pages, social media advertising, social content, social monitoring and responding, Google search and retargeting advertising, email marketing, content creation, tradeshow support, email marketing, review generation and general SEO optimization across the network.
8+ years
of trusted partnership (and counting)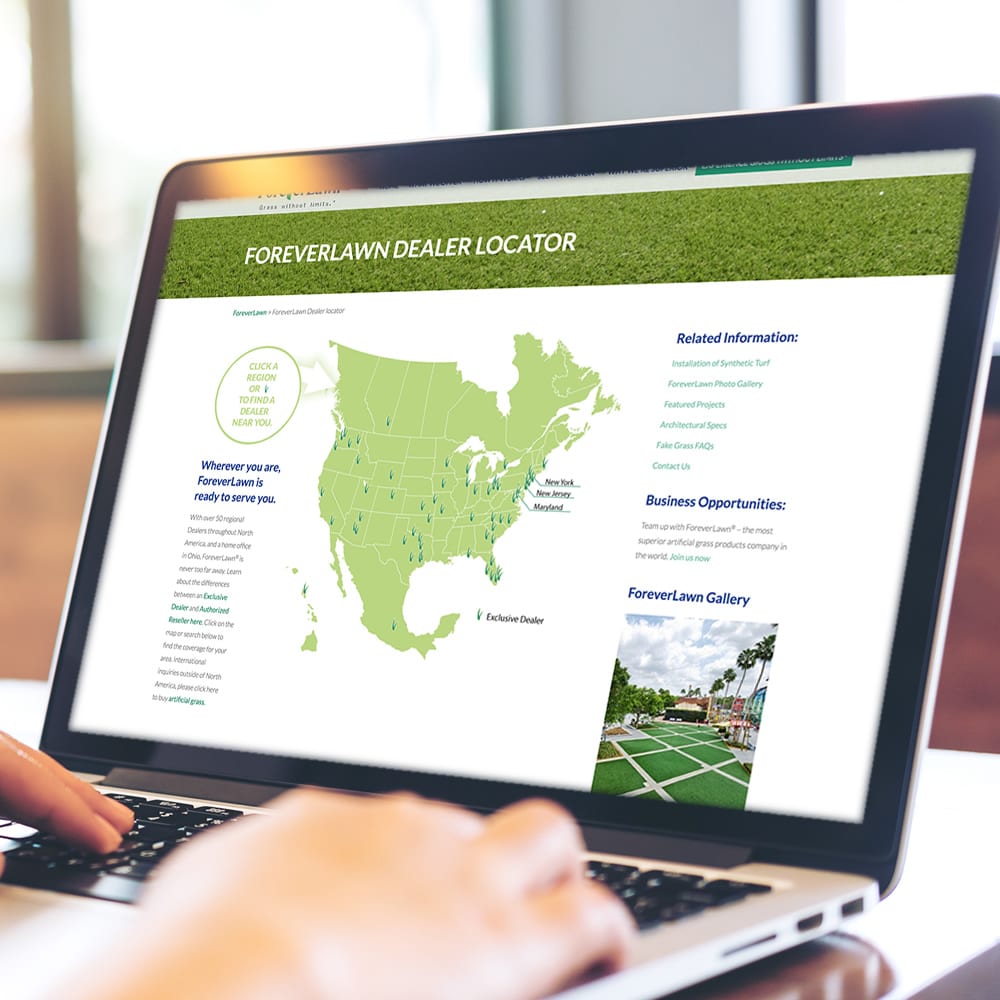 Optimizing for dealer network leads
ForeverLawn's innovative artificial turf brands include ForeverLawn Landscape, K9Grass, PlayGround Grass, GolfGreens, SportsGrass and SplashGrass. Each brand boasts a variety of products customized for specific applications. ForeverLawn sells these products through a dealer network, each business operating in an exclusive territory surrounding its location. The large, and growing, network of dealers covers the U.S. and Canada. With the dealer network at the core of the business model, ForeverLawn knew generating leads for their dealers was key to growing the business.
Our first step was to ensure a strong local presence for all of the dealer markets. This included claiming and optimizing local listings for every dealer, plus creating local landing pages within the ForeverLawn corporate site. The foreverlawn.com website and each of the individual brand websites boast an interactive "dealer locator" tool as their primary call-to-action, which filters potential customers directly to their local dealer to request information. Thus, all digital marketing efforts ultimately drive users towards leads for the dealers. Featured project content for each brand, Google search and retargeting ads, social media content and advertising, tradeshow support, and generating online reviews work together to draw potential customers from awareness, consideration and intent to purchase.
"Sanctuary is a great partner. We've been happy to work with them for over 5 years now and they continue to meet and exceed our high standards. The entire team does terrific work from website design to social media management. Glad to have them on the ForeverLawn team."
Brian Karmie
Owner, ForeverLawn, Inc.
Tactics that we employed:
Optimizing and distributing local business listings for all dealer locations
Developing corporate and product brand websites centered around "find a dealer"
Increasing local presence by claiming Google My Business for all dealer locations, MOZ Local distribution, and landing pages
Targeting intent to purchase with Google search and Google retargeting ads,
including testing messaging and creative to increase conversions
Community building through social content creation, monitoring and response
Raised brand awareness through social ads on a variety of platforms and promoted pins on Pinterest
Content creation of "featured projects" highlighting completed projects across the family of brands and optimized by location
Utilized Podium for generating reviews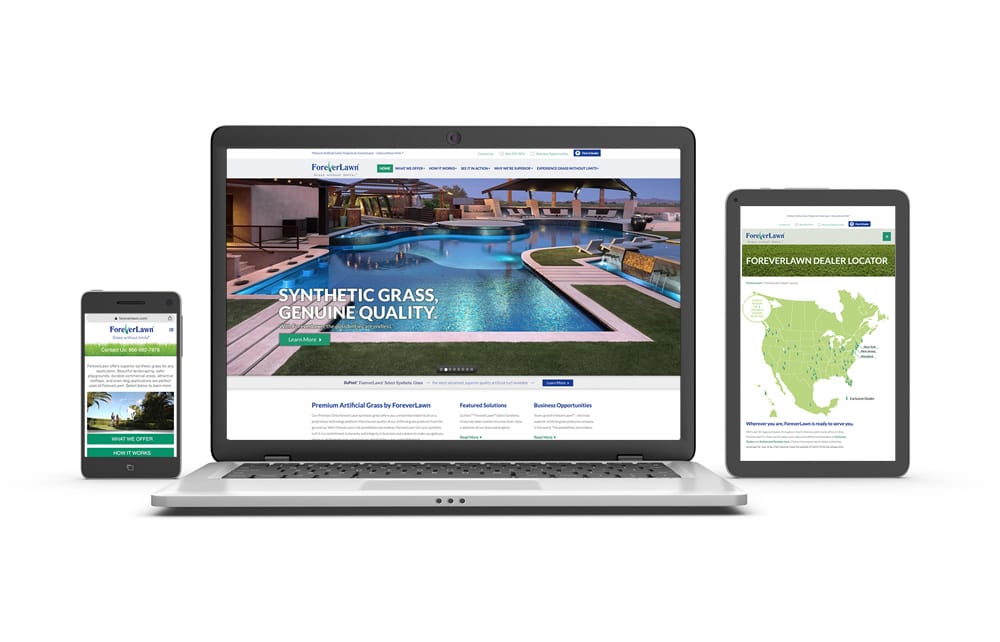 Impacts on dealer network leads: With this strategic approach and close partnership, we: Increased leads for the dealer network by 219%. And that's continuing to grow.
Increased leads for the dealer network by
%