ForeverLawn is the creator of premium synthetic turf solutions designed to look and feel like natural grass but deliver a more functional, high-performance surface. Professional service, installation and ongoing support provided by local teams throughout the U.S are what set ForeverLawn apart from the competition, and they continue to add on to their network of 60+ dealers.
SERVICES: Keyphrase research, location-based landing page creation, featured project creation, FAQ schema markup, backlinking, crosslinking, mobile optimization, speed enhancements, local SEO strategy, NAP creation, Local Listing Optimization and overall SEO efforts.
8+ years
of trusted partnership (and counting)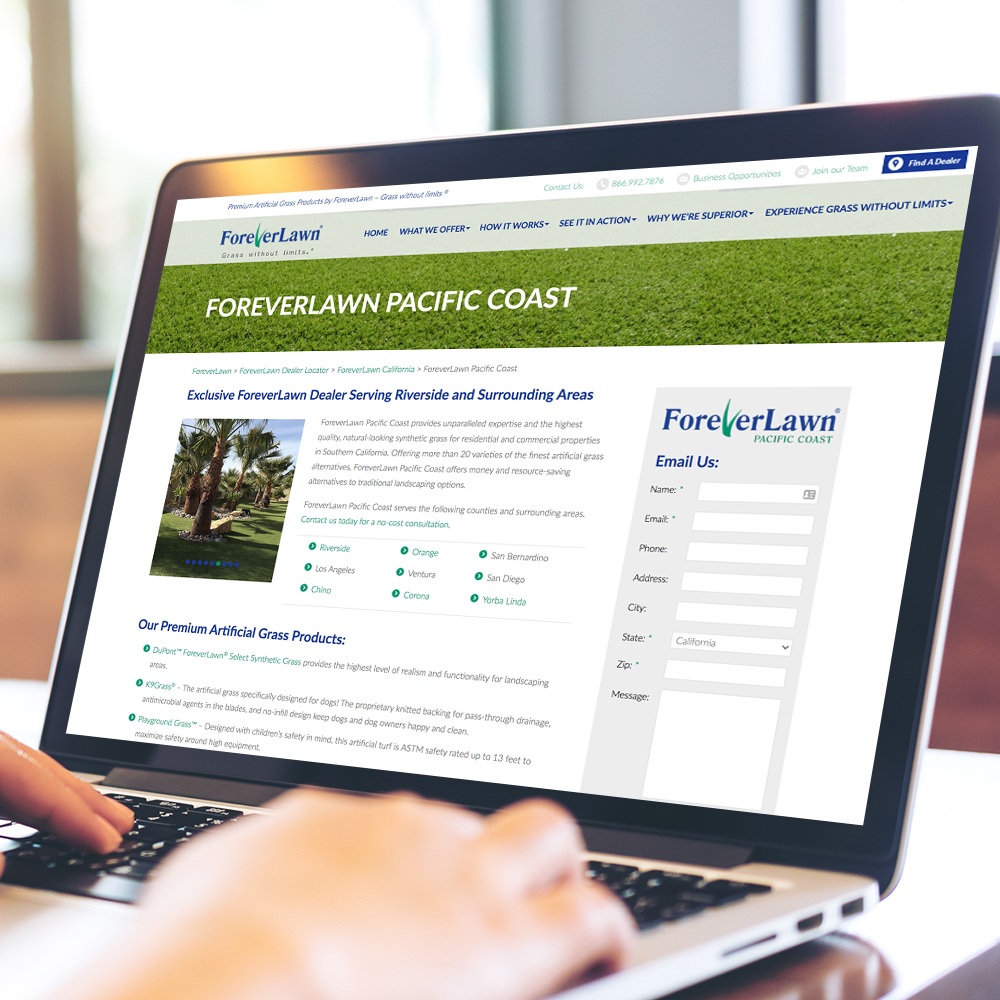 We focused on improving search results to target people searching for artificial grass—catered to the way they're searching.
After doing initial keyphrase research for ForeverLawn, a couple of things stood out to us:
1) People are searching for products or services they need in their specific area, meaning we needed to start targeting searches for artificial grass plus a specific location. The best way to target specific keywords is with landing page creation, so we started adding new pages to the website to represent each of their dealerships and their local territories that they serve.
2) People are searching for products that meet their specific need or application. ForeverLawn is the creator of a number of different brands of artificial turf that are each designed with a specific purpose in mind. By creating specific brand landing pages on ForeverLawn.com, plus separate websites for each brand, we are targeting search terms related to artificial grass and specific uses (i.e. artificial grass for dogs).
Sanctuary is a great partner. We've been happy to work with them for years now, and they continue to meet and exceed our high standards. The entire team does terrific work from website design to social media management. Glad to have them on the ForeverLawn team.

Brian Karmie
Co-Owner, ForeverLawn, Inc.
Tactics that we employed:
Landing page creation for ForeverLawn dealers - We developed a landing page "hub" for each of their 60+ national dealers to highlight their geographic territories and link to related featured projects. This hub page links out to individual landing pages created for each territory to improve local S.
Landing page creation for local SEO - The hub pages created for each ForeverLawn dealer link out to individual landing pages created for each territory that the dealer serves. These pages target local search terms surrounding a specific location + artificial turf.
Featured project creation - We created featured projects that target not only specific locations, but specific artificial turf products as well.
FAQ schema markup - We utilized FAQ Schema Markup to drive organic search for commonly asked questions relating to artificial grass. It also increases the chance of ForeverLawn content being pulled for a Featured Snippet in organic search results.
Crosslinking - We created new websites for each of their vertical brands and cross-link between websites. This compounds new organic traffic on those sites, but has also increased traffic to the existing ForeverLawn site.
Backlinking - We created news articles on ForeverLawn.com to feature and link to articles from other sources where ForeverLawn is mentioned.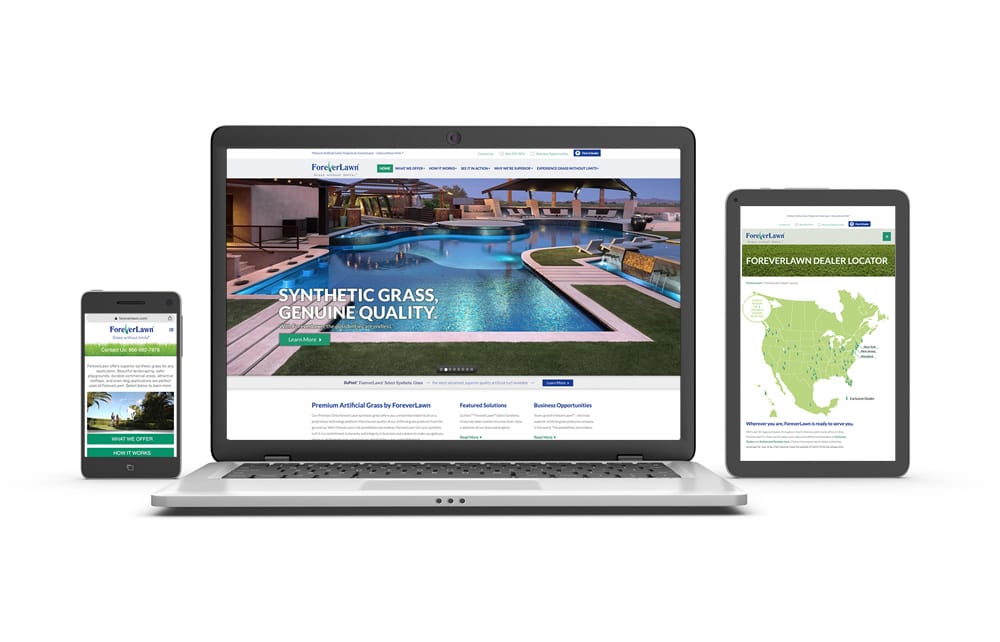 Impact on organic Search results: With this strategic approach to SEO, we: Increased number of organic search sessions by 74%.
Increased number of organic search sessions by
%