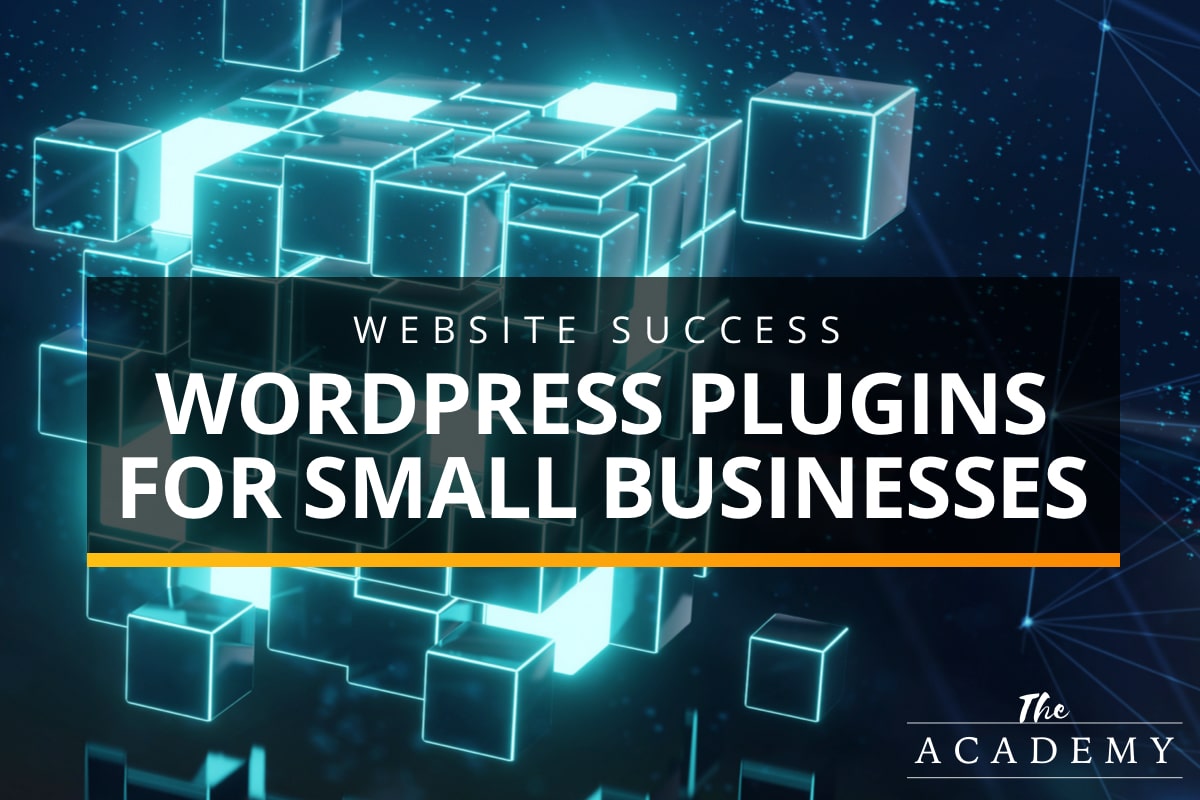 Plugins are a huge part of what makes WordPress such a wildly popular website platform. Rather than having to custom build any new feature you want for your site, you can simply install a plugin from the library of thousands that are available today. It's easy to find a quality plugin for just about any imaginable function, meaning you can build the site you need while saving tons of time and money along the way.
With that said, loading your website up with a long list of plugins isn't a great idea. Too many plugins will bog down your site and create page speed problems. So, you want to pick your plugins strategically and only add those that are truly going to add value to your site. Some will benefit your site in terms of what visitors see and do; Others will be on the back end, helping you to manage the site and optimize its performance.
The goal of this article is to help you pick out the right plugins for a small business website. You may not choose to use all of these, or you might opt to substitute some other options within these categories, but we hope this list points you in the right direction. Let's get started!
#1. Yoast SEO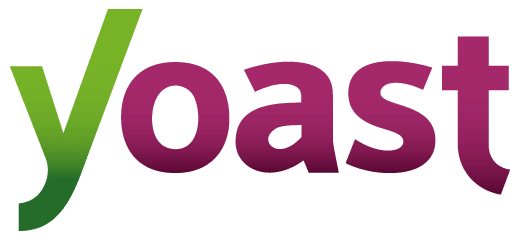 As you work on your small business website, you are going to want to keep SEO in mind. SEO, or search engine optimization, refers to the practice of optimizing your web pages with the goal of ranking as high as possible in search results for various terms that relate to your business. Of course, SEO is an endlessly complicated and confusing topic, and many site owners get frustrated with trying to follow best practices.
This is where a good SEO plugin like Yoast SEO comes into play. With a plugin running on your site that keeps an eye on its SEO value, you don't have to remember everything on your own; You can simply respond to what the plugin tells you and continue to optimize your site one page after the next. It asks you to input things like a meta title, meta description and a focus keyword for the page.
While it's true that there are many different plugins for this purpose available for WordPress sites, Yoast SEO is one of the long-time leaders in this space. Some of the many reasons to consider this plugin include the following:
Yoast SEO offers an excellent free version, so you may be able to get most of what you need out of this plugin without ever spending a penny
If you do need some of the premium features that are available, pricing is reasonable at the Premium level
Premium version includes an excellent internal linking tool to help you master this key SEO element
Integrate with popular platforms such as Semrush, Zapier and Elementor
#2. WP Forms for a Form Builder


Forms are a great way for people to interact with your site and contact your business. If you don't have some kind of form on your site, visitors will be left to use other means to communicate with you, like sending an email or making a phone call. Fortunately, it's easy to add a form when you use a good form plugin like WP Forms. This is a hugely popular piece of software that you can add to your WordPress installation and get up and running in short order.
There are two sides of the forms equation to consider when picking out a plugin. First, you need the form to work. From the user's perspective, it should be easy to fill out the fields and submit the form without any trouble. If there is unnecessary friction in the process, some percentage of your visitors will just give up and leave the site—meaning lost business! So, first and foremost, you'll want to pick out a plugin that can build a form that will work properly every single time.
In addition to function, your form should look good, as well. Many plugins have a default form that, while it works, doesn't look very nice. However, you can use features within the plugin to add styling to your forms and brand them in a way that blends in with the rest of your site. If you choose to use WP Forms, some of the benefits you'll enjoy include:
Very affordable pricing, especially if you are only using the plugin on a single site
No limit on the number of forms you can create or the number of submissions you can accept
Plenty of customizations available to help you create attractive forms that reflect your branding
#3. Smush for Image Compression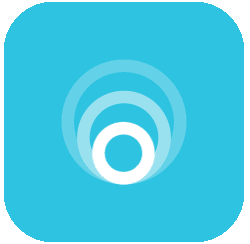 There are few things as important on the modern internet as site speed. Both users and search engines expect your site to be fast, and if it is not, you'll struggle to get as much traffic as you could secure otherwise. In addition to adding too many plugins to your WordPress installation, another way to slow your site down is by using large image files. Images are essential for an attractive site, of course, but they can be slow to load when not managed properly.
Enter an image compression tool like Smush. With this type of plugin in place on your site, you'll be able to automatically shrink down the size of your image files without doing any noticeable damage to the quality of those images. If you were to just take pictures (with your phone, for example) and load them directly to your site, you would be weighing down the site in a way that could make it much slower than the competition. Doing the same thing but then using Smush to shrink the files will leave you in a better position with faster load times and an improved user experience.
As with every entry on our list, there are plenty of plugins available to serve this function. So, why pick Smush? Here are a few reasons:
Option to try the plugin for free for seven days before making a purchase
Excellent page speed performance
Works in bulk to save time when optimizing images
Lazy loading can also help to improve page speed results
#4. WP Rocket for Caching

One of the beautiful things about WordPress is that site owners and managers don't have to be masters of technology to build and maintain excellent websites. Even if you have never touched a line of code (and have no intention of doing so), you can build a site that will help to serve your customers and grow your business.
With that said, it does help to understand the basics of how websites work. When a visitor requests one of your pages through their browser, your server is contacted and the files that create that page are retrieved. That process can lead to many back-and-forth communications with your database, which will take time and use up server resources.
The solution to this excessive communication is caching. With caching, a static version of each page is saved on the server, so the database doesn't have to get involved for every page load. Then, when you update a page, the cached version is automatically updated so your visitors get the latest version of what you have available.
Of course, you don't need to know how to do this manually, as you can employ a caching plugin to get it done. WP Rocket is perhaps the most popular option available for this task, although there are many that will do a good job.
Features of WP Rocket include:
While caching is at the core, this plugin does more than that and can help to optimize your overall site as a whole
Modest yearly investment considering the speed and performance it will provide for your site
Easy to install and get started, and support is available if you have trouble along the way
Compatible with all of the most popular tools and themes that are used by WordPress site owners
#5. UpdraftPlus for Backups

There is a ton of time and effort poured into creating a good website. When you are finally ready to display that site to the world and have it represent your brand, you will feel proud of what you have created and what it can mean for the future of your business. With that in mind, you want to take steps to protect your site to make sure it is not harmed by hackers or some form of technical malfunction.
Backing up your site regularly is the best way to buy insurance against the unexpected. While it is true that many website hosting options will automatically back up your files, that is not always the case. And, even if your host is taking periodic backups, you still might want to use a third-party backup plugin like UpdraftPlus just to make sure you'll be covered. Once it is set up, this kind of plugin will just operate automatically in the background, making a copy of your entire site on a set schedule. With those copies available, you can always restore your site to a previous version if something happens to the version that is up live on the web.
UpdraftPlus is an extremely popular pick for this duty thanks to the following benefits:
Outstanding free version means you might be able to get what you need without buying the premium version of this plugin
Used by some of the biggest sites on the web
Simplicity is a key feature, allowing you to focus on other parts of running your site while knowing it is backed up properly
Many scheduling options available to suit your needs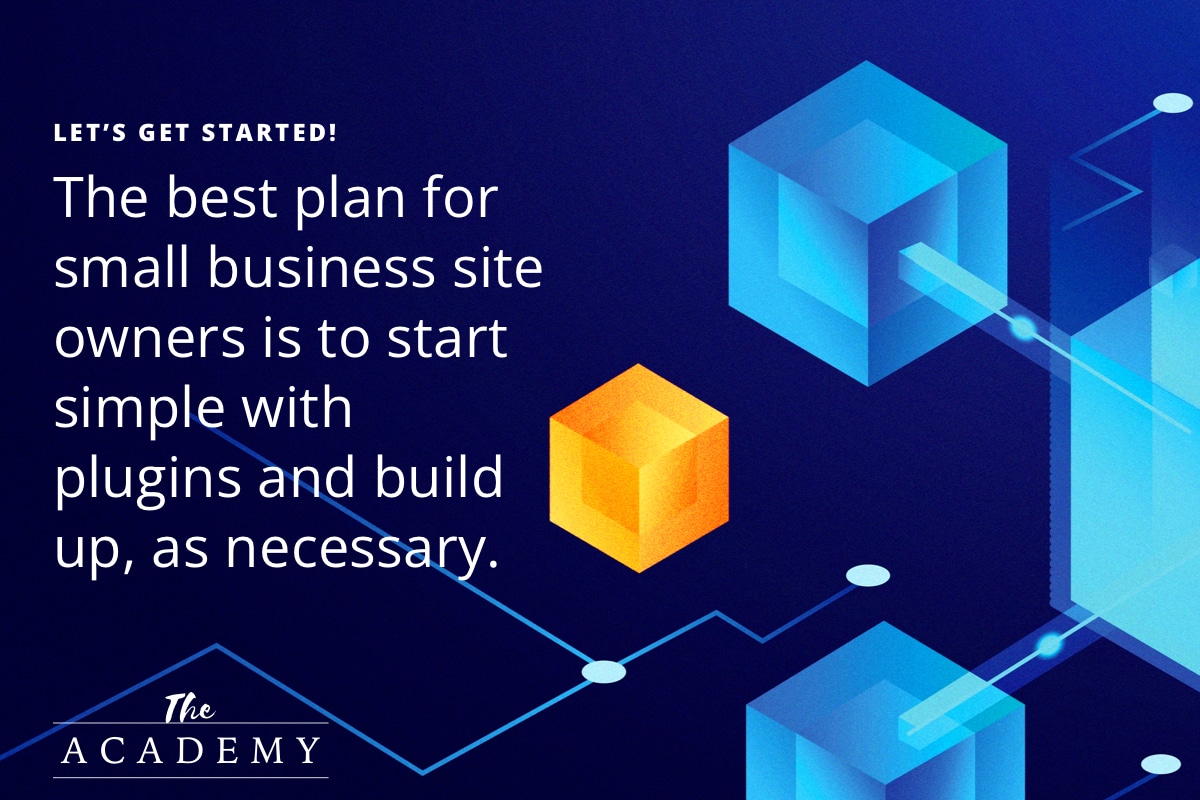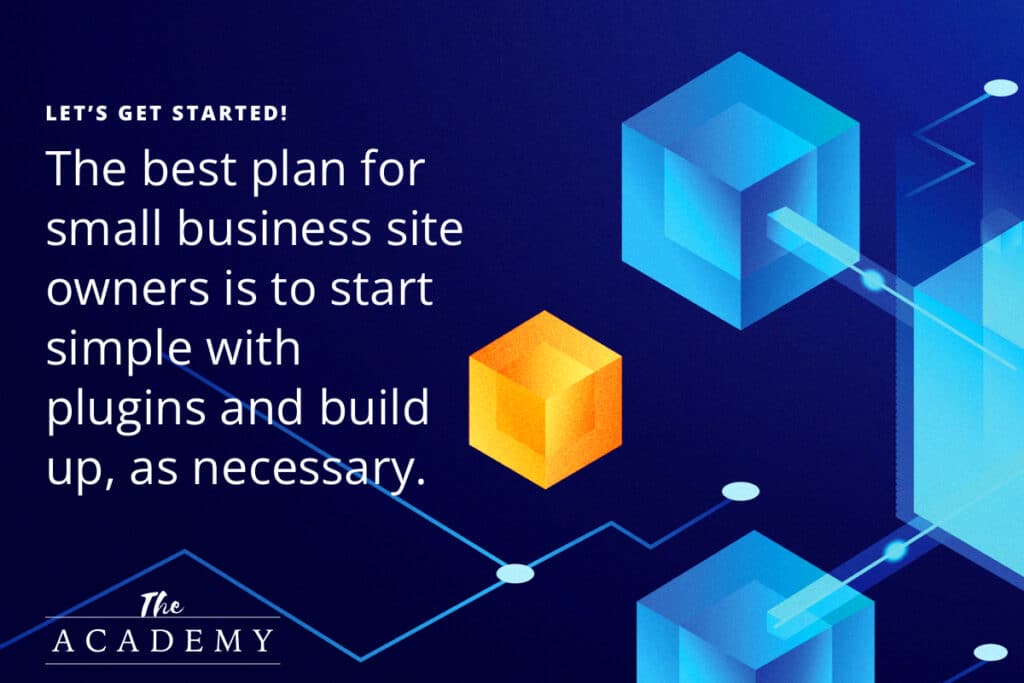 The best plan for small business site owners is to start simple with plugins and build up, as necessary. Add one at a time and test your site to make sure you haven't added anything that is going to slow things down or harm functionality in some way. If you do run into trouble with a particular plugin, just delete it and look for another option that will serve the same purpose. Also, be sure to read plenty of reviews on any plugins you are considering to see what previous users have to say and to discover any problems that seem to be common. Good luck and have fun building your site!