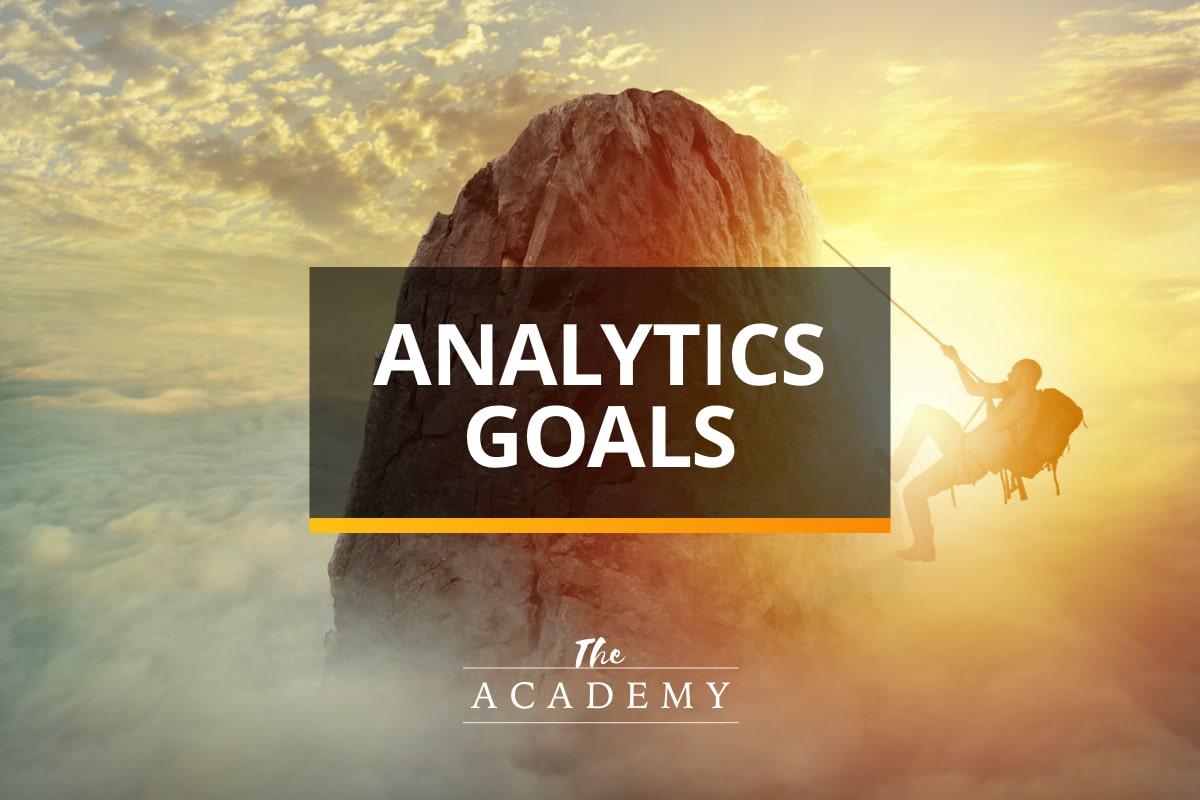 Google Analytics is considered a default tool for nearly every site on the web today. For most people, one of the first things they do when creating a new website is to install Google Analytics and make sure it is working properly. The tracking capabilities of this tool allow site owners to determine how their pages are performing so they can make improvements and better serve visitors.
One of the many things you can do within Google Analytics (GA, for short) is create goals. There are plenty of benefits to having established goals in place in your GA account, and they don't take long to create once you know how to do it and get the hang of the process. Keep reading for some guidelines on how to create new goals, why they are useful and more.
What Are GA Goals?
Once you have set up Google Analytics on your site (we'll talk more about that in a moment) you should think about putting goals in place to monitor actions that you hope your site's visitors will take.
Now that the conversion from Universal Analytics (or GA3) to GA4 is almost completed, virtually everyone is running the new version of Google Analytics. It's changed quite a bit for this newest version, including the use of "events" as the primary mode of tracking everything. So if you want to create and monitor goals in your GA dashboard, you will need to do so by setting up various conversions.
To track goals, what you'll need to do is mark the events that you want to track as conversions within your account. We'll talk below about what kinds of goals you might want to track and why. For now, it's enough to know that you can set up these conversions and then monitor them as they (hopefully) add up within your GA account.
Too many site owners think of Google Analytics simply as a way to keep track of how many people visit their site. That's just the default purpose of this tool in the minds of countless people who run or own sites. They want to know how many people are coming to the site, and this is the best way to get that done. While it's true that Google Analytics is a reliable tool for counting site and page visits, you are missing out on much of its potential power if you don't use conversions.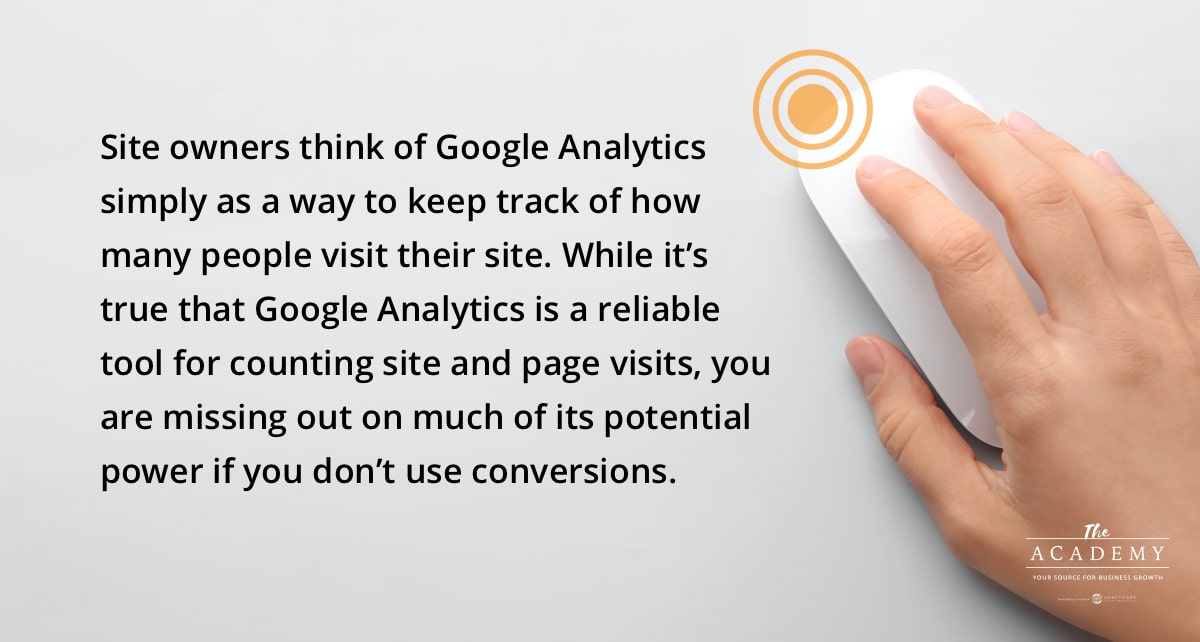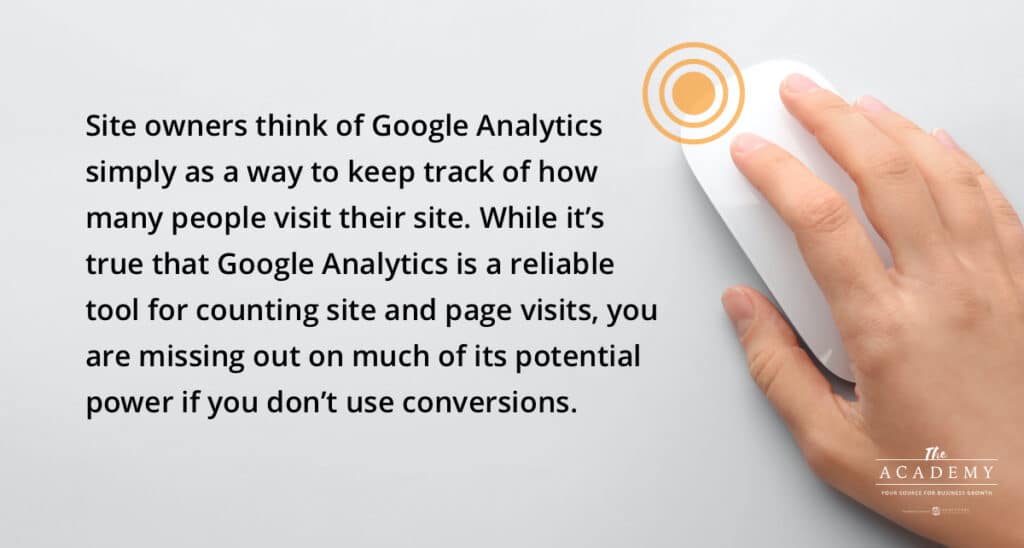 Types of GA Goal Tracking and Their Benefits
Leaving behind the confusion of name conventions with events, conversions and goals, the ultimate purpose here is the same regardless of what terms are used. The idea is to gain a better understanding of how your site is working and where it is coming up short. Let's look at some of the types of conversions you might want to set up in GA4 and what they can tell you about your business.
Email signups. For many businesses, one of their primary goals in digital marketing – aside from making sales – is to grow their email list. With an expanding email list, you will have the ability to reach more people in the future, and as a result, you should be able to improve sales numbers. So, setting up email signups as a GA conversion goal is a logical starting point. This isn't as "big" of a goal as making a sale on your site, but it's important nonetheless.
Visiting a sales page. The various pages on your website have different roles. Some pages might be purely informational, such as blog posts on topics that relate to your industry. Pages like "About Us" are important to have on your site, but don't necessarily play a key role in the sales funnel. For those kinds of pages, like your actual sales page or even a page that is just above the sales page in the funnel, you could set up conversions to track how often your visitors see that information. If you find that you aren't getting as much traffic as you would like to some of these key pages, you might wind up redesigning the flow of your site to make sure the most important pages get more traffic.
Purchases. This is probably what comes to mind first when thinking about conversion tracking. The ultimate goal for nearly every business is to make sales, so it's only logical that you will have at least one conversion goal – and maybe more – set up to monitor sales. One easy way to do this is to set a conversion for visits to a "Thank You" page, since the only way anyone is going to land on that page is if they make a purchase and are directed there after the transaction is processed.
These three ideas are a basic starting point, but you'll likely be able to use your creativity to think of plenty of other ways that you can use conversion tracking to learn more about the performance of your site.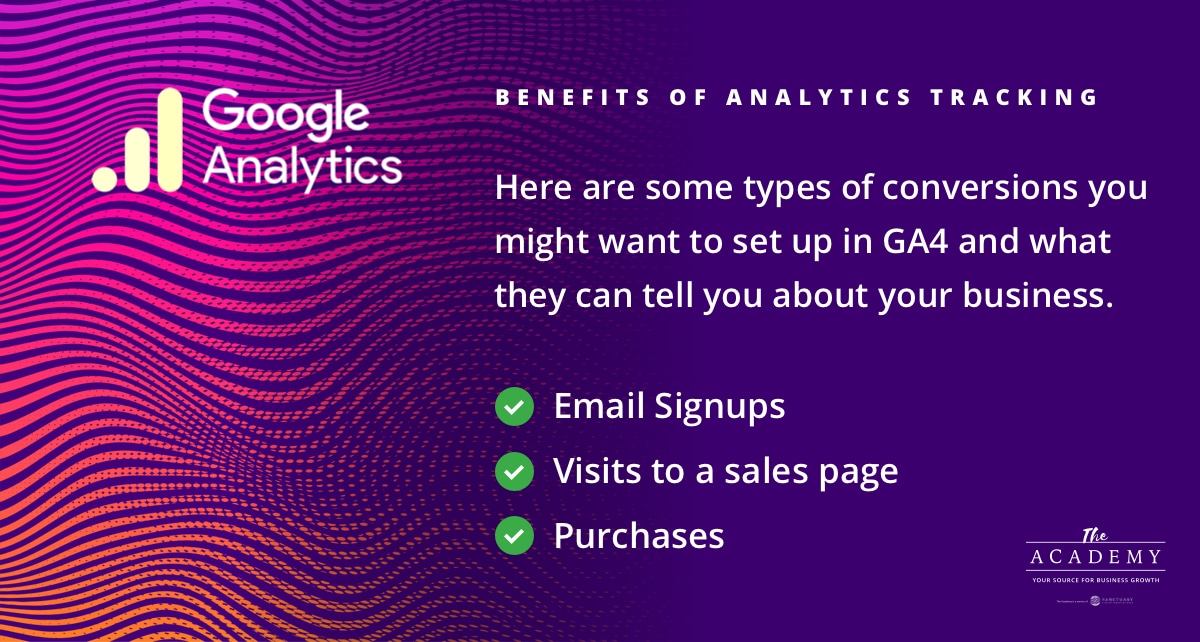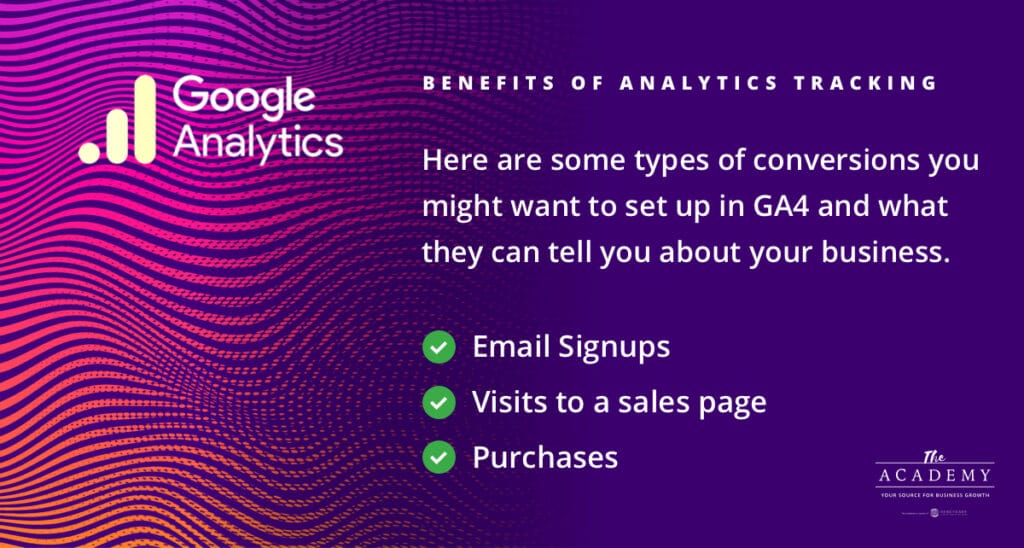 Integrating Google Analytics into Your Website
The good news here is that Google has made it quite easy to get your GA account up and running. It's particularly simple if you are using WordPress for your site, although it's easy enough to get the job done no matter how your site is constructed. There is sure to be a bit of a learning curve when getting started with tracking new events as conversions (goals), but if you stick with it, the process will get easier soon enough.
If you have never before used Google Analytics, the first step is to simply sign up for an account. Despite its tremendous popularity and power, GA is actually a free tool – so there is no reason to skip out on what it can deliver. Once you have your account set up, the process of getting it up and running on your site is pretty straightforward:
Within the Google Analytics dashboard, you just click or tap on Create Property. In this case, "property" refers to your website.
Next, name the new property and follow through the remaining prompts that ask for some details like the type of business you are running and the industry you are in.
With the property created, you'll now have a Google tag that you can add to your site in the appropriate place to track all of the activity that takes place each day.
On WordPress, you can install any of a number of plugins that will allow you to add your tag – along with tracking from other platforms you may be using – in just a couple of quick steps.
If you have any questions along the way with regard to setting up GA on your site, simply follow along with the Google documentation and it should be pretty easy to sort it out.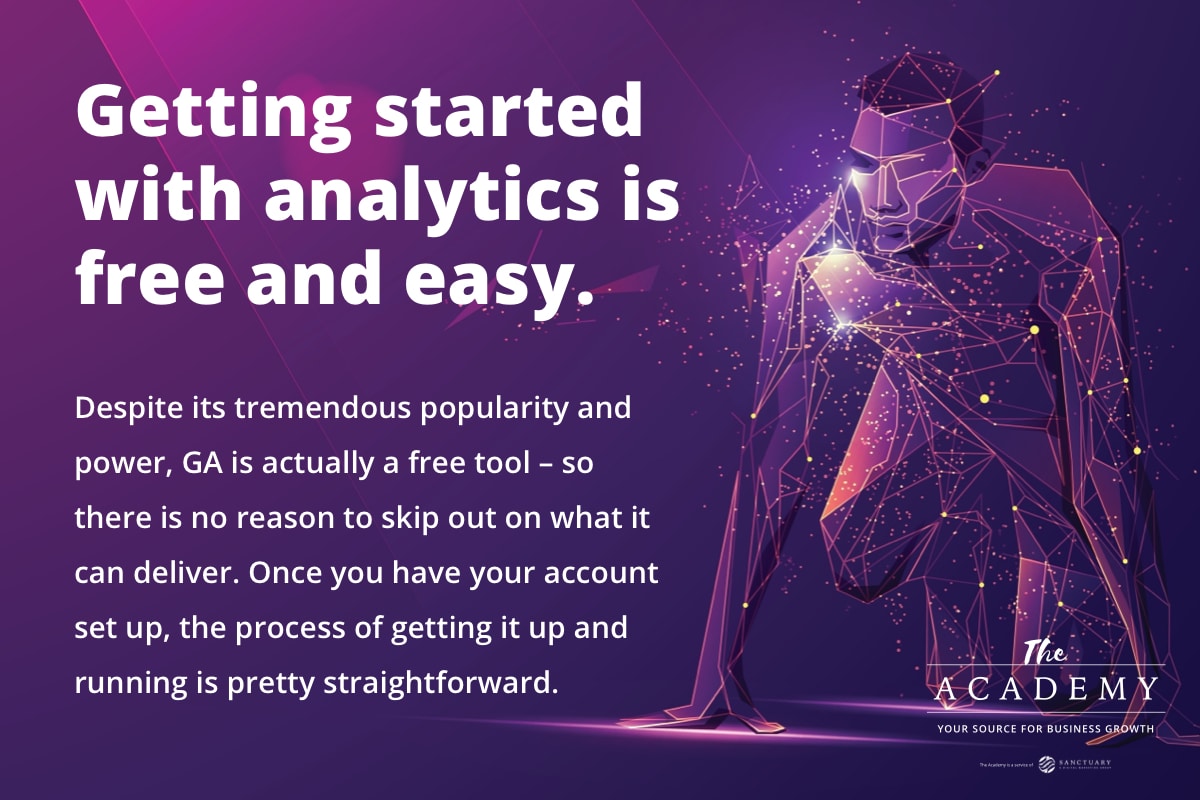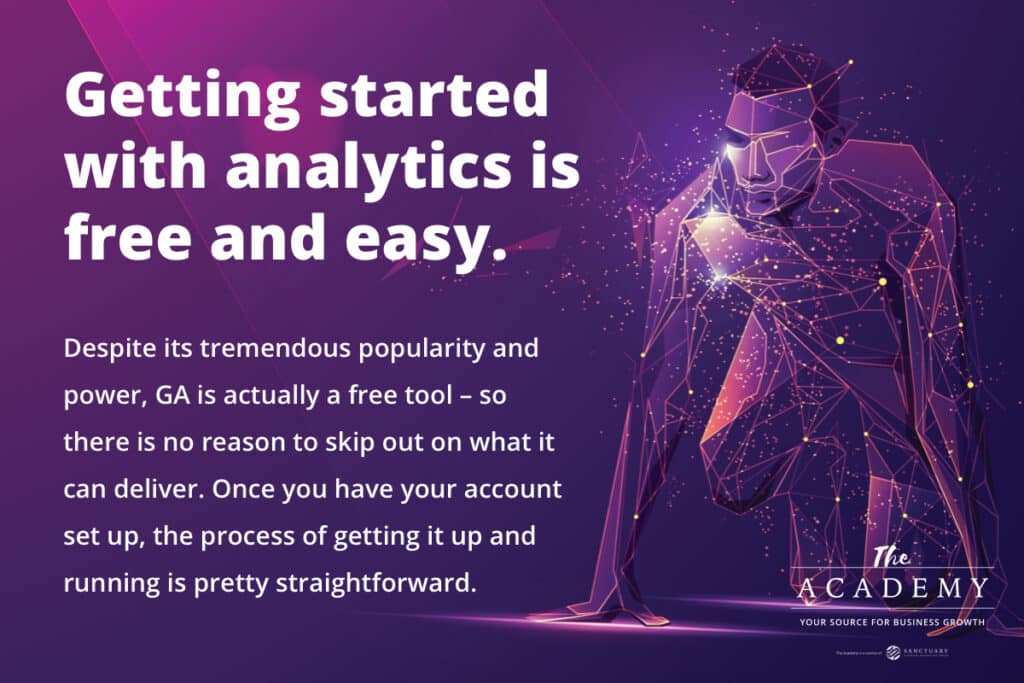 Setting Up Your First Goal
When that is done, it will be time to work on setting your first goal. Remember, the terminology in GA4 uses the word "conversion" rather than "goal", so that's what you'll be looking for in the dashboard. First, you need to create "events", and you can then later deem some – or all – of those events to be considered conversions. To create an event, follow the steps below –
Choose the Configure tab within your Google Analytics account, and then select the Create Event button.
At this point, you'll need to give the event a name. Don't take this step for granted – using a strategy for naming your events will make it easier to keep things organized later as you accumulate more and more of them within your account. It's a good practice to keep your names as short as possible while still properly defining what that event is meant to do.
With the name done, you'll be ready to define how the event will work. If you want to create an event that triggers when a visitor hits a certain page, you can use the page_location parameter and set it to contain some portion of the URL of the page in question. As an example, if you wanted to track new signups to your mailing list, and the URL for the page after signing up includes the word "welcome", you could set the parameter to include "welcome" and the event would trigger correctly. Be sure you aren't setting any parameters that are going to trigger for multiple different pages or your data could wind up being rather messy and not as useful.
With your new event saved, you can then head to the Conversions section and pick New Conversion Event. The new event name should match the event you just created, and that event will now be set for conversion tracking.
Don't be surprised if this process feels a little bit awkward and time-consuming at first. With a bit of experience and familiarity with the system, you'll soon be creating events and conversions whenever you need them without any trouble at all.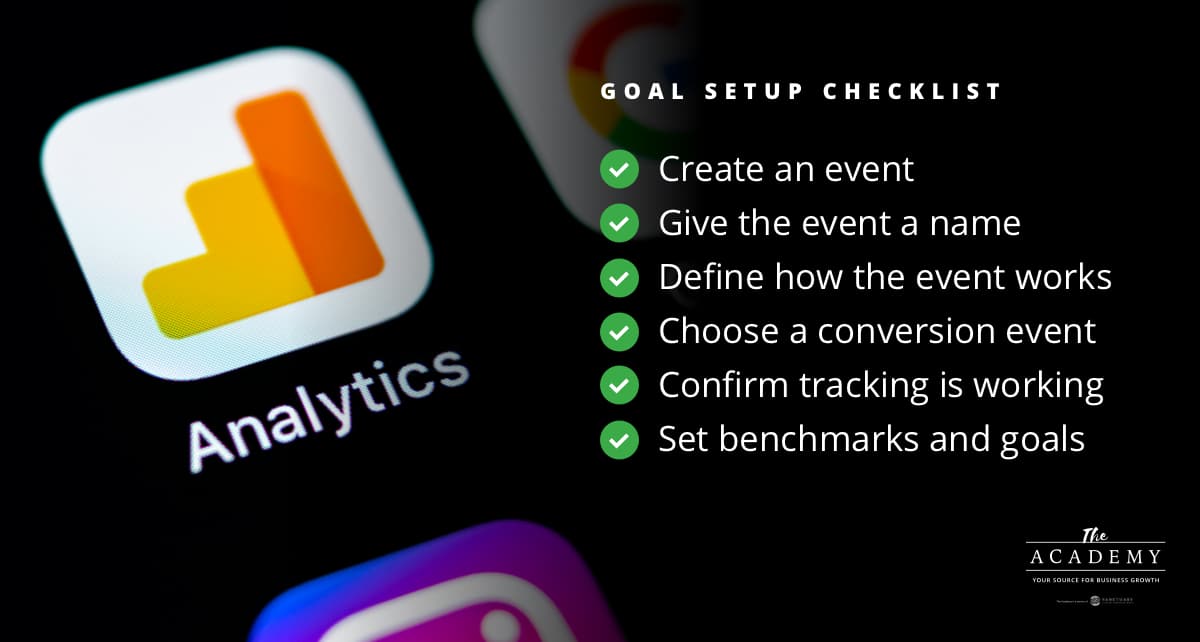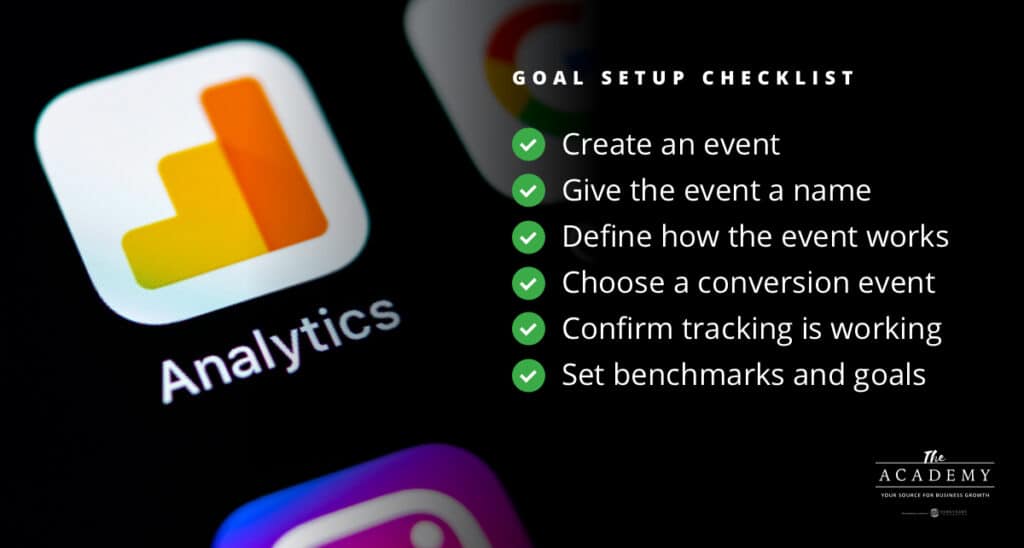 Setting Benchmarks for Your Goals
Collecting data on the goals you have set for your site is helpful, but it doesn't mean a lot until you put it into context. What levels are you trying to reach? What kind of data represents a success as opposed to a result that needs to be improved upon?
Most likely, what you'll want to do is use past data from your site to drive your decisions moving forward. In other words, instead of arbitrarily picking a benchmark that may or may not be reasonable for your site, you can instead just aim for incremental improvement month by month or year by year. So, if you had 10,000 page view events recorded last month, it might be a realistic target to add 5% to that total next month. Then, with that kind of thinking in place, you can strategize on how to best make that outcome a reality. Whatever event type you want to improve, come up with a tactical approach to gain better results and then get down to work.
Don't wait any longer to create your first goal in Google Analytics. It won't take very long, and soon enough you will likely find yourself creating many more goals to fine-tune how you track your site and set the stage for progress and growth well into the future.