Sanctuary: n.(sank-choo-air-ee) A place of refuge or asylum. A sheltered, protected place removed from the harsh realities of the world. A creative escape. A place where you can feel safe and work without anxiety, worry or fear of failure. A person you trust. A place to call home…
Read more about our services | Testimonials | Meet our staff | Contact Us

Sanctuary Marketing Group is just as our name suggests – a "refuge" where you'll find experienced, dedicated professionals that you can trust. We help guide you through the world of digital marketing. Ultimately our goal is to provide you with a strategy to succeed online.
We are an digital marketing firm and not a "jack-of-all -trades" advertising agency. We are experienced digital marketing experts that are connected and fully engaged in the ever-changing and expanding world of digital marketing – and we know what works.
Sanctuary Marketing Group, Inc. consists of a wide variety of marketing professionals that have decades of experience that extend back to the early years of the internet. Through our talents, diverse experience, partnerships and passion we currently support over 100 clients worldwide. Everyone from individuals to large corporations, online merchants, brick and mortar stores and everyone in-between. Our clients say it best too…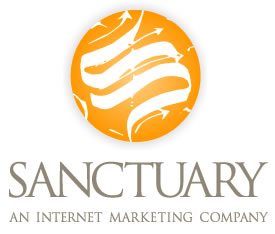 The Story Behind Our Logo
…and a little more about what we're about.
We occasionally get asked about our logo. Why the orange color and the funky arrows and such? Here's where it all came from and what it represents.
The logo is meant to have multiple meanings.
Obviously it's a classic, calligraphy "S". Meant to show talent, creativity and imply an organic, hands-on approach. We wanted to stray away from a high tech image from the start to differentiate the company and stress our focus on a message of "hands on service" and an "organic" approach.
The arrows are a strange thing we know, but they're meant to suggest instructions and ultimately guidance on how to create something or to do something right. We like to think that it's our job to guide our clients and show them how to get the job done right and accomplish their goals.
Lastly, we originally thought that the letter "S" looked a little like a winding road. Essentially the arrows are showing you the path. Again, guidance, help, etc.
Orange and grey were chosen because we thought they were an interesting contrast. Ultimately we wanted a color that had a bright, positive connotation  We also didn't want a corporate or techy look like blue, silver or black.  That's not what we're about.
Lastly, it's a circle because that's simply the most eye catching shape from a distance or on a page if it's surrounded by white space. Even from the start we planned that we'd have a big sign on a busy road just like we do today.