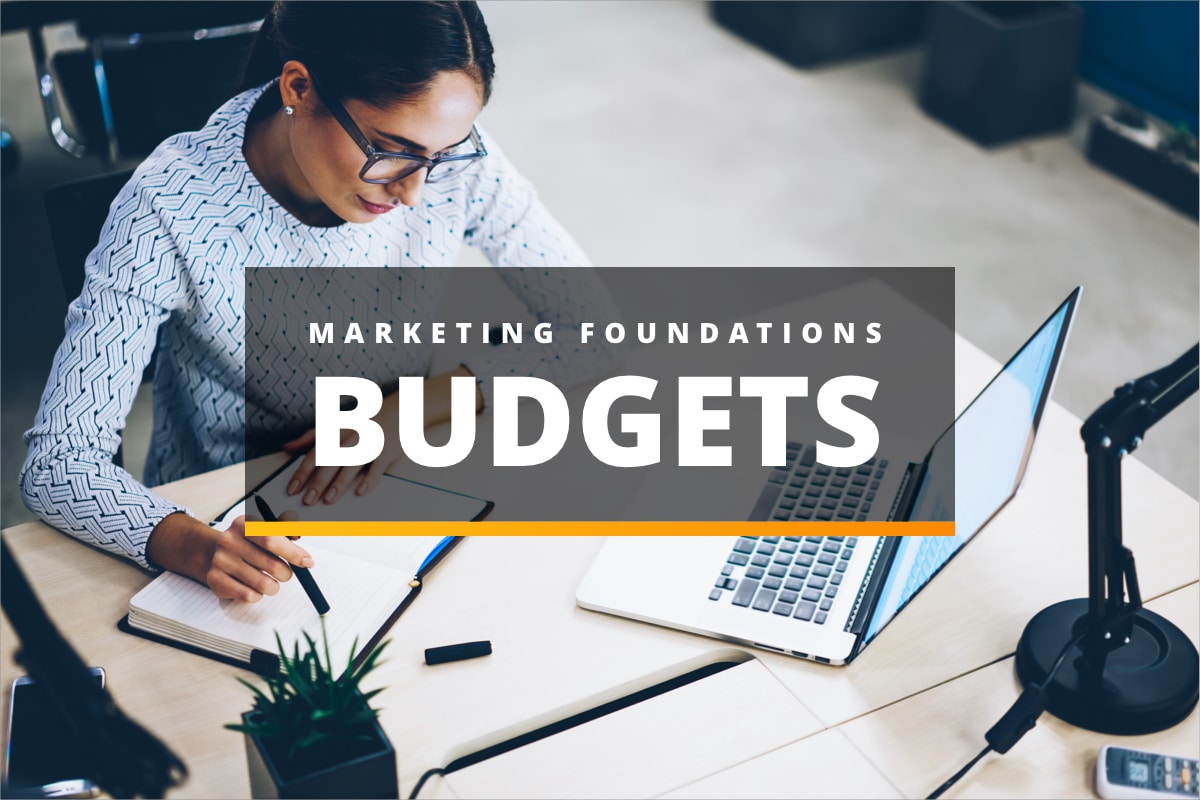 At this point in history, it's no longer a matter of whether or not your business should be engaging in digital marketing. Using digital promotional tools is now a requirement for virtually every business, so the question now becomes how much money you should be willing to spend on online advertising pursuits.
With this article, we'd like to help you clearly answer this question. Knowing how much you are willing and able to spend on digital marketing will help you determine what tactics you can pursue and what promotional channels will make the most sense for your brand. Doing some of this groundwork now will make it much more likely that you'll find success with these endeavors down the road.
It Starts with Goals
Before you can determine how much you are going to spend on digital marketing, you first need to know what you hope to accomplish. What are the specific goals for your campaign or campaigns? Without something to focus on – a clear, measurable goal – you aren't really going to be able to make any confident decisions about your spending.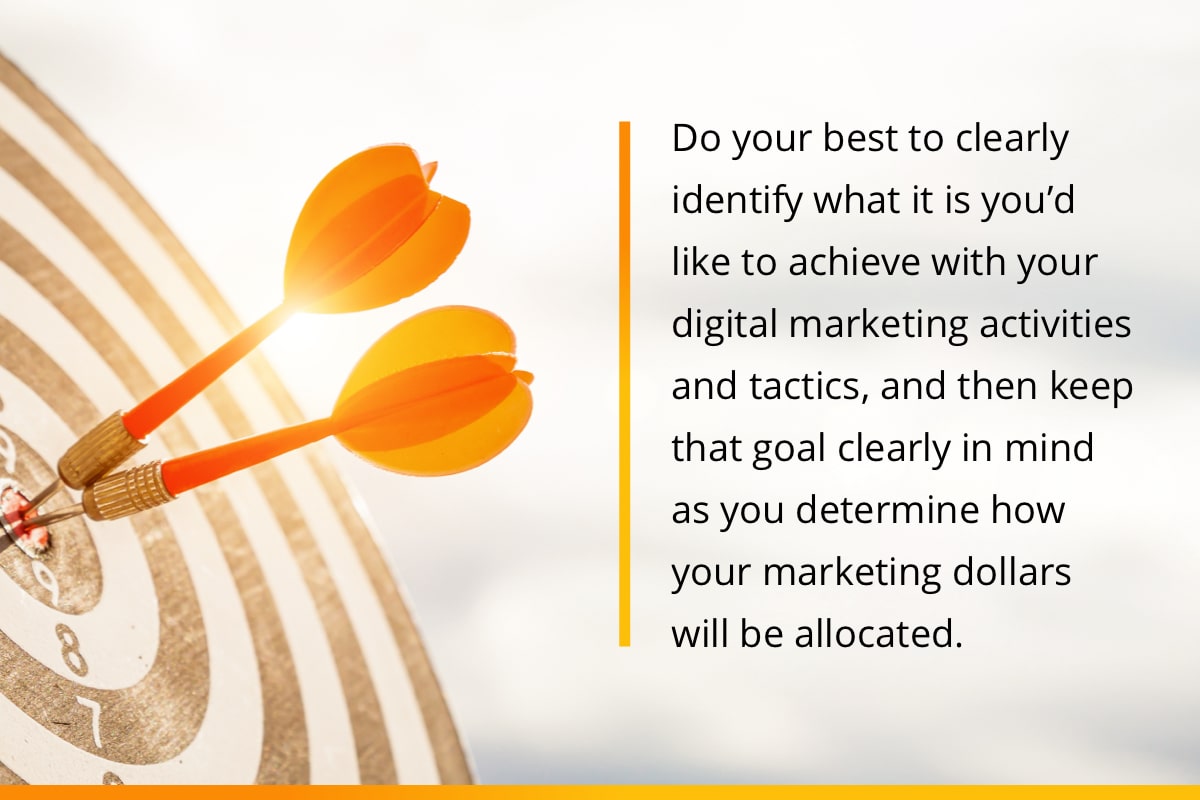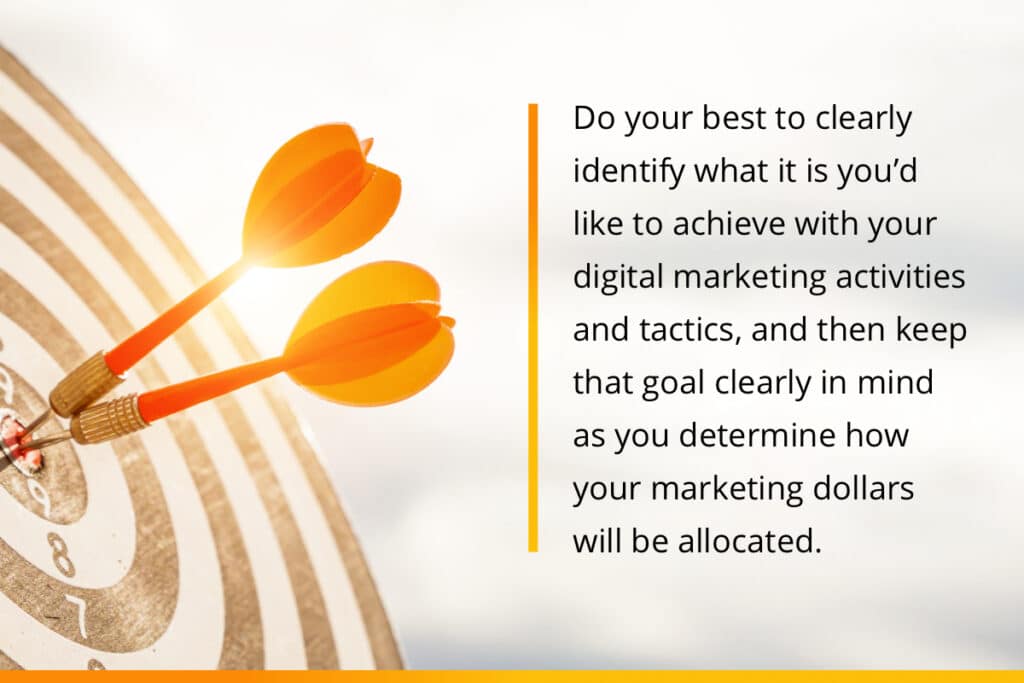 There are many possible goals for digital marketing campaigns, including those listed below.
Make sales. Of course, this is likely to be the primary goal for many businesses, so we may as well start here. To make sales using digital marketing, you are going to need to drive traffic to your offers that are at the appropriate point in the buyer's journey. These people likely already know about your brand and have maybe been to your website previously to check out your products. While this is an exciting type of digital marketing to engage in, because it can directly impact the bottom line, it also tends to be rather expensive. Putting your message in front of people who are ready to buy is costly, as many other businesses would like the opportunity to do the same.
Build awareness. Running an awareness campaign tends to be more affordable than trying for conversions. The people you target with this type of advertising are just beginning their buyer's journey and less likely to make an immediate purchase – which is why the costs can be expected to be lower, as well. A brand awareness campaign is useful for companies that are just getting started, as well as for businesses that are trying to break into a new segment of the market.
Grow an email list. This type of objective lands somewhere between the first two points – it's likely to be more expensive than a general awareness campaign, but it shouldn't be as costly as trying to make sales immediately. Getting people in the mid-funnel range to join your list is valuable because they may be just a step or two away from making a purchase, and now you'll have the opportunity to market to them directly.
You might have different ideas entirely about what you would like to accomplish with your digital marketing efforts. The goals listed above are just scratching the surface. Whatever the case, do your best to clearly identify what it is you'd like to achieve, and then keep that goal clearly in mind as you determine how your marketing dollars will be allocated.
Look at the Competition
In virtually every market, there will certainly be at least one or two competitors who are actively engaging in digital marketing pursuits. That might seem like a bad thing – it may feel like you are late to the game – but it's actually a positive signal. Where there is competition, there is money to be made. A completely empty market usually isn't a gold mine, but rather just a hole in the ground. If there was money to be made, in other words, someone would already be trying to make it.
Look around the web to see how aggressive your competition is in terms of digital marketing. You won't be able to determine exactly how much they are spending, but you can get a general sense of their level of investment by looking at where their ads appear, how many landing pages, articles, videos, and even podcast episodes on their website, as well as their social media activity. As a starting point, you can search a few of the important keywords in your industry and see how many paid results show up.
If it seems like your competitors are spending aggressively on ads and creating content, you will likely need to do the same in order to gain any traction. It's going to be difficult to come into a market that is seeing significant spending and pick up a bunch of leads. Be realistic about what it will take to make an impact and then decide if your budget will allow you to actually compete online.
Some Rough Math
Speaking of your budget, how do you know how much money can be directed toward digital marketing? You surely have plenty of other expenses to deal with in your business, so you can't afford to direct all available funds to your marketing activities. But where do you draw that line?
It's going to vary from business to business, but as a starting point, look at spending around 7% – 10% of annual revenues. This is a good ballpark range that will get you headed in the right direction, although it is far from set in stone. Calculate what that level of spending would look like based on your projected revenues for the coming year and then decide if you need to adjust it up or down somewhat to have a chance to reach the goals that we talked about earlier.
If you are spending well under the 7% of annual revenue mark, you might not be investing enough to have a realistic chance to make a difference in your business. You don't just want to throw a bunch of money at your digital marketing without a good plan, but, if you have a strong strategy in place, getting better results might be as simple as turning up your spending in order to accelerate the flow of leads and sales.
On the other end of the spectrum, going much beyond 10% of annual revenue might be a risky strategy. You may have to reach for additional keywords and target audiences that are outside of your core area of focus just to spend that much. As a result, your returns will gradually be diminished, and it won't wind up being worth your extra spending in the end. Start out by looking within this general range and only go higher or lower if you have a convincing reason for doing so.
Use Customer Lifetime Value for Guidance
In addition to using the percentage of annual revenues guidance that we provided in the previous section, there is another metric you can look at when trying to figure out how much you can afford to spend. Instead of looking at overall revenues across your business, however, this one is going to look at what you may be able to earn from each individual customer.
This popular metric is known as customer lifetime value, which is often referred to in the marketing world as CLV. When you calculate your CLV, you are determining how much money – on average – each new customer is worth to your business. That doesn't mean how much they are likely to spend on their first purchase, but rather what they are likely to spend with your brand for the entire time they are buying from you.
The math here is pretty easy. If your average customer winds up making five total purchases from your company, and each of those purchases is worth $100, the CLV for your business would be $500. This number is valuable because it can help you understand exactly how much you should be willing to pay for each customer, and in turn, you can figure out whether certain marketing channels are worth your time and attention.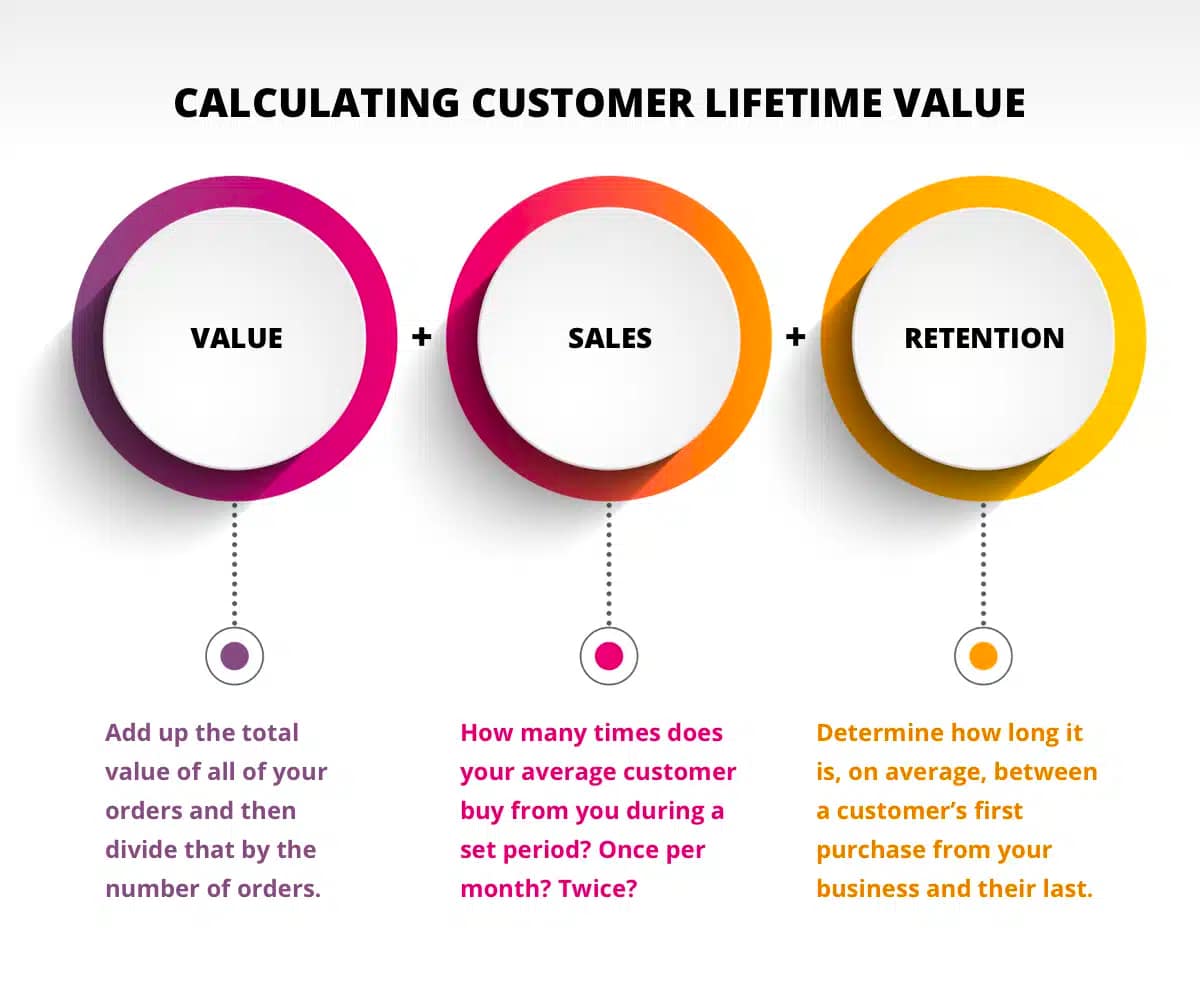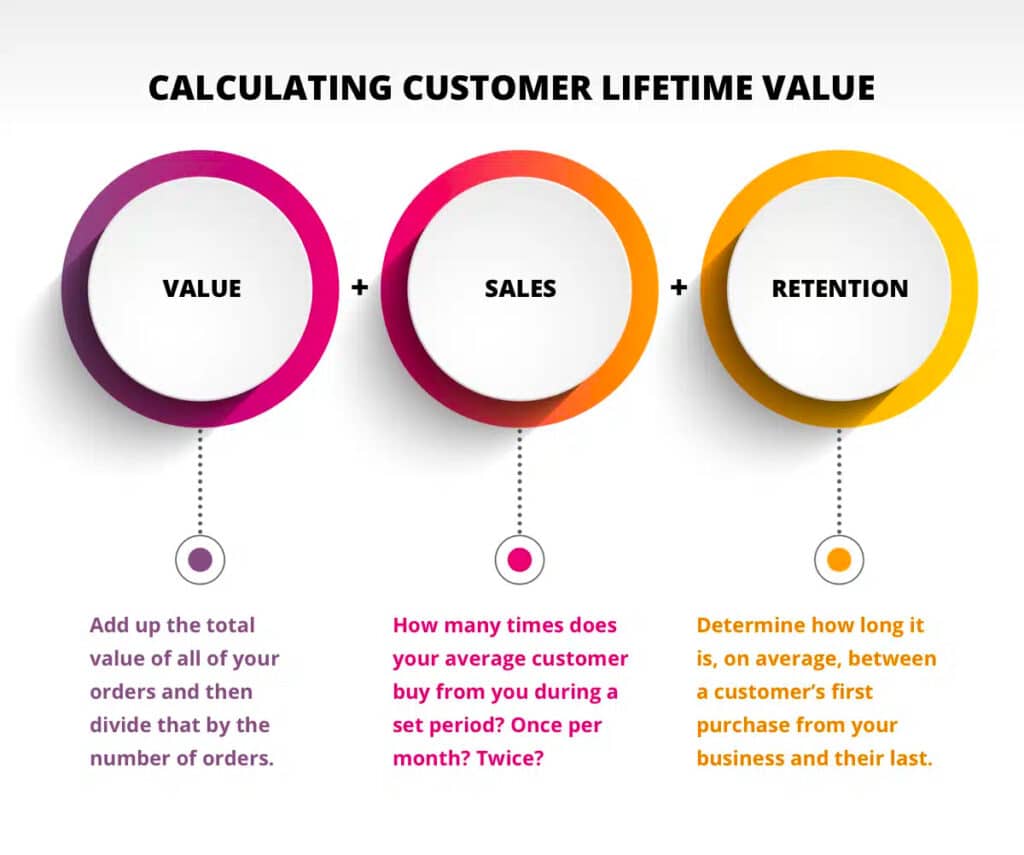 The possibilities for how you might use this metric in your business are endless, but here is one example of how the thinking might go. Let's continue with the CLV of $500 that we used above. If you are running ads that cost you $2 per click, and it takes 250 clicks to secure a single customer, your cost of customer acquisition would be $500 – the same as what that customer is likely to be worth overall. That's not an equation that works out in your favor, and continuing to use those ads would be a recipe for failure.
But what if you are able to get a new customer after just 50 clicks? In that case, the cost of getting a new customer would come down to $100, and when compared to the $500 that the customer is likely to be worth, you'd be looking at a great investment.
Learn more about calculating customer lifetime value here.
The Value of Digital Marketing Discovery
One of the nice things about trying to make your way in digital marketing is that you don't have to be alone. There are plenty of great digital marketing agencies with the experience and expertise available to help you along the way. As a starting point, you'll want to go through the digital marketing discovery process with a proven agency to outline a game plan and figure out where your investment should be focused.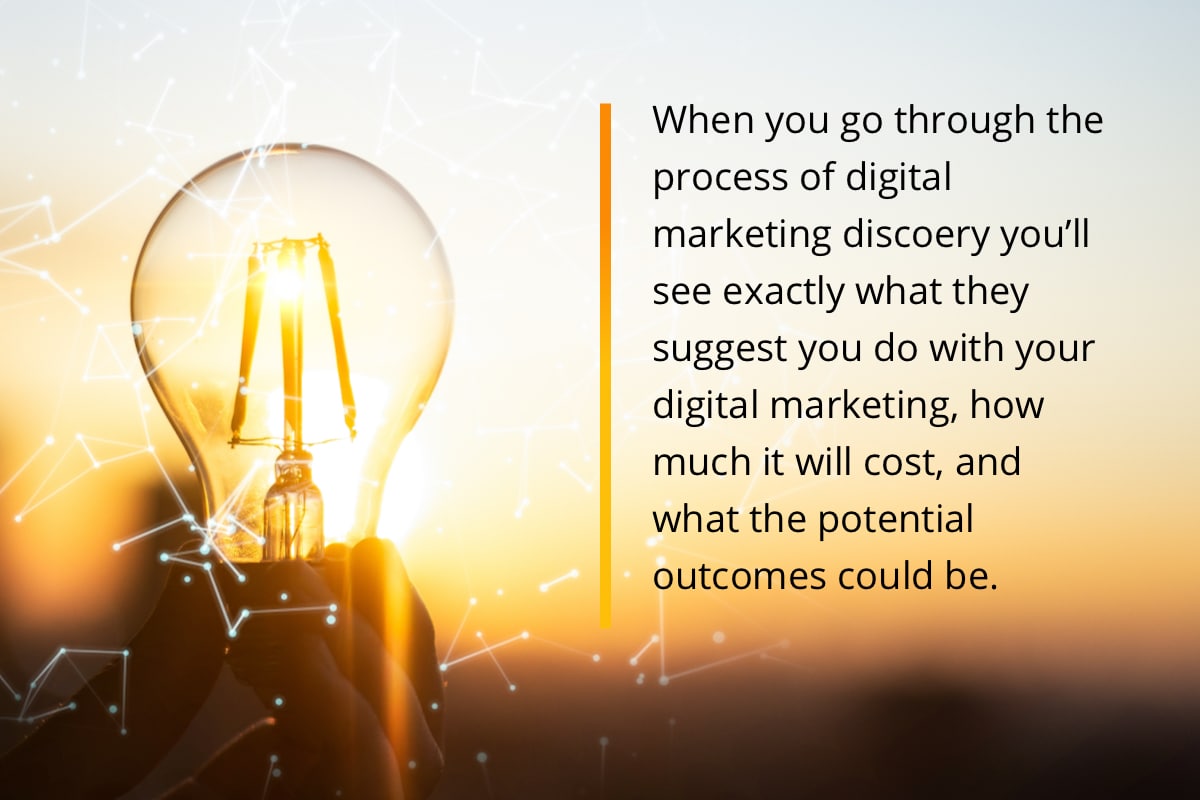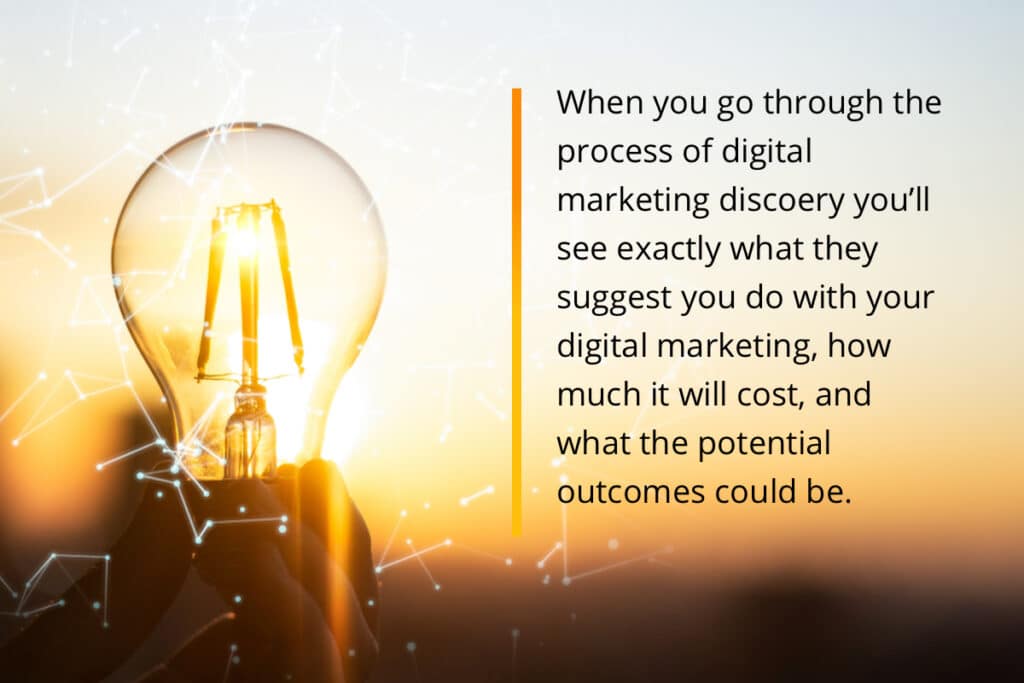 During digital marketing discovery, the agency that you might choose to work with will dive deep into research in order to create a marketing plan that has been customized for the needs of your business. In this way, you won't have to guess as to what the possibilities might be for your brand since the agency will be showing you those possibilities directly – and they will be backed up with hard data.
This type of process is a great way to get started with an agency that you think might be a good fit for the needs of your brand. You'll be able to see exactly what they suggest you do with your digital marketing, how much it will cost, and what the potential outcomes could be. It can feel like you are just guessing when you first start doing some digital marketing for your business on a DIY basis, so it's nice to get expert input and see what the future could hold if you decide to move forward.
Get Started Today
One of the great things about digital marketing is its flexibility. As you work on determining how much you can spend on your online advertising efforts, you can pick a starting budget with the confidence that comes with knowing you can always change it quickly, if necessary.
Whatever you decide, get started right away so you can test out what works for your brand and what doesn't. The sooner you get started, the sooner you can carve out a segment of the available online market for yourself.