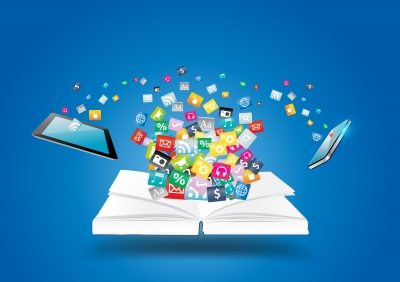 My digital marketing education and engagement ritual
In the world of internet marketing, you've got to relentlessly keep your finger on the pulse of the digital marketing industry. It's essential to spend a little time every day reading, listening or otherwise engaging with new information, or you'll quickly fall behind. Things in our world simply change too fast.
But consuming information is only half of the picture; it's just as important to contribute by sharing what you know and learn. For this, social media is a powerful force in the world if you know how to use it properly.
Here's why it matters:
With ongoing education …
I might have a chance of keeping up
I'll be more educated and learn something new
I'll continue to be a trusted advisor for my clients
I'll be able to stir the pot in our office and help others think outside the box and learn new things (One person can't know everything about everything!)
With knowledge sharing via social media …
I'll brand myself professionally as someone who's knowledgeable and trustworthy and as a thought leader
I'll amplify the content, thoughts and opinions that I have, the content that my company creates, and other people in my company, my clients and trusted industry friends
I'll be able to engage with more like minded people in my industry all over the world, with existing clients, and with new potential clients
I'll create good signals around my business that the search engines like (Liking, favoriting, retweeting, Google +1ing, etc.)
I'll indirectly help create links back to my company website
I'll raise the overall visibility of my company and myself online
How to Develop Your Daily Ritual
Making time to learn on a daily basis can be difficult. It's a huge hurdle that I face on a daily basis, and I've had a hard time sticking with it over the years.
I've learned that I need to form habits to make sure things stick. Decide on what to do, how to do it, what order to do it in, and remove hurdles and roadblocks – instead of hoping that my random stabs during the day will make some dent. (Which it never does).
So, without further ado, here is my daily process and the tools that I use for learning and engaging online on a daily basis.
Step 1: Form Habits
First, set aside a specific time during the day to work through your ritual.
For many it's just a matter of getting out of bed an hour earlier. It's amazing what you can do if you get up a little earlier and you'll be surprised that you don't feel any worse after about a week. For others it might mean taking a long lunch and working through things while you eat. Or maybe you're a night owl and like to read for an hour or so just before you go to bed.
The point is that you have to designate a time and stick with it.
Step 2: Decide What To Read
There are a million blogs. Some are great, many are not. I continually try to follow new blogs, but I'm cold and heartless if they don't provide consistently great information. I'll cut them off at the knees without a second thought.
Focus on quality over quantity. Narrow down the sites you follow so that you have laser focus on your industry or niche.
Step 3: Decide How To Read
Using a feed reader is a must. Feed Readers are a great tool for selectively choosing which sites you want to follow, and collecting just those posts. When you open up your account on a daily basis, all of the new posts will be highlighted and you can scan through everything at a glance.
My recommended Feed Reader is Feedly. It has a very nice, clean interface, it works on all platforms, it's free and it has a nice Google Chrome extension. This is my tool of choice, but there are also many other options.
The point is that you need one central place to go and digest what you have to read and review on a daily basis.
Step 4: Decide How You'll Collect Random Articles and Information
Many times as you're reading you'll discover more articles and information that you need to consume. If you stop and read that article right at that moment, then you've lost the battle for the day. You'll get sidetracked and your daily ritual will be interrupted.
My solution is an app called Pocket. Reviewing the articles in your Pocket account on a daily basis is the second key step in the ritual. Pocket allows you to VERY easily save articles and information from anywhere and access it in a VERY nice interface for reading later.
So after you scan through and do some reading in your feed reader, move over to your saved articles in Pocket. Consider even saving some of the articles from your feed into Pocket just in case there is a heavy flow of articles that day.
Pocket allows you to remove the pressure of digesting all the good content all at once and know that it's saved for later in a trusted place.
Step 5: Share Valuable Information
As you come across valuable information, share it. Right then. You should always be considering great content, tidbits of information, stats, advice, infographics, photos and links to others for sharing on social media. This is a key part of the process. If you don't do it right away, you're likely to forget or be unable to find it later.
Get in the habit of thinking 'wow, that's a good nugget of advice' and take 20 seconds to share it with others.
Step 6: Decide How You'll Share Information
Now that you have it drilled into your head that you need to share, you need to consider how you'll share stuff.
You can always open up Twitter or Facebook and create posts individually, but there are great tools that allow you to post to multiple sites all at once. My favorite is Buffer. It's free, it's easy, it's integrated as a Chrome extension, and it does one thing well. It allows you to post a bunch of valuable stuff at once but space it out over time so you don't irritate your followers.
You can spend an hour a day working through your ritual and know that you'll have many posts going out throughout the next day or weeks depending on how you schedule your posts.
Step 7: Honestly ENGAGE on Social Media
This is one of the hardest parts of this process – but but engaging honestly on social media is essential to success.
Choose 1 or 2 platforms that are your favorites (trying to keep up with too many will just derail and distract you).
To engage honestly with others in your chosen medium:
Share their articles.
Message them directly.
Tag your posts and give them credit.
Hashtag articles so others can discover their great content.
Promote what other people are doing, encourage them, call bullshit if they're off base and do your best to be authentic and endearing.
Social media is about sharing the love so I would suggest that your strategy be about 90% engagement and sharing others' content and just 10% promotional – and only when it's really good stuff.
Step 8: Create Amazing Content
I shouldn't have to even mention this one, but after you've done all this, consider creating your own unique and valuable content. It's hard, it's time consuming, but the rewards are incalculable. Start now, keep going and never stop.
When you have great content, share it. Post it on Twitter, create images and graphics that you can share on Tumblr, put a nugget of advice out on Google+ and consider authentically sharing your advice and information on niche forums and in the comments of the websites that you follow.
Again, it's hard, but nothing worth getting is ever easy. Creating content is a cornerstone of successful digital marketing and a necessity. You might not be able to do it on a daily or weekly basis. But the point is that you make a little time for it. If you took 30 minutes a day and chipped away at writing an article, you'd have at least one article a week – and that's better than 99% of people out there.
In Summary
So in a nutshell I've provided you with my daily ritual. This is what works for me.
Decide what you're going to read and read on a daily basis.
Establish a trusted place to save articles and read them daily.
Establish social accounts and get in the mindset of consistently sharing other people's 'stuff'.
Honestly engage with your followers and people in your niche.
Create your own valuable content.
Next, in part two of this article I'll discuss in detail why you should care about making this ritual a part of your day and how it can help you and your digital marketing:
Education and Engagement — How to grow your digital footprint online