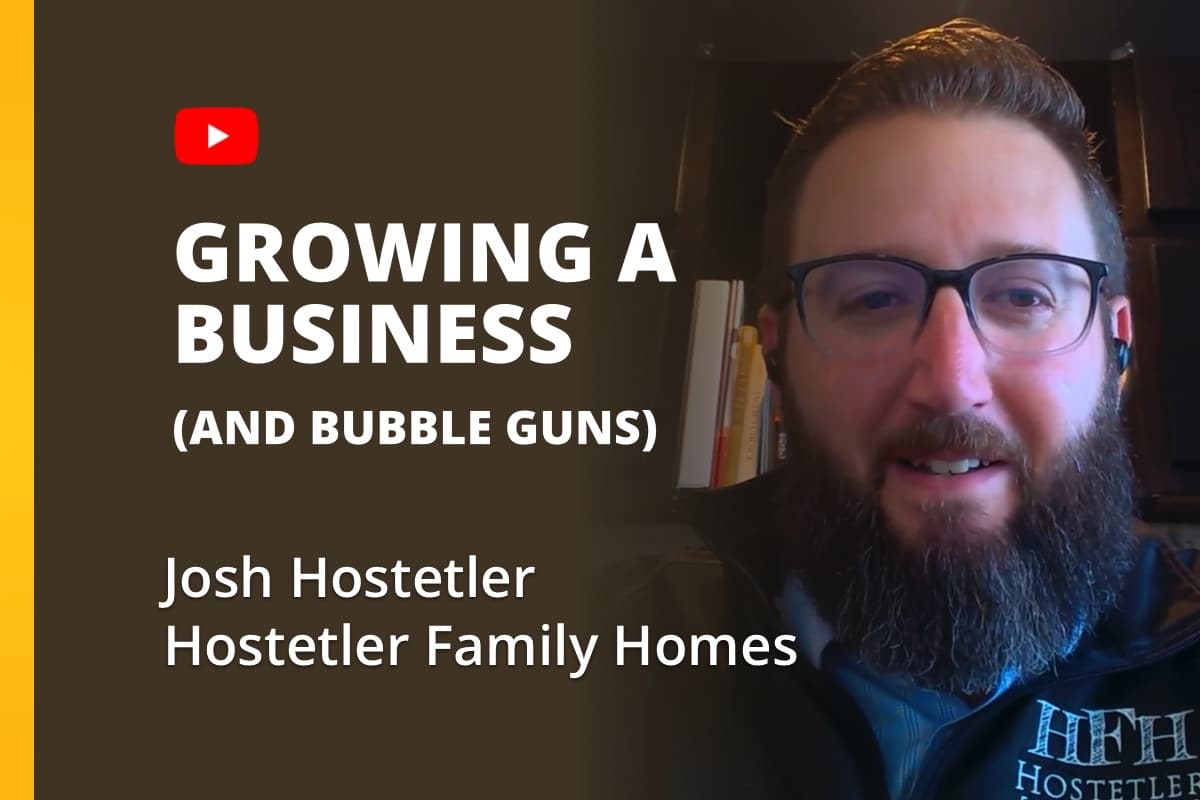 Audio version:
Video version:
Josh, who grew up climbing job site dirt piles and honing his hammering skills on scrap lumber, now runs the company after obtaining a degree in Business from The Ohio State University. Josh later obtained his MBA in Finance and holds a Certified Management Accountant designation. Josh is working diligently to elevate the business and plans to continue their tradition of craftsmanship and excellence. Hostetler Family Homes has been serving clients in Northeastern Ohio for 36 years.
The company builds custom homes ranging in price from $150,000 to over $1 million. The business is guided by the values of integrity, hard work, honesty, and respect. Hostetler Family Homes takes great pride in the exceptional homes they build, and they aim to create customers for life through quality craftsmanship and a lasting customer experience.
We're gonna be talking about starting and scaling a business, sub-contracting tactics, marketing and growing a small business, what Josh's growth goals are, and of course, bubble guns. So, let's jump into it! Today's episode is led by Tom Murphy who is The Director of Growth at Sanctuary. I know he enjoyed chatting with Josh, so I know you'll enjoy this wide-ranging discussion with a man that is doing great things in his community and the business world… Josh Hostetler.
About Hostetler Family Homes:
https://hostetlerfamilyhomes.com/
About Sanctuary
Do you need a partner to help you grow your business? The Academy is a service of Sanctuary and we can help you with all your digital marketing needs. We'd love to chat with you about how we can help you grow your business. Learn more about our digital marketing and local SEO services here.
Sanctuary, a digital marketing agency based in North Canton, Ohio, helps companies grow their businesses by developing and executing end-to-end marketing strategies. We believe in partnering with purpose to create and execute powerful marketing strategies accountable to measurable results.
We partner with you to build custom websites and use marketing tactics such as search marketing, social media and email to drive leads and sales for your business. Our team comprises highly experienced and creative specialists in a range of digital marketing disciplines, from marketing strategy and execution, writing, visual design and development to social marketing, user experience design, analytics and more.
We've been guiding passionate, thriving businesses like yours that serve owners, employees and communities since 2006. Learn more.