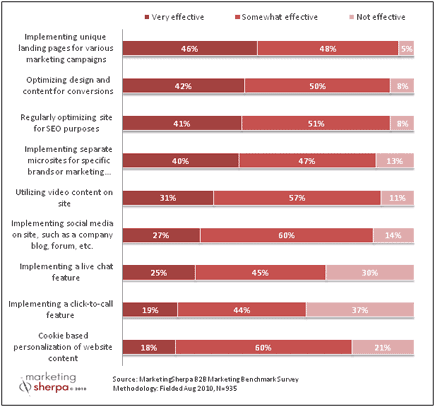 A recent poll by MarketingSherpa reveals where many online B2B (Business-to-Business) Marketers are finding the most success with their web design and marketing tactics.
The poll reveals the the top 3 tactics to be:
Implementing unique landing pages for various marketing campaigns
Optimizing design and content for conversions
Regularly optimizing Web sites for SEO purposes
I found this most interesting in how closely tied the top 3 tactics were to one another and to traditional Direct Marketing tactics.
The key to each of these tactics centers around designing relevant content for the end-user. Unique landing pages for a specific marketing campaign should be designed to draw on the key elements that drew a visitor to the site in the first place.  Continuing the conversation from an external marketing campaign allows you to convert the visitor to buyer. And a good SEO campaign is centered on presenting content that is both focused and consistent with the needs of the person searching for information in the first place.
The main point being — successful marketing is about have a 'one-to-one' (vs. a one-to-ALL) conversation with your target market.
For those from the Direct Marketing world it correlates to LIST, OFFER, & CREATIVE being the priorities in a successful marketing campaign.
LIST – being the Search Engine Optimization component (keywords = list selection).
OFFER – what is the unique offer you're making to the people finding your site targeted on those specific keywords.
CREATIVE – optimizing design through clear 'calls-to-action' to increase the chances you will convert Web site visitors to buyers.