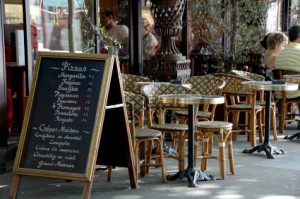 As a local website developer serving the Akron, Canton, & Cleveland areas, we specialize in developing & executing digital marketing strategies. In general, those strategies involve casting a wide net across multiple media channels with the goal of attracting the right people to your website and converting them to customers.
As the market evolves, local businesses are beginning to employ some key strategies to get their name out there and build their business reputation.
Here are 4 ideas that have seen some success in drawing customers to a local business:
Connect your Brick to Your Click – if you're trying to draw people into a physical location, make sure you connect your online presence with your physical one. When your customers visit your business, make sure there's messaging on your tables or on your check-out counter that invites them to 'Fan' your Facebook Page, Check-in via FourSquare, GooglePlaces & Yelp!.  Most of your customers will have their smartphones with them and can do it right there.
Offer contests and discounts to those who sign up for these lists and be sure to engage their comments & feedback online and off.  Someone checks in via FourSquare, you'll know instantly and can make an announcement right then and then bring them a free drink on the house for their support.
One high-end restaurant I know of invites people to join their online newsletter.  Each week the Newsletter shares specials for the week highlights a regular customer and their recommended dishes, and – my favorite – offers $15 person dinners on Tuesdays to people who are members of the newsletter. This is pretty good considering most of their dishes are $30+ and WELL worth it.
Put Your Name Up In Lights – Jim Kukral recently shared the story at BizCamp at the Taylor Institute of a recent college grad who was having trouble getting hired.  So she put up a Facebook Ad saying her dream job was to work for XYZ publisher.  She posted her picture, her resume & a plea for anyone who could help her get an interview for this company to respond.  The result? She got a job and came in with the rep for being creative and a go-getter.
You can do the same, Facebook lets you target a very specific audience — even better than Google Ads in some respects. As an example, if you're selling housing to University students, you can create an ad that speaks DIRECTLY to this group and their unique set of interests.  The goal is to have that one-on-one connection in a way that will draw them to engage with your service.  The more specific your list and your message the better results you'll get per click.
'Friend' Local Authors, Bloggers, & Heros in Your Area: This takes time but a good social media strategy involves building relationships with key people that can help you grow your business. You need to build trust before you ask for anything.  But if you're patient and you engage with these people through their personal blog, Facebook, Twitter, and LinkedIn presence,  you can create a valuable connection.
They'll be on guard, so don't just go right at them with your 'pitch.' I encourage you to employ the rules of Dale Carnegie in your social media strategy. But if you've built the right amount of credibility, when the time is right you can share a story that can be mutually beneficial.
Sponsor ads in newsletters of your LOCAL chambers, non-profits & professional associations – To me this seems pretty basic, but most businesses either don't think of it or don't trust that email marketing will work for them.  I'm not saying to go out and spam your local community.  But you can employ email marketing intelligently to introduce your products and services.
Most professional associations have an email newsletter and are very open to sponsorships.  Whether it's your local bar association, chamber of commerce, or non-profit collective trying to draw more people downtown, you can reach out and ask if they offer sponsorships on their newsletter distributions.
These can be cheap/effective ways to get in front of a very targeted group of potential customers.  One recent mailing only cost us $250 to send a customized email message to 9,000 recipients in our local area.