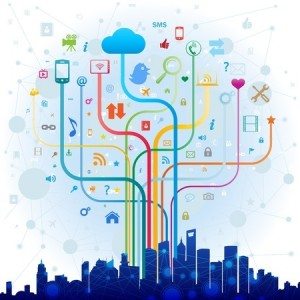 Social media has upended traditional marketing strategies, changing the ways businesses communicate with their customers. Online marketing expanded the reach of businesses, finding new markets and exploring undiscovered niche opportunities.
Designing a Web Presence that Matters
Many companies are under the impression that having a corporate website is enough of a digital storefront to support digital marketing efforts. This may have been true in the early days of the internet, but it no longer holds water in today's fast-paced and highly competitive business environment.
In fact, the phenomenal growth of the Internet has made it more difficult to rise above the crowd to get your message to the target audience. In 2014, the number of registered websites passed the 1 billion threshold with more coming online every single day.
Clearly, it is not enough to just stake your claim on a piece of Internet real estate with a domain name and web design that's full of static information. Customers want interactive experiences that can be enhanced with social media participation.
Expanding your Brand through Social Media
Social media interaction provides a host of opportunities to promote your brand. Your company's Facebook page is designed to encourage current and potential customers to interface with your brand by clicking on the like button, leaving a comment or contributing relevant links.
Companies have also turned to LinkedIn and Google + to expand the social media influence of their company page while others have mastered the ways of the Twitterverse to get their message across in batches of 140 characters each. Crowd-sourced sites such as Yelp and Foursquare may play a role in spreading the word about your brand.
Creating a United Front
The key to brand building is consistency. Some companies make the mistake of running one marketing campaign on the corporate website but ignore the utility of promoting the promotions on their Facebook and Twitter accounts. With the average attention span of adults down to eight seconds, it becomes more crucial to define the core message of your marketing campaign, stick with it and harness all the opportunities available to get the message out.
Traditional channels such as trade shows, franchise sales and direct selling efforts could be more effective if the entire campaign revolved around a unified theme based on keywords that matter.
Tapping the Secrets of SEO Marketing
Businesses need to understand the realities of modern marketing: the audience is more diverse, their options are broader and the potential market is huge but fragmented.
SEO or search engine optimization seeks to improve web traffic quality and volume through proven SEO strategies that can help a website attain higher search engine rankings. These techniques can serve as the core of the campaign, an element that would exist regardless of the medium and the channel.
For instance, a manufacturer of industrial bearings in Cleveland, Ohio wants to find new markets in other states or other countries. Gaining a foothold in areas outside your base requires a dedicated campaign to put your name and brand out in those markets. Leverage your existing digital channels to target those areas by using SEO strategies applied to a unified marketing campaign.
In today's digital world, businesses have to face marketing opportunities with all assets at their disposal. It is certainly advantageous to have an online marketing expert guide your strategies and help your business realize its growth potential.