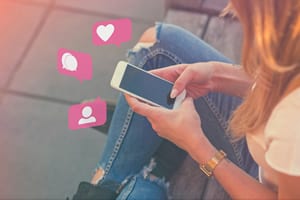 Every time you scroll through Facebook or Instagram, it seems like there's a friend or acquaintance talking about a product they love, a new service they're trying out, or the freshest restaurant they can't wait to try. This is what word of mouth looks like in the digital age! You have to admit that the posts catch your attention! And if a new restaurant in the area is good enough for Barb from work, it's good enough for you, right?
That's the whole idea behind local influencer marketing—that if something is good enough for the social media influencer from one town over, it should be good enough for everyone else in the area. And if they can trust a brand, so can we!
Utilizing local influencers to spread the word about your product or service could be the key to reaching new audiences and connecting with the right people in your digital marketing strategy.
What is a Local Influencer?
Similar to an influencer, a local influencer is someone within a particular region, state or city who has a large following on their platform. A local influencer could be a blogger, social media personality, faithful Yelp reviewer or anyone else who has the power to influence a group of people. 
Why are Local Influencers Important?
According to Google, "70% of teenage YouTube audiences are influenced more by YouTubers than most big-name celebrities." While this stat doesn't apply specifically to local influencers, it does show that people (especially those from the latest generation) are more likely to connect with people who are like them, people who they can connect to, people who are their own age—even above celebrities!
For example, if you're selling a product for kids, you're likely to reach new moms by working with a local influencer who is also a mom, particularly a mom who does product reviews or has a large mom following. Other moms are more likely to use a product once they've heard from other moms they trust that it's a good product.
In addition to the trust factor that local influencers help establish, they also help drum up more excitement over a product or service and a feeling of "I need to have that, too!" According to Understanding eCommerce, "81% of consumers are known to frequently buy the items they've seen being shared on social media."
When you start to see a bunch of people posting pictures in your Instagram feed of the same product, you start to wonder what all the fuss is about and wonder if you should check it out, too. That's another big idea behind local influencer marketing—that you should try to get your brand surfaced as much as possible, which happens largely by sharing content on social media.
How Can I Find Local Influencers?
Listen on Social Media
Reviews are strongest when they're coming from someone who truly believes what they're saying, so look for people who are already talking about your brand. A quick search on any social media channel for people who have mentioned your brand can be a good starting place to find someone who can act as a brand ambassador.
Tools such as Hootsuite can help you monitor brand mentions when you don't have time to.
See What You Find on Google Search
There are two different searches you want to make on Google. One way to go is to search for topics relevant to your business, pick a few of the best articles and identify the bloggers who wrote them. It's not super likely that these people will be from your state, but it's a great way to find out who's talking about things that are important to you.
The second search to make is for bloggers in your state. If you type in "Bloggers in <State>", it should give you some pretty great lists of people to look into.
Search Hashtags on Instagram
This is perhaps one of the easiest and fastest ways to identify who's talking about the topics that matter to you. Try to pick some location-specific hashtags to help find people in your area. You might even do a search for something that doesn't have anything to do with your business at first just to find local people. For example, if Sanctuary were looking for Ohio influencers, we might check out the posts for #720Market because that's a North Canton based market that many people are interested in.
Search for a location-specific hashtag.
Find a post with a lot of engagement.
Look into the person who created the post. See if they have a substantial enough following and if they seem like their personality aligns with your business.
Reach out to people who look promising and see where those conversations lead!

Use Your Own Network of People
Believe it or not, your office is a great starting place! Ask around to see if anyone follows or knows of any local influencers. Depending on how big your office is, it's likely that someone will have an answer. If it's not your office, think of other places where people might know of influencers, such as in your yoga group, book club, at your gym, or even at your next family gathering.
How Should I Use Local Influencers?
Once you've established a relationship with a local influencer, there are so many ways you can use them in your digital strategy. Here are just a few ideas:
Ask them to write a guest blog for your website.
Conduct an interview with the influencer and post the video on social media and your website.
Create ads that feature the influencer.
Give them a spotlight in your newsletter.
Have them do a live review on Facebook or YouTube.
Create sponsored posts for them to post on their social media channels.
Learn More About Your Potential with Local Influencers
Now that you know the what and how, you might be wondering what if. Are you curious if local influencers could be worth it for your business? We'd love to look into it for you and talk more about your digital marketing strategy. Contact us today!