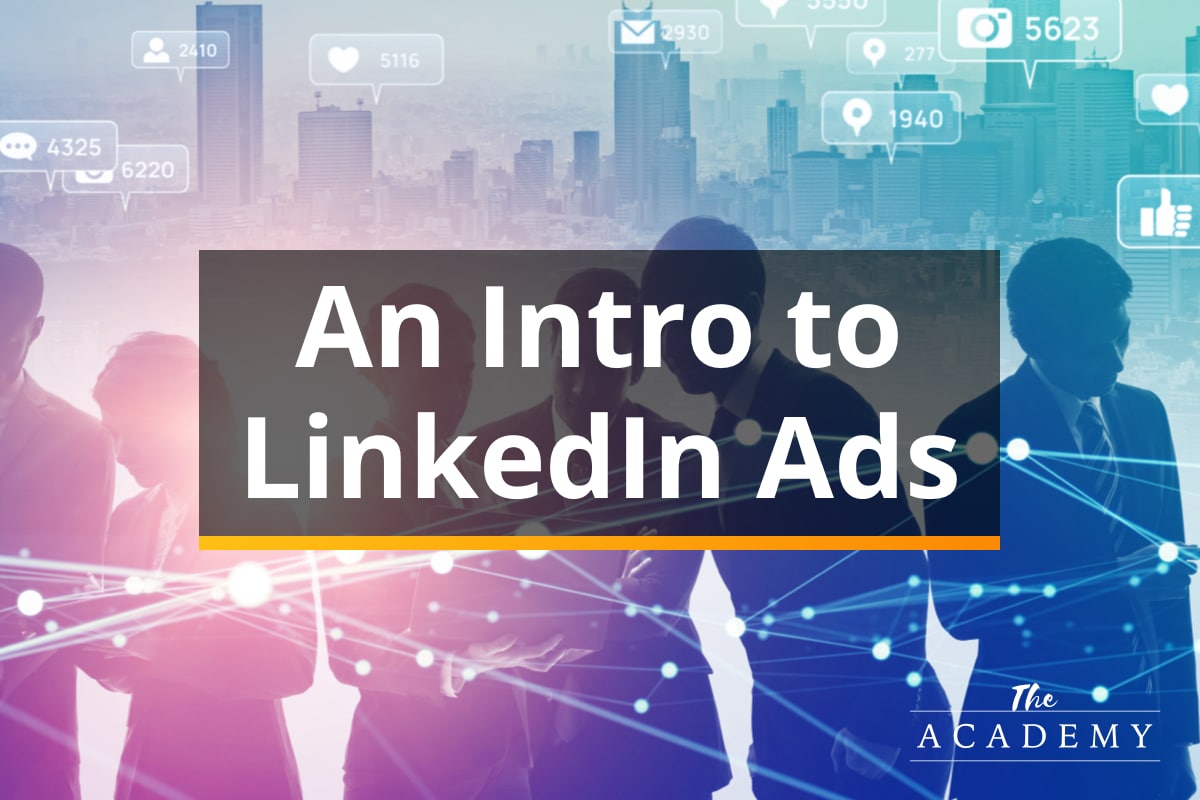 When you think about running digital ads for your business, you probably think first about the standard social media platforms and search hubs like Google and Facebook. Those ad platforms can be very useful, but they are far from the only options. In fact, for some campaigns, they might not be particularly good choices, as they could struggle to reach your ideal target audience.
It's good to be aware of as many different platforms as possible, and to pick the ones that make the most sense for your business and your audience. LinkedIn offers a platform that is more attuned to networking and making important business connections, which is ideal for B2B companies. If this sounds like the right place for you to advertise, keep reading to learn more about LinkedIn ads.
What are LinkedIn Ads?
LinkedIn Ads are an opportunity to purchase space on this popular platform where you can promote your products or services. Since LinkedIn primarily serves the professional crowd, it's often a great place to promote B2B offers, but you don't have to limit yourself to that kind of advertising here. When used strategically, you might be able to find a way to achieve success with a B2C product or service that is a good fit for the people you can target.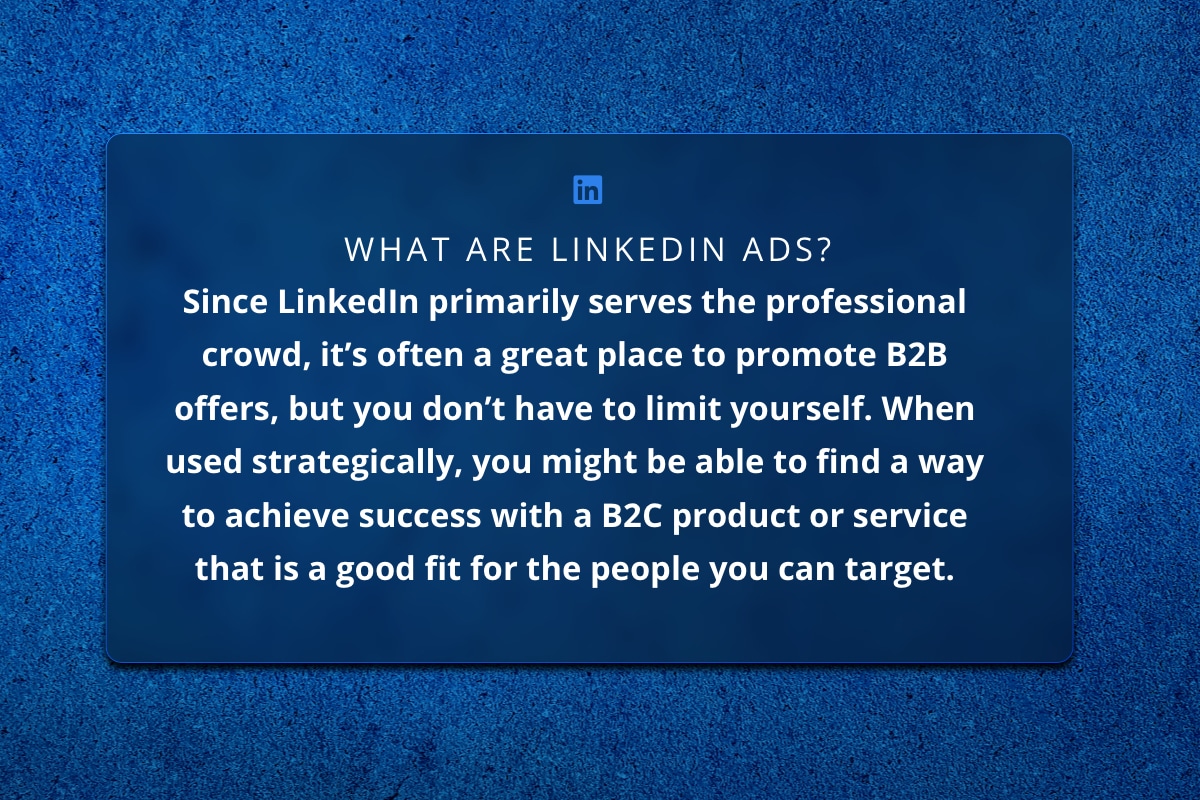 With any advertising campaign, you need to have a clear vision of who you are targeting when you use LinkedIn Ads. If you already have a general profile for your target market, and you think a collection of those people can be found by using LinkedIn, it will be worth your time and effort to learn the ropes on this platform and get familiar with how the various ad types work.
Blending LinkedIn Ads with other ad platforms might prove to be your best bet when trying to reach an audience. People who spend time on LinkedIn will probably spend time in other places, as well. Through some trial and error, you should be able to figure out what types of ads and offers work for you on LinkedIn and which ones should be saved for other marketing channels. 
Benefits of Advertising on LinkedIn
With so many ad platforms to pick from across the web, why would you choose to spend some of your available time and money on LinkedIn? There need to be concrete, tangible benefits to this platform to pick it over standby options such as Google and Facebook.
Fortunately, there are plenty of benefits to list in this section, although they won't all apply equally to every business. You'll need to look at these points through the lens of what your brand needs to make sure LinkedIn Ads are right for you.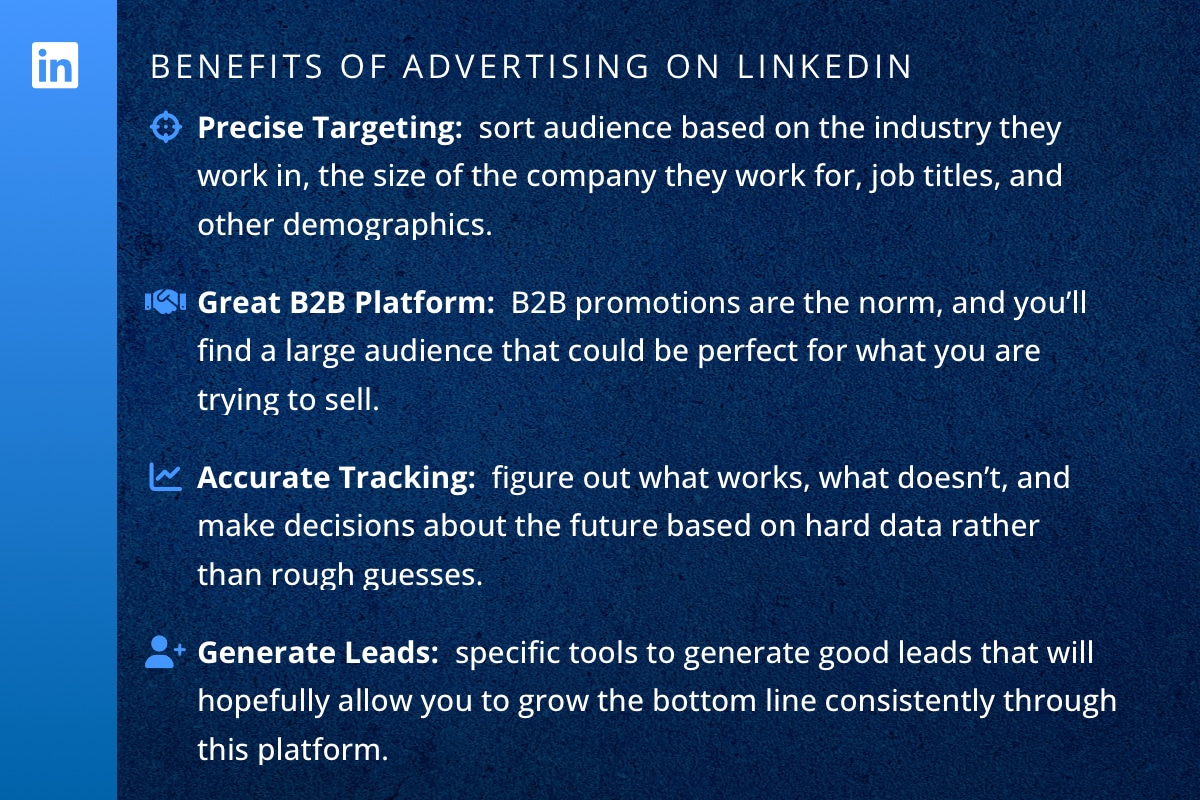 Precise targeting. One of the key attributes to evaluate on any marketing platform is targeting, and LinkedIn Ads excel in this area. That's especially true if you want to target people based on their professional attributes. You can sort through your potential audience based on things like the industry they work in, the size of the company they work for, job titles, and other demographics. This is an incredible opportunity to direct your message toward precisely the kinds of people who might be interested in what you are offering. It's going to be hard to replicate this kind of professional targeting in any other niche, so LinkedIn Ads are worth attention even if for this reason alone.
Great B2B platform. It can be hard to successfully use other marketing platforms for B2B offers, although it certainly isn't impossible. If you have found limited success in other areas when trying to sell B2B products or services, LinkedIn Ads could be the solution you've needed. Here, B2B promotions are the norm, and you'll find a large audience that could be perfect for what you are trying to sell.
Accurate tracking. While this isn't unique to LinkedIn, there are quality tracking tools that you can use to measure the success of your marketing spend on this platform. By starting out with a modest budget to test the waters, you can figure out what works, and what doesn't, and make decisions about the future based on hard data rather than rough guesses.
Generate leads. One of the biggest challenges that you might face as a marketer is turning random people on the internet into genuine qualified leads. This task becomes particularly difficult as the dollar value of your item goes up and you need a stronger and stronger case in order to make a sale. LinkedIn Ads offers specific tools to generate good leads that will hopefully allow you to grow the bottom line consistently through this platform.
Types of LinkedIn Ads to Consider
It's important to use the right types of LinkedIn Ads to get the results you are seeking. Like most platforms, there are varied ad types available here, each with its own set of pros and cons. You probably won't use all of the ad types listed below, but it's helpful to know what is available so you can make an educated choice as to where you will start. Of course, you might end up experimenting with two or more of these options before you settle on what works best for your brand. 
Message Ads. It's impossible to name one type of LinkedIn Ad that is "best", as that will vary from business to business, but this option has to be near the top of the list. If you have been wanting to send emails to certain people within your target market but haven't been able to track down the right contact information to make that happen, Message Ads (formerly InMail ads) are the way to go. With this approach, you get to send messages directly to the inboxes of specific people on LinkedIn and you can be sure the messages will be delivered. Will you get responses? Well, that depends on what you have to say and whether or not the recipient is interested, but at least you can be sure the message made its way to their screen. Deliverability is always a challenge in email marketing so this is a good way to get over that hurdle and contact some of your most desirable leads.
Image ads. This is a straightforward ad type that is very similar to what you will find on other platforms. If you want to simply display an image – and likely a call-to-action – that may catch the attention of your audience, these image ads are the way to go. They work nicely both on desktop and mobile, and you'll have the ability to add a headline along with a URL. There is also the option to create carousel image ads where you use a series of images to communicate a more complex message to your audience.
Video ads. You don't need to be told that video has taken over the web in recent years. While there is more work involved in producing a video ad as compared to a text or image ad, the payoff comes in the form of added engagement and the ability to deliver more nuance than with other formats. It's usually the initial learning curve that prevents brands from diving into the realm of video ads, but once you get started, the challenge might not be as intimidating as it seemed at first and you could create ads that will far exceed your expectations.
Text ads. It's also possible to run basic text ads like you might use in other places such as Google and Facebook. The selling point here is the simplicity of the process – just write some headlines along with some brief descriptions and get your ads up and running right away. If you'd just like to test out LinkedIn Ads to see if you get any response, and to see if those who do respond are a good fit for your brand, you might want to try a small text ads campaign as a starting point. Then, if it seems like LinkedIn is going to work out as a suitable platform for your efforts, you can move into trying some of the other ad types. 
LinkedIn Advertising Goals: Beyond Sales
Making sales is typically the goal of running an ad campaign. However, you don't necessarily have to be angling to make sales immediately with your LinkedIn Ads, and you might not even be trying to sell anything at all when promoting on this platform. Allow us to explain…
Establishing Industry Expertise
For one thing, you could use LinkedIn Ads as a thought leadership play, aiming to position yourself or your company as an influential force in your niche. This technique is executed through the use of Sponsored Content that you can post to the platform, where pieces you have written and published will be displayed to your target audience. It's also possible to publish organic posts without paying for their promotion, although it will be harder to achieve notable reach that way.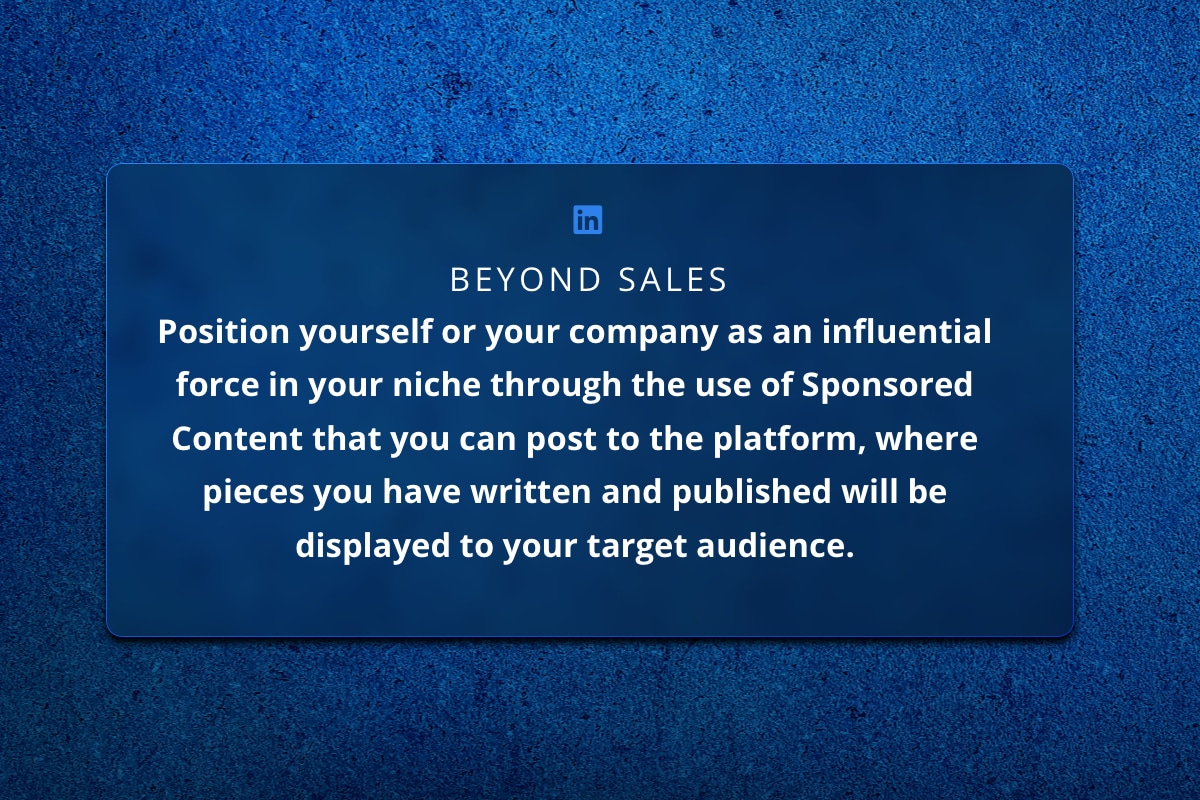 Using Sponsored Content is a good way to demonstrate your knowledge passively without going straight for a sale. Of course, you are still trying to use this path to drive sales in the end, as you are hoping to become known as an expert and gain the trust of people who will eventually become customers or clients. 
Bolstering Your Recruitment Strategy
Another way to use LinkedIn Ads that is completely removed from sales is to promote job opportunities. Remember, this is a platform where professionals from every field hang out, so displaying your open positions through LinkedIn Ads is sure to draw some applications from qualified clients. In a day and age when it's becoming harder and harder to find good people for your organization, you can't afford to leave any stone unturned. If you've been struggling to find the right people and want to make sure you get this next hire just right, LinkedIn Ads could be the solution.
For the right project, it's hard to beat what LinkedIn Ads has to offer. Of course, not every project will be a good fit for this platform, so consider the specific objectives that you have in mind for a given ad campaign and then pick out the platform that is going to be able to line up with those objectives.