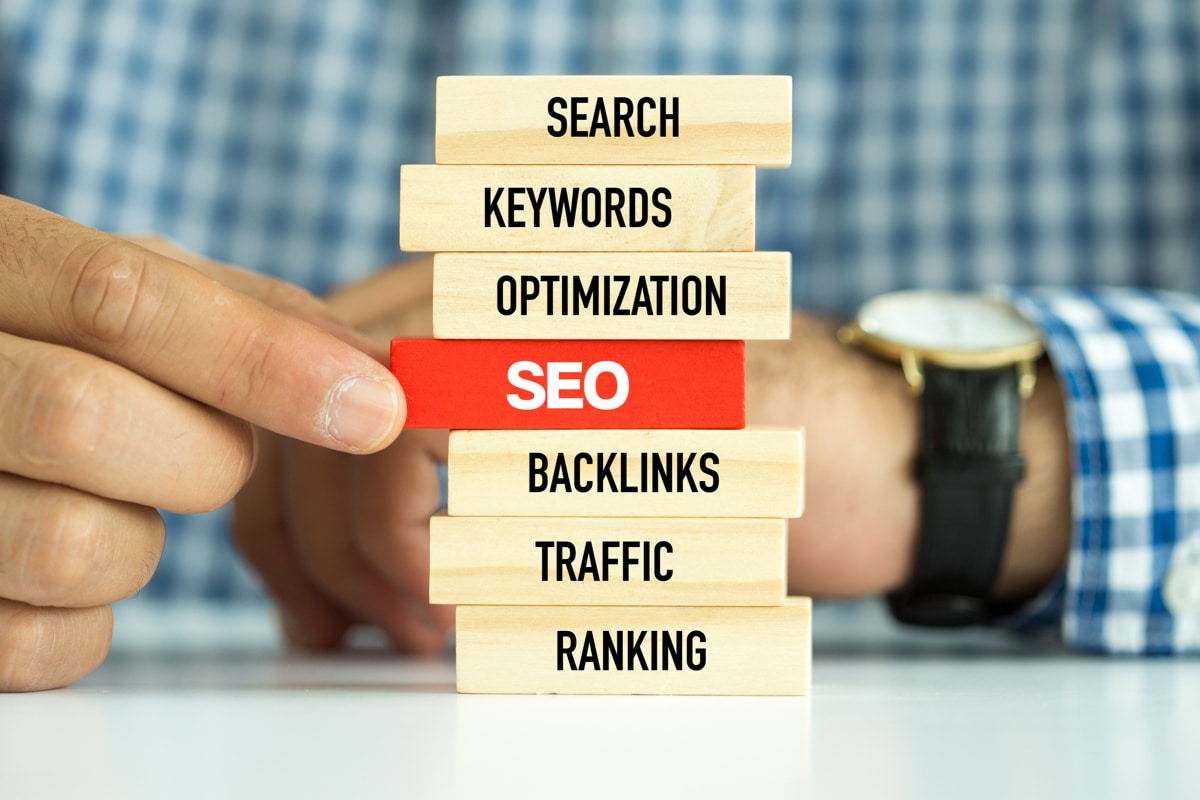 When creating a new page of original content, the first challenge is to come up with something interesting, informative, and entertaining. If a site visitor is going to stay on the page and read until the end, they'll need to find exactly what they came for—and fulfilling that point is a major challenge on its own.
But that's not the end of the story. A great page of content is wasted if no one finds it, which is where SEO comes into the picture. Optimizing each of your content pages is an essential activity if you hope to earn organic traffic from search engines like Google. Whether you have a basic understanding of SEO or are just getting started in this field, the tips below will point you in the right direction. Consider creating your own process of standard operating procedures based on the ideas in this article so you can be sure that every content page is optimized before it goes live. 
Balancing Two Goals: Impressing Visitors and Search Engines Alike
As we mentioned in the introduction, the content you place on your website needs to impress both real, human visitors, as well as search engine "bots". Pleasing both of those groups at the same time can be a challenge, and that balance is at the heart of what makes SEO difficult.
We provide that warning here to help you remember that there is more to SEO than just stuffing keywords into your content and writing pages that target easy keywords. If you don't pay attention to the first half of the equation (considering your actual visitors) all the SEO success in the world will be hollow. So, as you work through the SEO content optimization tips in the rest of this article, keep in mind that you never want to go too far in the direction of technical SEO that you lose sight of what your site is all about.
With that out of the way, let's dive into some of the tactics you can use to make sure pages are properly optimized throughout your site.
Master the Fundamentals of SEO
There are certain parts of each page that simply must be addressed if you are going to keep up in SEO. It's important to understand that your competitors are likely to check these boxes as well—so these keys won't so much put you ahead as they will prevent you from falling behind. If you miss on these fundamental elements of on-page SEO, you will stand very little chance of ranking for any competitive terms.
Meta descriptions. One of the first things you learn when getting up to speed on SEO is that you need to fill out the meta description for each page. But what does that mean and what does it do? A meta description is simply a field of content that search engines can grab and use to describe what is on that page. These are important because they are your opportunity to sell your page to the individual searching the web for content like yours. Adding a meta description isn't going to help your page rank higher, but a good description may help you draw more clicks out of the impressions you get. Some keys for writing a good meta description include keeping the length under 160 characters, using your target keyword, and featuring some sort of call to action.
Page titles. Along with meta descriptions, you also don't want to miss out on title tags or meta titles. Every page on your site needs to have an optimized title, hopefully including a keyword or phrase that you have decided to target on that page. Creativity is the name of the game with page titles, as your page will be listed along with many other search results for the searcher to consider. Try to accurately describe what visitors will find on your page while also including something that entices them to click.
H tags. Web pages are written in HTML, and as part of HTML, you are able to use various "H" tags to identify various parts of your pages. For example, the "H1" tag is used for the headline of the page, and "H2" and "H3" tags are commonly used for sub-headings. This is one of those fundamental elements that serves both of your goals nicely. Visitors will like these tags because they break up the content and make it easier to scan. And, search engines can use these headers to better understand what the page is all about, giving you a chance to rank higher.
Images. If you have any images on the page of content you're optimizing, be sure it has appropriate ALT (alternative) text, ideally related to the page topic. If you don't have any images on a page, consider adding at least one.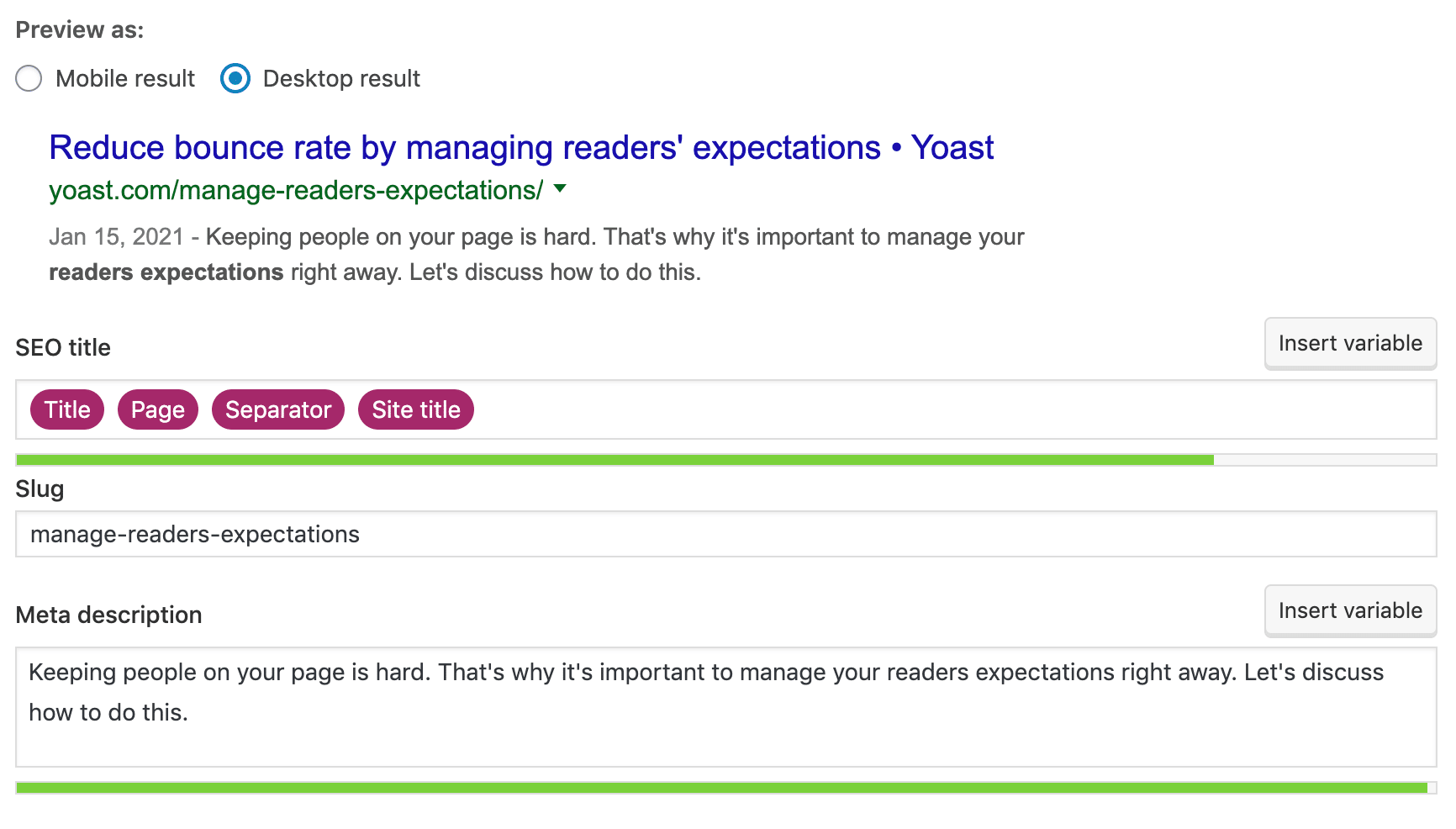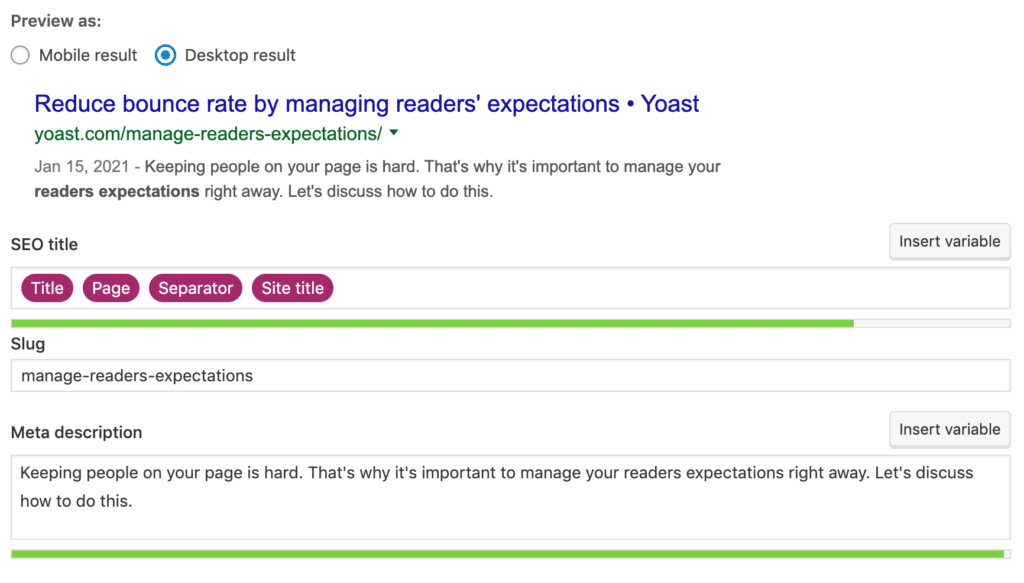 As mentioned above, hitting on these three points is not going to magically move you up to the top of the rankings. It's likely that most—if not all—of your competitors for similar search terms are already working to make sure their various tags and titles are in place properly. So, this isn't so much a differentiating factor as it is a starting point. Once you have gone through your site to deal with these elements on each page, you can move on to other matters that may give you a competitive boost.
Keyword Targeting—Without Stuffing
In days gone by, SEO was actually pretty simple. The game plan was as follows – identify keywords and phrases that lined up with your target market, and include as many of them as possible on your pages. Seriously, that was it.
As you might imagine, this severely degraded the quality of the early internet. Keyword stuffing, as it was called, was the go-to SEO strategy—because it worked. If you packed as many keywords into your pages as possible, you stood a great chance of ranking for very valuable and popular searches.
Needless to say, times have changed. These days, keyword stuffing will get you nowhere, and the internet is better for it. So, while it's still important to include relevant keywords in your content so search engines know what you are writing about, the main focus is on creating written content that is meaningful for your readers. In other words, write like you are writing for a human.
It's a good practice to set out to write a new piece of content without much focus on SEO at all. You might have identified a main keyword or phrase that you are targeting, but don't think about it much beyond that. Instead, just set about the work of writing a quality piece of content. Then, with the writing complete, you can go back through and do the SEO work to polish it up. That might mean adding in a few specific keywords here and there, as long as you don't overdo it and harm the quality of the writing. By taking this approach, you'll do the hard work of producing quality content first without the SEO cloud hanging over your head. It's relatively easy to touch up the needed SEO points once you have an article or post that you will be proud to publish.
Create a Connected Site with Internal and External Links
There are two types of links you can place on your website—internal and external. The names are pretty self-explanatory, as internal links point to other pages on your site, while external links send visitors to another site entirely. While there are situations where you'll want to include some external links for the benefit of your visitors, you want to be careful with how many of those are included in your pages. After all, you've worked hard to earn the traffic you get, so you don't want to encourage them to leave too quickly.
On the other hand, internal links are great and they should be used freely. For one thing, plenty of internal links help improve the user experience on your site, as visitors will easily be able to hop from one page to the next, finding your products and services, interesting blog posts, and more. As you create your content, always be looking for opportunities to slip in more internal links.
Beyond the user experience, internal links carry SEO value as well. One of the best ways to use internal linking for an SEO boost is to create content categories, or silos, on your site. The concept here is to build authority in the eyes of the search engines by linking together your content on a specific topic. So, for example, consider a business that sells kitchen equipment and supplies. This kind of site would have categories for various types of kitchen gear like mixers and blenders, hand tools, bowls, pans, and on and on. If this business created a strong internal linking structure within each of those various categories, that approach could help boost the authority of the site in the eyes of the search engines.
An even better approach is to create pillar pages on your site that revolve around these various topic silos. From these main pages you can then crosslink to all related content on your site, from blog posts to other downloadable resources.
The Increasing Value of Site Speed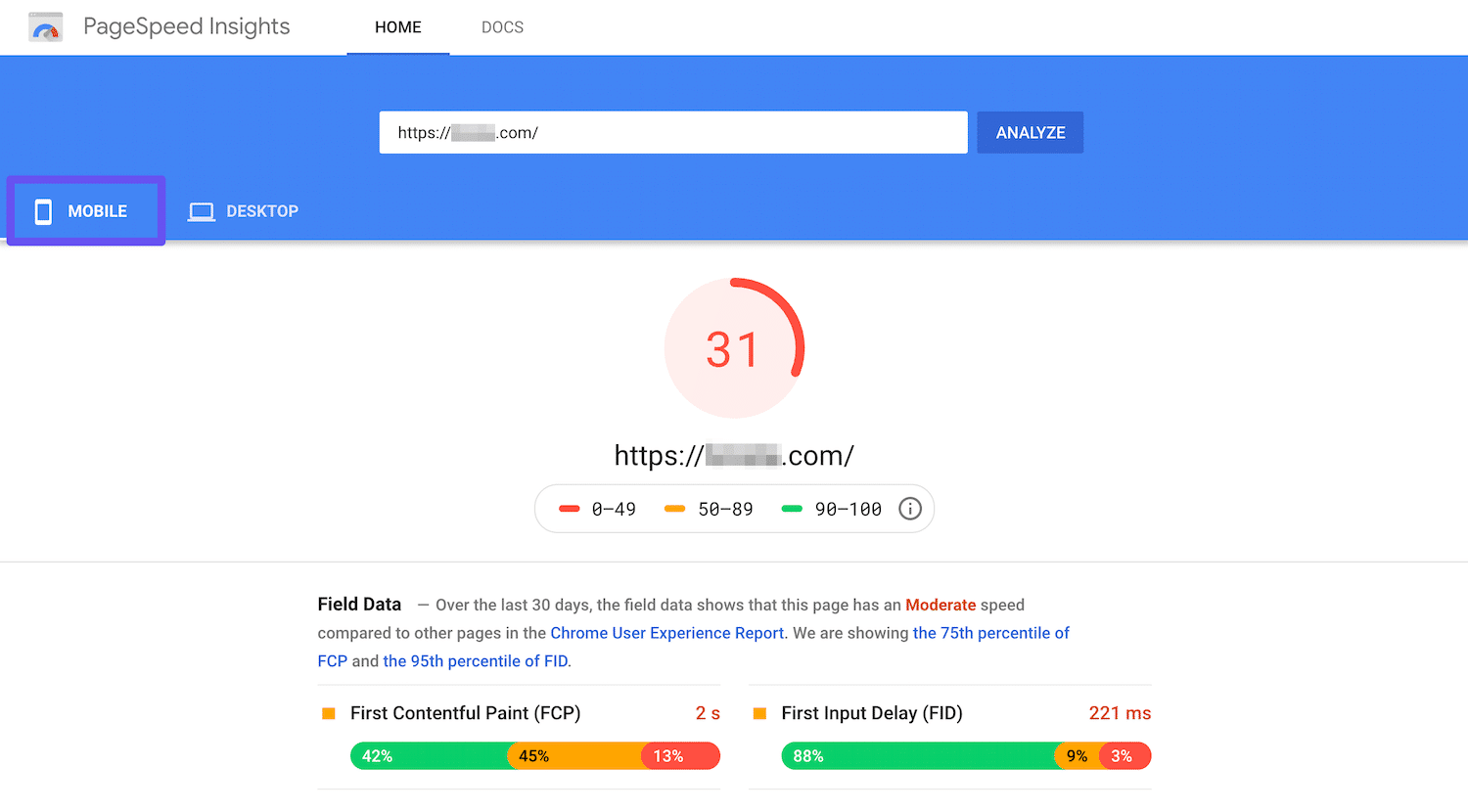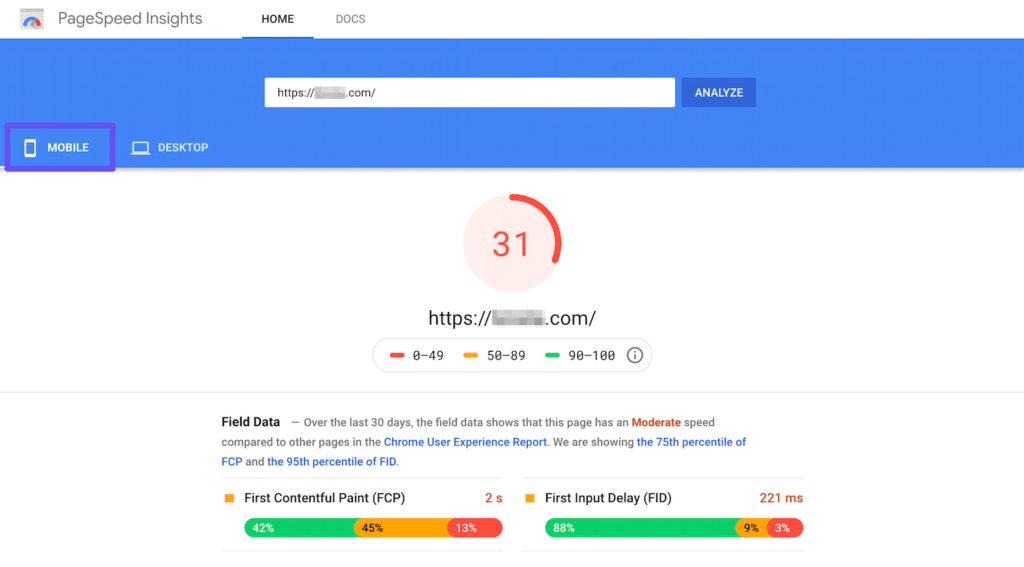 We can't publish an article on modern SEO without talking about site speed. This is an element that has likely played some role for many years, but it seems to be taking on greater importance lately. These days, you are going to be fighting an uphill battle if you try to rank slow pages. Your pages should load quickly when a visitor attempts to access them, whether they are coming from a search engine results page, an internal link, or somewhere else.
There are plenty of different factors that play into site speed, and this topic deserves an article of its own. As a starting point, make it a point to compress the size of your image files so they don't take too long to load. It's true that most site visitors today will be on a high-speed internet connection, but that's not true for everyone. And, many visitors will be on a mobile device, which may not load things as fast as a computer. Beyond image size, factors like your chosen hosting company and how many plugins you use on your site can play a role in load times, as well.
If you're curious about your site's speed, you can use Google PageSpeed Insights to get started. It'll even give you a few items to put on your to-do list to get started in the right direction toward a faster site loading speed.
Conclusion
SEO is best when it is kept simple. Sure, it can be made very complicated, and those complex tactics are necessary in some industries, but you don't have to go into the deep end to see good results. Instead, focus on the basics and make sure each of your pages has been optimized before it's published.
Along those lines, consider using a tool like the Yoast SEO plugin for WordPress. This plugin will perform an SEO audit on your site and alert you to any issues that pop up. This will make it easier for you to spot problems and you won't have to worry about things like missing titles, meta descriptions, etc. With a strong SEO plugin on your side, and a good understanding of the basics, there is no reason for on-page SEO to keep you up at night any longer.