For many local, small businesses it's essential that you're found when local people search for what you do. It doesn't happen magically though. Search engines have no idea what your site is about, or where you're at unless you tell them. If you search for a term related to your business and city and you don't see yourself on the first page of results, then that's a major missed opportunity. I'd like to help you change that and the concepts listed here are pretty easy to implement if you know what to do.
First, lets talk about your Google Business Profile
Back in the day this was called Google Local, then Google Places, then Google+ Local and now it's called Google My Business, or just your Google Business Profile. It's hard to keep up with and really, the name doesn't matter. What you need to know is that you have to manually claim and optimize your own Google business listing. Nobody will do this for you. Google has a serious interest in returning highly relevant local results and this is where it all starts.
Google businesses can show up in a number of different ways. First, if someone is searching on Google Maps for a local business, Google will return local results. Local business results will also show up as a grouping of local results right within the search results. This is called the local 3 pack.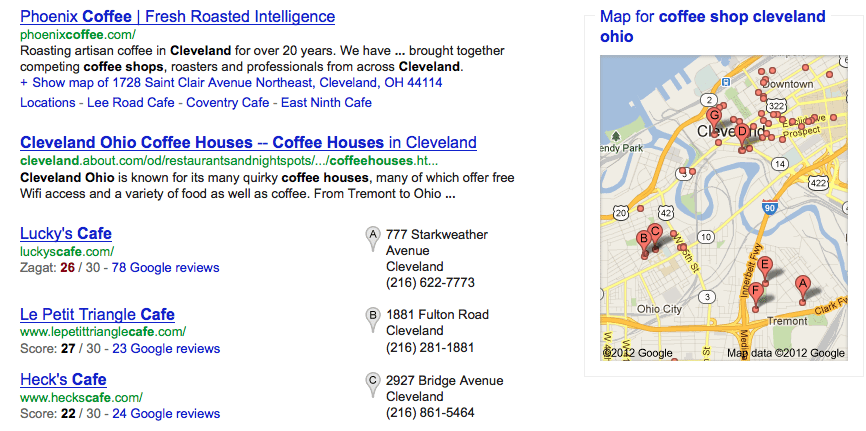 Mousing over these listings, or clicking on the address will take you to a page with more information that is pulled from your google business profile, and then finally, you can click on the More Info link to go to a detailed page for your business, which can contain everything from images to a direct link to your website and more.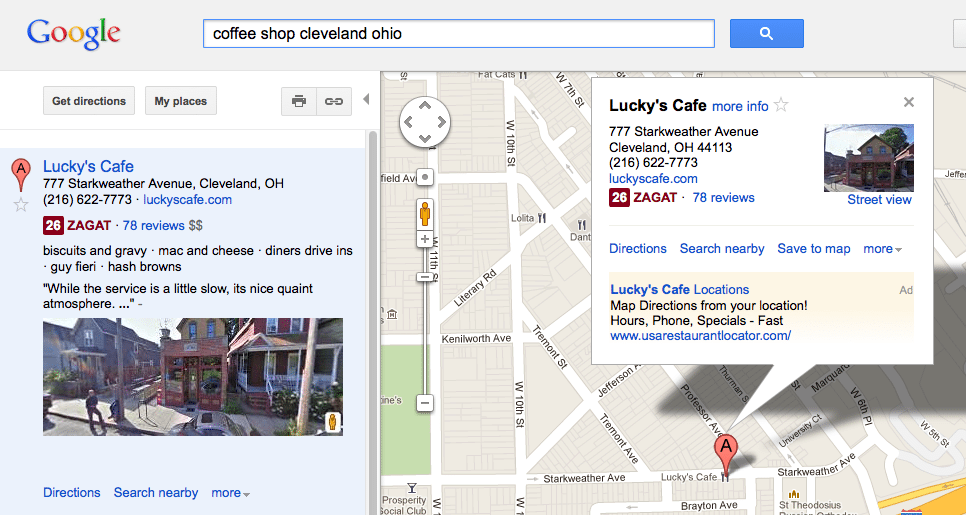 Long story short, if you are a local business, setup a Google account, claim your business listing and optimize it any way you can with information about your business, descriptions, categories, pictures and more. This is how you tell Google what your business does, and why they should return you in their search results locally.
Stop what you're doing now and get it done if you haven't already.
Tip 2 involves second-tier directories & local search citation sites
Beyond the major search engines, there are many valuable websites and services that you should be listed on. Using a coffee shop as an example, you should setup a Yelp.com account as well as accounts on other sites that cater to the food and dining crowd. Consider optimizing your free listing on the various Yellow Pages sites or investigate options on popular niche directories related to your business.
The world of secondary directories is complicated and it can be time consuming and hard to figure out how everything is connected and the data distributed. But once you're listed it's another way for your business to show up in local search results. It's not so much that people will find you on the actual sites either, it's that search engines will return listings from these sites directly within their results so it becomes a two click conversion over to your website.
Consider working with a reputable digital marketing company to see how they can help you distribute your business data correctly, and get you listed without manually doing this all yourself.
A note about Local Search Citations.
A local citation is when the name, address and phone number of your local business is listed on another website. These mentions are a positive "signal" to the search engines that you're a real business, you're still IN business, and that you're business is located at that location.
Many of these second tier websites provide users with the opportunity to review merchants and these reviews are major signals for Google too.
So why should you care? First, Google uses these signals to fine tune their local results and it helps them to return quality local results when people are searching. It makes sense that a local coffee shop with 100 five star reviews would be a good choice to return in the local results vs. one that has 10 three star reviews.
I'm sure you can also see that you would want to click on a listed that has many 5 star reviews vs one that has none.
Long story short, in addition to just getting listed on these secondary sites, you should encourage reviews on your site, in your store and within all channels that touch the consumer. It can make or break your presence and will definitely help you stand out and beat the competition.
3. Social Media

Connect with people. The more people the better. Let's talk a little bit about social media…
Setup and promote your Facebook and Twitter account. Tweet and post your specials and have an active presence. Publish beautiful pictures on Pinterest, Flickr.com and setup a YouTube account for videos. Since you'll already have a Google Account, optimize your business profile page and become active there to with posts and comments. You can also optimize things like your Facebook business page, just like you can for Google.
The world of social media can be complicated and time consuming. Start small and see what works. Don't try and conquer the world at first. But social is an essential part of local internet marketing.
4. SEO & Landing Page Development
The next tip is about developing targeted landing pages.
Does your business offer services in various local niches? My favorite example is our local grocery store chain. They're a grocery store so they'll obviously provide fresh fruits, vegetables, meats and all the rest. But they also have a bakery, a pharmacy, a deli, organic products and a great seafood market. Each one of these is a separate niche that could be a stand-alone store. So why not position these services to the search engines as a separate business all together?
The question is "why" and "how".
If someone is searching for something, Google wants to return highly relevant and useful results. This is their business in a nutshell. If people don't help people find what they're looking for, they'll simply search somewhere else. This will likely mean using another search engine which could ultimately mean lost market share and lost revenue. So returning highly relevant results is extremely important for companies like Google.
You can help them return relevant results by building targeted landing pages. Landing pages are essentially pages on your site (other than the homepage) where people enter. Basically someone performs a search on a search engine and your landing page returns in the results because it's targeted to their search query. Without these secondary pages and content, Google may not even realize that your site is even relevant for a user's query.
Using the grocery store example again, ideally we want to have a page on the site for pharmacy, bakery and meat market — each being specifically designed and optimized to show up in the search results. This will help Google understand your business more deeply, return relevant results and it will help the business reach more people that are looking for those specific services.
Another example would be to develop pages based on the different ways that people might search for you. The terms grocery store, supermarket, food market, health food store, organic market, etc. are all completely different things in the eyes of Google. If you don't tell them that you're also an organic market and have at least one page on your site devoted to this niche term, then you won't show up in the search results.
I can't stress enough how important landing pages are. Continually building content and new pages that are specifically targeted to a niche is the core reason why some websites grow their traffic and influence, and others fail.
Summary
So.. I hope this has been helpful and that I've given you some actionable things to do when you're trying to promote your website locally in the search engines. Get started today by simply setting up a Google account and following their recommendations to optimize it. It's quick and it's easy and then move on down the list of priorities over time.
There are many ways to market your local business online. These are just a few to get you started. Once you've got the basics down, there are many ways that you can expand including locally targeted paid advertising campaigns, display advertising and even local sponsorships. Doing all of these things together will certainly create more awareness, website traffic and ultimately sales for your small local business.