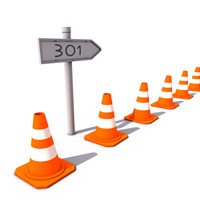 If the title has you scratching your head you may not be as nerdy as us, at least not yet. Luckily those who are not familiar with all of this jargon can still find answers. To find out if this applies to you, read more about what this is and how it may help you, and ultimately your SEO efforts. Although you may not grasp all of it entirely, you can still gain some better insight and be one step closer to understanding yet another important aspect of your online business and marketing efforts.
• So what is 301? This is most commonly used in order for visitors and search engines to find sections of content that have been relocated to a new URL. This is done only when content has been permanently relocated. Users who stumble across this will probably never realize it, which is kind of the point.
• Then, what is a Rel=canonical tag? Though not brand new, this is currently becoming more widely introduced so it seems new. The easiest way to sum it up is to say that this is a meta tag used at page level inserted into the HTML heading for a page. It basically helps prevent identical text and content from the search engine so the strength of your page is not affected during a search.
There's More to It
So now you probably only have more questions, such as when to use each and why. For a 301, the most common reasons for use include moving your site somewhere else or altering your URL structure. Also if you have outdated content, such as your return policy, you could use 301. Finally, if you have more than one version of your homepage, 301 can help. The bottom line is a 301 redirect makes sure users are taken to the new version of anything without seeing the old version.
A rel=canonical tag can do pretty much the same thing, but may be a little easier to use execute if you don't have server level access. Rel=canonical can also be handy if you are 'skinning' one page for multiple brand identities. As an example, you may have two URLS marketed to two different groups (www.widgetsforless.com vs. www.worldwidewidgets.com) but you wish to use the same use the same e-commerce engine to manage all your sales. You can skin the page to reflect the appropriate brand using the inbound URL request as the trigger.  Using Rel=canonical you can ensure that the search engines don't nick you for duplicate content by designating the preferred page for SEO purposes.
When in Doubt
The bottom line is that either one can generally do what you need it to do. The important thing is not to use the rel=canonical tag for new websites. Otherwise, the two are somewhat interchangeable. It may just be, though, that the 301 is not quite as easy to use and implement as the rel=canonical tag. If you are still confused, you should however work with a professional in this field before attempting to make changes. Changes could very well damage the hard work you have already invested.
It is easier to let a professional do it or at least learn so you can do it yourself. However, this should give you some insight to the basics you need to know about the 301 and rel=canonical tag.
Want more info? Check out some of these great articles:
From SEO Moz:
301 Redirect or Rel=Canonical – Which One Should You Use?
Complete Guide to Rel Canonical – How To and Why (Not)
From Google Webmaster Central:
Raising awareness of cross-domain URL selections