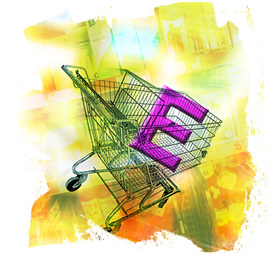 8 Elements of an effective E-Commerce website
As you may know, e-commerce is a big deal these days. According to comScore, $29.1bn was spent online in November and December, 4% more than the 2008 holiday season. The fastest growing e-commerce categories were jewelery and watches, and consumer electronics. According to a Motorola study 51% of shoppers overall and 64% from the 18 to 34 age group used their mobile phones for in-store shopping-related activities during the holiday season. This included comparing prices, finding user reviews, and making a purchase via mobile devices.
So now you've decided that it makes sense to take your own business online? That's great. Here's a few things we always consider when designing an effective e-commerce website.
1. Make It Clear Why People Should Purchase from You
When customers come to your website for the first time, make sure it's clear what you sell and make sure you have an effective up-front value proposition. An up-front value proposition is the core value that is woven into the design and organization of the entire website. Let the user know why they should buy from you. Is it because you have the lowest prices available on the web? Or do you offer the highest quality products where price is less of a concern? Maybe you have one-of-a-kind items that you can't find anywhere else? Maybe you have the widest selection of products and they're never out of stock. Think about this and what will separate you from the online crowd.
2. Provide Many Ways to Find Products but keep it simple
Customers shop in different ways. If you sell watches, a customer might know exactly what they want and type in the name or even model number. A search box is ideal for this. They might admire a certain manufacturer. A search box or pre-sorted list by manufacturer might work best. Some customers might just be shopping for a watch for a gift. Sorting all watches by male and female is another option. Maybe your watches could be sorted by style? Think through different ways to find your products so they're easy to find based on how the customer might search.
3. Keep It Convenient
Everyone has been to an e-commerce store that is flat out confusing and not user-friendly. Our goal is always to keep everything simple and convenient for the customer. Make it quick and easy for them to get to your products. Keep clicks to a minimum. Studies have shown that customers prefer product images over large blocks of text. Get them to the product images as fast as possible and keep the text short. Give customers easy ways to find out what's new, show them pricing at a glance and provide ways to help them move from selection to a finalized order with ease.
4. Provide ways to help customers like you were there with them
Get into the mind of your customers. What would you do if you could offer help to every customer that comes to the website like they were walking into your brink-and-mortar store? You would provide recommendations like top selling items. After they found what they wanted you would give them some other options. Maybe these options would be similar items, high quality items, more expensive or less expensive items. You would allow them to compare and make good decisions. After they found what they wanted you would try to up-sell them. If they were purchasing a suit, you would take them over to the tie racks or possibly over to your dress shirts. You might sell them a complimentary belt or a pair of shoes. You can do all of this online.
5. Privacy, Security and Trustworthiness

Once the customer has found you and found what they want, you need to assure them that you're a reputable place to make a purchase. People are weary of online security and fraud so do everything in your power to make them feel at ease. Provide a phone number prominently throughout your site. Offer a privacy policy that ensures they're personal information will be kept safe and not shared. Provide clear ways to ensure that their credit card information is secure and encrypted. Also provide ways to show that you are a reputable store. Provide information about your history, testimonials, customer reviews and anything you can think about to let the customer know that you're not a fly-by-night vendor.
6. Checkout should be simple and straightforward
After a customer has made their selections, make sure that you make it easy to add multiple items to a shopping cart and then find those items later when they're ready to finalize their order. Selecting your items should be made easy by providing clear pricing and comparisons. Early in the checkout process, disclose your return policies, provide contact information for confidence, and above all, minimize the steps in the checkout process. Your overall goal should be to get them to finalize their purchase. Have you ever seen Amazon One-Click Ordering? Enough said.
7. Order tracking
After the order, ensure that the customer has confidence in you by giving them a way to track their order. This will also minimize additional phone calls and emails that will take valuable time away from your staff. Everyone loves to know exactly where their order is and when it will arrive.
8. Marketing
Lastly, when building an effective e-commerce website, integrate ways to generate more sales and market your business online. Building an effective e-commerce website is more than just a pretty face. We always consider how the site is built to maximize your listings in the search engines. To do this, the way the site is designed and programmed (things you'll never see) are given great attention. A beautiful website is no good if it can't be found in the search engines. Also integrate email marketing. Provide easy ways to subscribe for sales, coupons and special offers. Prove the sign-up prompts throughout your website and especially at the end of the checkout process for customers that are actually making a purchase. You've spent time and money getting them to this point so why not integrate a way to stay in touch with them in the future and to stay top-of-mind the next time they're ready to make a similar purchase.