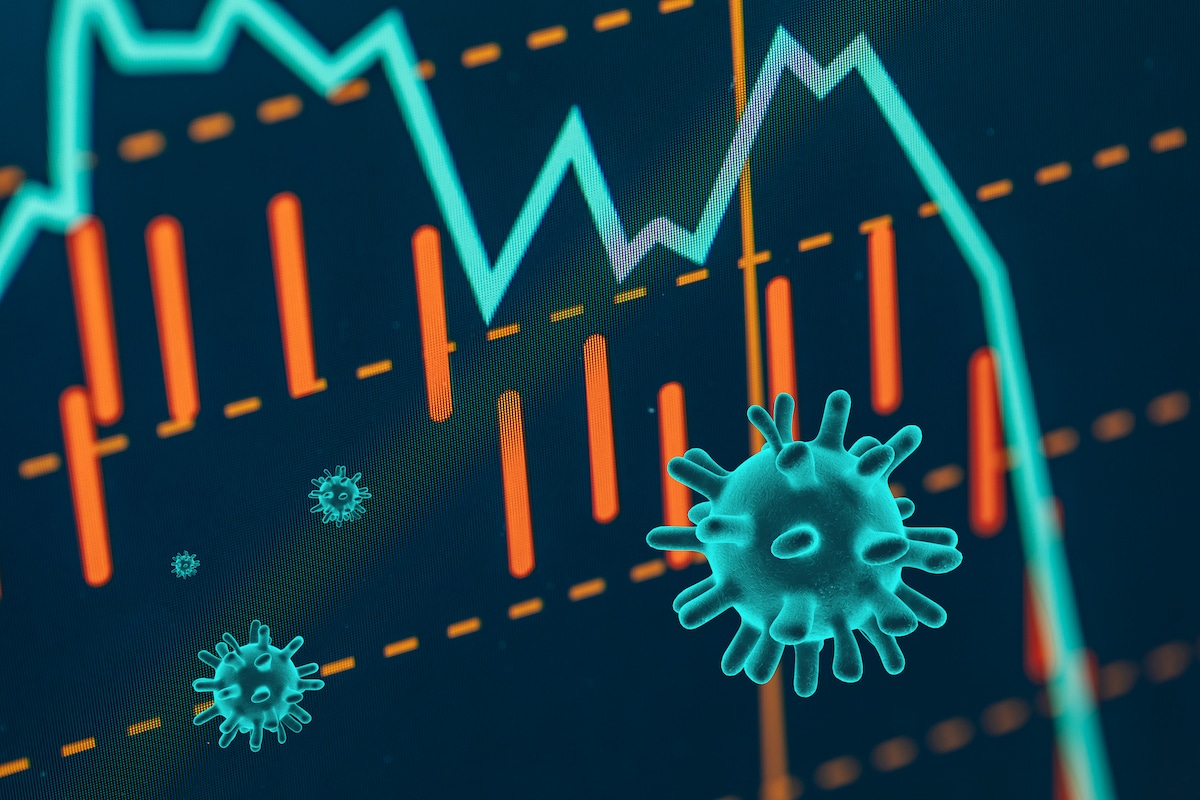 We understand that now is a very difficult time for your business. With so much uncertainty, it's hard to understand what the immediate future holds—and how you're going to navigate your business to the other side.
In times when people are being ordered to stay at home, they are on their phones, tablets and laptops even more, making digital the best route for engaging with potential customers and staying connected with existing customers.
Digital tactics like paid social media advertising and paid search campaigns can help get your business noticed by the right people, and ultimately get your more leads—even during a pandemic!
Throughout this post we'll cover:
What you need to be doing RIGHT NOW to protect your revenue streams
How to confidently navigate your marketing efforts through the phases of Crisis, Recession and Economic Recovery
How to reach a quarantined audience
How to budget for marketing in difficult times
How to prepare your business to survive (and then thrive) in the coming months
First Things First: What to do RIGHT NOW
1. Update Your Website
One of the first things you want to do is update status and contact information across key points of your website. Make sure to note any changes in your communication channels so that things don't slip through the cracks. This would include updating your contact page, form notifications and routing, online chat, etc. You need to make sure those messages are going to someone that is able to answer those requests and get back to you within 24 hours, especially at this time.
2. Update Your Google My Business Page
This is a critical tool for any B2B or B2C business. You'll want to let clients know how best to get in touch with you during this time. If your phone numbers or routing numbers have changed, you'll want to make sure those have been updated. In addition, if your business is closed or your hours have changed, you'll need to make sure that is reflected in your profile as well. You may want to consider turning on "messaging" through Google My Business, but be careful and monitor this closely if you choose to go this route.
Another thing you're going to want to look at is the "updates" section. This section is usually visible anyways, but now more than ever you should be mindful of this piece. The updates section lets you highlight specialized content on your site related to Covid-19. Consider creating specific articles / content relevant to COVID-19 during this time. But also remember this attribute is always there. So tickle this to come back and change to a new update once we're past the immediate crisis.
"Attributes" are another key feature to consider on your Google My Business Page, especially for B2C. Attributes let you add certain information if you are a B2C business and can easily be updated. For instance if you're a restaurant owner, you can easily let your customers know you're open for takeout and delivery, but dine-in is not currently available. Again remember to swing back and update these once everything 'opens up' again.
Feel free to explore and learn more about these tools and resources for COVID-19. If you need someone to manage these changes, please reach out to us in the chat section or email us at [email protected].
3. PAUSE & Evaluate Your Current Marketing Plan
Like most of us, you probably came into the new year with a marketing plan you felt confident in. While it may still be premature to completely throw it out the window, you do need STOP and assess the relevance of current marketing activities currently in motion to see how things still apply or how you can pivot your efforts. Some things to consider:
What's on your content Calendar

Blog Posts / Articles
Pre-scheduled Social Media Messages
Scheduled Emails (Newsletters / Drip Etc.)

Paid Promotions

Paid Search & Display
Paid Social
Marketing Automation
Assess other traditional media channels for the same
Until you get a chance to determine your positioning, messaging and approach during this time, hold off on communicating with your customers or prospects to avoid putting out false information or worse, painting a bad picture of your company.
How to Navigate Your Marketing Efforts in the Coming Months
Let's be honest, right now we are in the midst of a crisis. But that doesn't mean things will just go back to business as usual right after this crisis ends… there are phases. And for the short to midterm, none of them are pretty. After this crisis ends, unfortunately, we're going to be in a recession as we're already seeing plenty of indications of that being the case. Then, the eventual phase of economic recovery. So we need to be planning our course on how we're going to navigate these rough waters over the coming weeks, months and possibly years.
Each phase of economic impact from this pandemic has some important dimensions or questions that should be considered in your marketing and sales approach:
Who to engage?
Why are you talking to them?
How do you reach them?
What will you say?
The answers to these questions should be similar from industry to industry, company to company, but will likely vary depending on which phase of recovery we're in.
Marketing During a Crisis
"Customers want to help those on the frontlines… They are searching for ways to support their most vulnerable neighbors. And they appreciate those brands that are showing the same kindness to others." ~ Maryam Banikarim (Head of Marketing, NextDoor)
During a crisis phase like we're in now, reaching the right audience and figuring out how and why we're talking to them is going to be harder than ever. We're most likely all working remotely or unfortunately, not working at all. We're not going to be picking up the phone or dropping in on customers or prospects, so we need to figure out the best way to reach them. We also don't want to be tone deaf to what is going on in the world around us. The way companies carry themselves during this time will say a lot about who they are as people and how their brand is defined for years to come.
So let's go back to our four questions and consider how we should approach these key dimensions during a crisis:
Who to engage? – Most likely this should only be your existing customers. Trying to get new customers at this time is going to be difficult. People are unsure, people are tightening their belts etc. Many businesses are growing actively because of high demand for their services, but if you're like most businesses or if you're in a struggling industry, right now you really need to be focusing on your existing customers.
Why are you talking to them? – This is really about revenue protection. You want to be proactive and get in touch with them early and not wait for them to reach out to you first. The key thing is to be servicing them right away and being there to help support whatever their needs are at this time. This will help strengthen your relationship with them not only now but long into the future.
How do you reach them? – We're dealing with a remote workforce. The key channels you should be focusing on include: email, social media, video, webinars, articles and information promoted through your website, boosted content through Google My Business and your social channels. This should also include personalized outreach from your service and sales team either by phone or email.
What will you say? – You want to be providing updates on how their service will be affected and offer assistance and support within your power. Keep it simple. Establish consistent talking points for all points of contact. And above all else, do NOT try to capitalize on a tragedy!
Twitter Marketing put out some good tips on how to communicate as a brand during this crisis. Some of their recommendations were to:
Know your brand
Be thoughtful about voice and tone
Stay up to date
Anticipate changes
Share accurate information
Offer support
Marketing During a Recession
Marketing during a crisis and during a recession won't look all that different. Things will slowly start to look more "normal" in the way we work, but the same principles will still apply with how you're communicating and positioning your brand. You're approach during a recession will most likely look something like this:
Who to engage? – Definitely still your existing customers, however more opportunities for referrals and new acquisitions will seem more likely. You might consider targeting industries that traditionally do well during recessions.
Why are you talking to them? – This is still about revenue protection. It's also about rebuilding your revenue streams. A lot of companies might see previous customers "come back" as lockdown restrictions are lifted and business is being conducted again. There may also be more opportunities for growth and increased market share.
How do you reach them? – Communication channels will begin to return to normal, but expect long-term changes in the way we engage. 1:1 communications will be more remote than prior to the crisis. Tradeshows and large gatherings will be limited and/or transition large portions of the content to be online.
What will you say? – This is inline with messaging during "good" times. Be sure to establish strength in your company's ability to serve their needs. Be prepared to adjust pricing or payment plans and demonstrate your value – particularly in dollars and cents as budgets will be tighter. As always, it's YOU who can help them reach THEIR goals.
What Should You Do With Your Marketing Budget?
Let's move on to the fun question of budgeting. What should you do with your marketing budget during this time? This is an axiom that's been around for years and it is still true: "When times are good you should advertise, when times are bad you must advertise." Unfortunately it might seem difficult in these times to find the money to do that. A lot of people go to marketing to cut their budget right away, but it's not something you should do if you want to ensure the long-term health of your company.
An article from Harvard Business Review from September of 2008 (the last recession our country had) laid out some great points at that time for making your marketing plan:
Research customers & how consumers are defining value.
Focus on family values
Maintain marketing spending
Adjust product portfolios
Support distributors
Adjust pricing tactics
Stress market share – strong companies will gain
Emphasize core values
These 8 factors certainly still resonate now in 2020 as we're facing another recession. In fact, there's a number of case studies going back nearly a century that point to advantages of advertising in weak economy including:
Reduced "noise" level
Project image of corporate stability
Ad costs drop
When you're figuring out what to do with your marketing budget, you might be tempted to continue what you've always done—or even to cut your budget in fear of what's to come—but you should consider upping your digital marketing budget.
Many sources were saying even before this pandemic that marketers are making a switch, and you should be spending at least 50% of your marketing budget on digital efforts. This is becoming an even bigger trend now that remote work is happening and people are turning to the internet to shop and seek information now more than ever.
This is really accelerating the digitization of our sales and marketing efforts. You need to be thinking about how these mediums allow you to engage in different ways with your customers. Simply digitizing traditional processes won't work. The most important element in the digital world is customer engagement and marketers must connect in three ways:
By providing relevant Information
By creating multisensory Interaction
By making an emotional Connection
Digital transformation to create true customer engagement is now imperative. This is not a temporary state of being while we work through this crisis and while we work from home. We are all learning to communicate differently and this is going to affect us for a long time.
Key Takeaways
Short-Term:
Focus on serving existing customers and your community.
Ensure communication channels are up-to-date and highly visible.
Avoid business-as-usual communications or messages that appear to capitalize on the current crisis.
Pivot business to serve customers in the current environment.
Mid-to-Long-Term:
Prepare to emerge from crisis into recession.
Do NOT cut marketing budgets.
Transition to digital marketing focus is an acceleration of the inevitable, not a temporary condition.
Companies that invest now have a better chance of surviving & thriving on the back-end of this economic environment
We don't need to be afraid, we need to plan accordingly and know that tough times are ahead of us. Recession cycles have happened in the past and they will happen again in the future. Please know that there are pathways out of this and there are opportunities for you to succeed going forward.
If you have any questions or would like to see how Sanctuary can help, feel free to contact us anytime. Stay safe everyone, and keep pushing forward!