If you spend any time at all on social media these days, you surely have seen some interesting developments. Things are always changing quickly, and even if you're not overly active on social media, you've probably heard about some of what is going on.
Given the turmoil, some users have opted to look for other places to send out messages and connect with an audience. One such place is Threads, a new social media platform that is operated by Meta, the parent company of Facebook and Instagram. As a business owner, manager, or marketer, you should keep up with all of the latest digital developments to make sure you aren't missing out on any good opportunities to get in touch with the people you serve. 
With that in mind, a simple question comes up – is Threads worth your time and attention? That's the question at the core of this article, and we'll dive into it below.
What is Threads?
First, before we spend any time determining if you should use Threads for your business, we should first discuss what it is and what it does. As mentioned above, this is a new social platform with a focus on short messages. There is a character limit of 500 on the content you post to your account, and videos can be no longer than five minutes. Because of the corporate connection, it is easy to share your Threads posts across to your Instagram channel, if you wish.
In fact, the connection with Instagram runs deeper than just sharing your posts, as you can use the same credentials and carry across all of your bio information, etc. So, it somewhat acts as an extension of Instagram that isn't as focused on images and offers the opportunity to share short content snippets. As with pretty much all other social platforms, you can choose to follow people and accounts, they can follow you, etc.
If you already use social media platforms, you'll see a lot of similarities and a few basic differences. Of course, there is no reason you have to pick one platform over the other, so you are free to continue using the social platforms you already frequent for marketing purposes while also adding Threads to the mix.
What Businesses Stand to Gain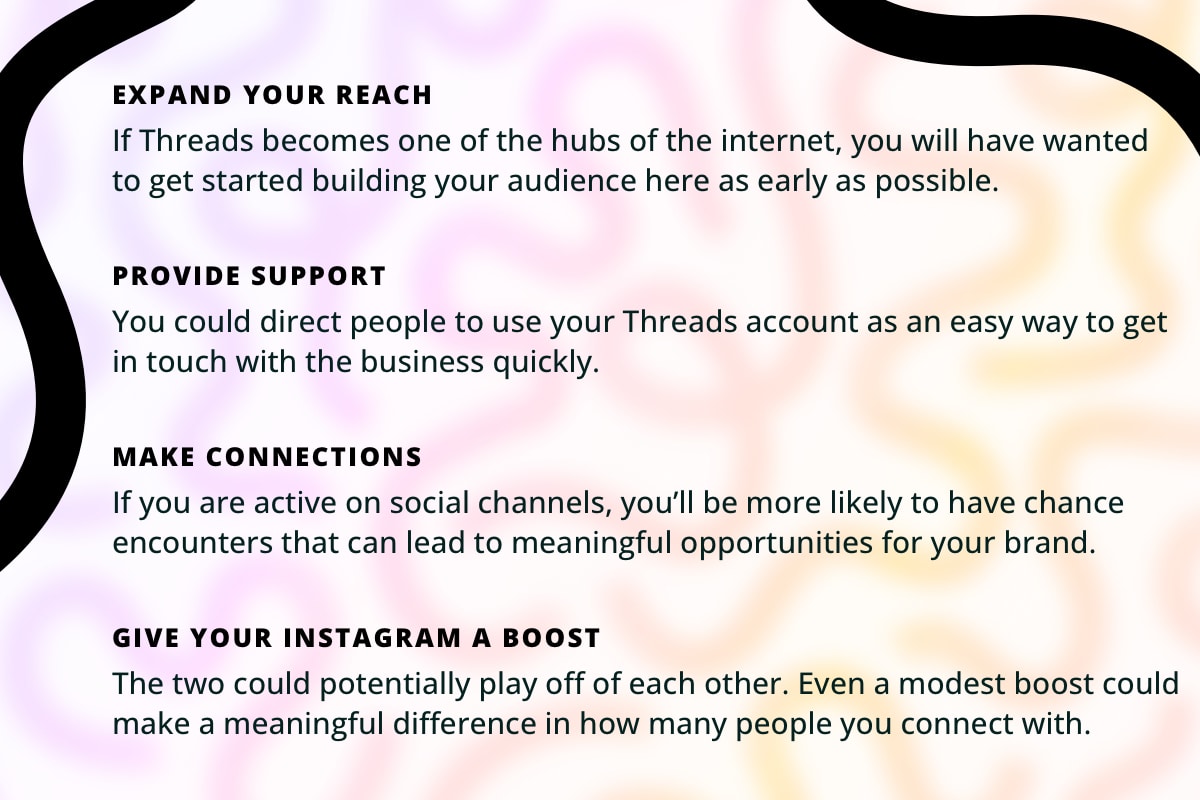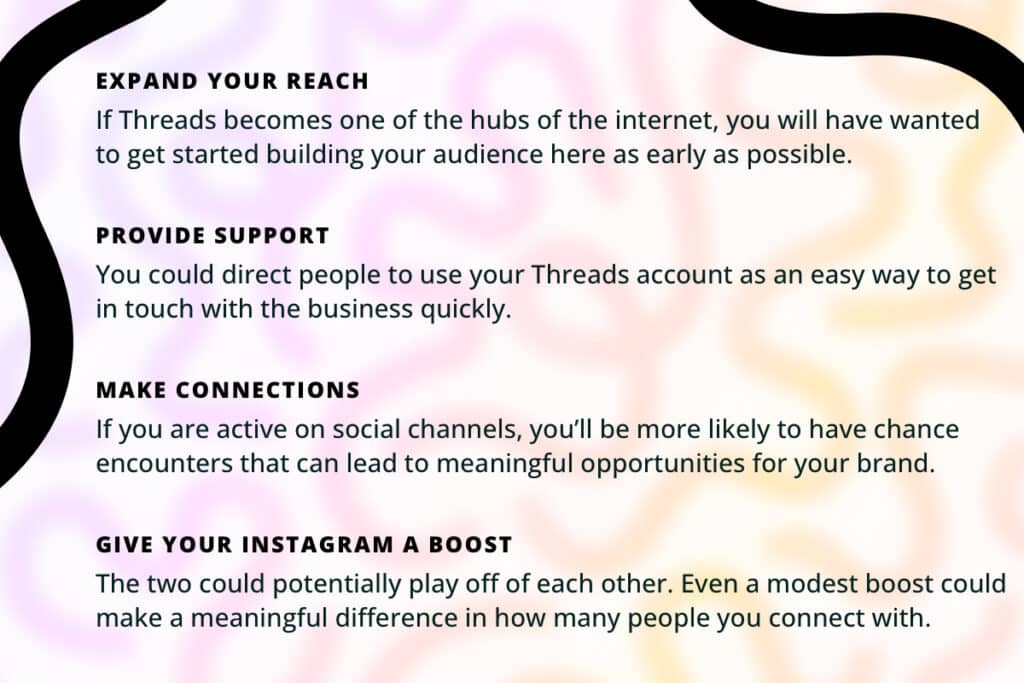 One thing that is commonly overlooked by businesses when a new social platform comes along is the opportunity cost of engaging with that platform. Sure, the service might be "free" to use, but time is your most precious commodity, and it will still require some of that, even if no money is changing hands. So, just jumping into a new social platform because it is free to use and might have some marginal benefit really isn't a strong business argument.
With that background in place, you should clearly have a strong use case for any new platform before committing. In this section, we are going to present some of the arguments that you might use to justify the time and effort required to get going on Threads. These points don't mean that Threads automatically makes sense for your needs, but they can help you see where it could be applied and if the potential uses make it worthy of your attention.
Expanding reach. This is always the name of the game in digital marketing. Brands want to reach as many people as possible online, as casting a wide net is going to make it more likely that at least some of the people you catch in that net are going to be interested in what you are selling. So, if a meaningful amount of people decide to use threads, it stands to reason that you might want to go ahead and use it as well. Of course, since it is under the Meta umbrella, there is a good chance that a sizable audience will be present. If Threads winds up taking off and becoming a big social platform that is one of the hubs of the internet, you will have wanted to get started building your audience here as early as possible.
Using it to provide support. You might want to leverage the short messaging style of Threads to your advantage by using it as a support line of sorts. You could direct people to use your Threads account as an easy way to get in touch with the business quickly, as long as someone is going to be monitoring it on the back end to reply in a timely manner. Not only does this serve as a free platform that you can use for a support channel, but the support also happens out in the open in front of others – meaning potential customers get to see the help you are providing to current customers. This can go a long way in proving your value and trustworthiness as a brand.
Make connections. Not only is Threads potentially a place to find customers, but you might also connect with other businesses that are adjacent to your niche. This comes back again to the theory of casting a wide net to see what you can catch. If you are active on plenty of social channels and not only posting on your own page but also commenting on the posts of others, you'll be more likely to have chance encounters that can lead to meaningful opportunities for your brand.
Give your Instagram a boost. If you have been using Instagram for a while with only modest success, tapping into Threads might help you breathe some new life into your Instagram experience. The two could potentially play off of each other and help you grow the audience that sees your content. Even a modest boost here could make a meaningful difference in terms of how many people you connect with and how many sales you make.
It's hard to say exactly what, if any, impact a Threads account will have on your brand's online presence. With something so new, the future is uncertain, and only through trial and error will brands big and small be able to figure out what works and what doesn't on this platform.
The Potential Drawback of Adding Threads
As mentioned above, the primary drawback of using Threads at this point is that it might prove to be a waste of time in the end. If this platform doesn't wind up getting much traction, and web users never really adopt it as a primary place to hang out and spend time, you might be working on building up an audience and an account that isn't going to do you a lot of good in the end.
And, while you are working on building up your presence on Threads, there might be other opportunities that are passing you by. Or, your marketing department might not be able to keep up with everything, and the quality of the content you put out in other places could trail off. Before taking the step to jump in and try it out for your brand, be sure you can commit to giving it an honest effort without taking a meaningful bite out of anything else that you are already doing successfully.
How to Try It Out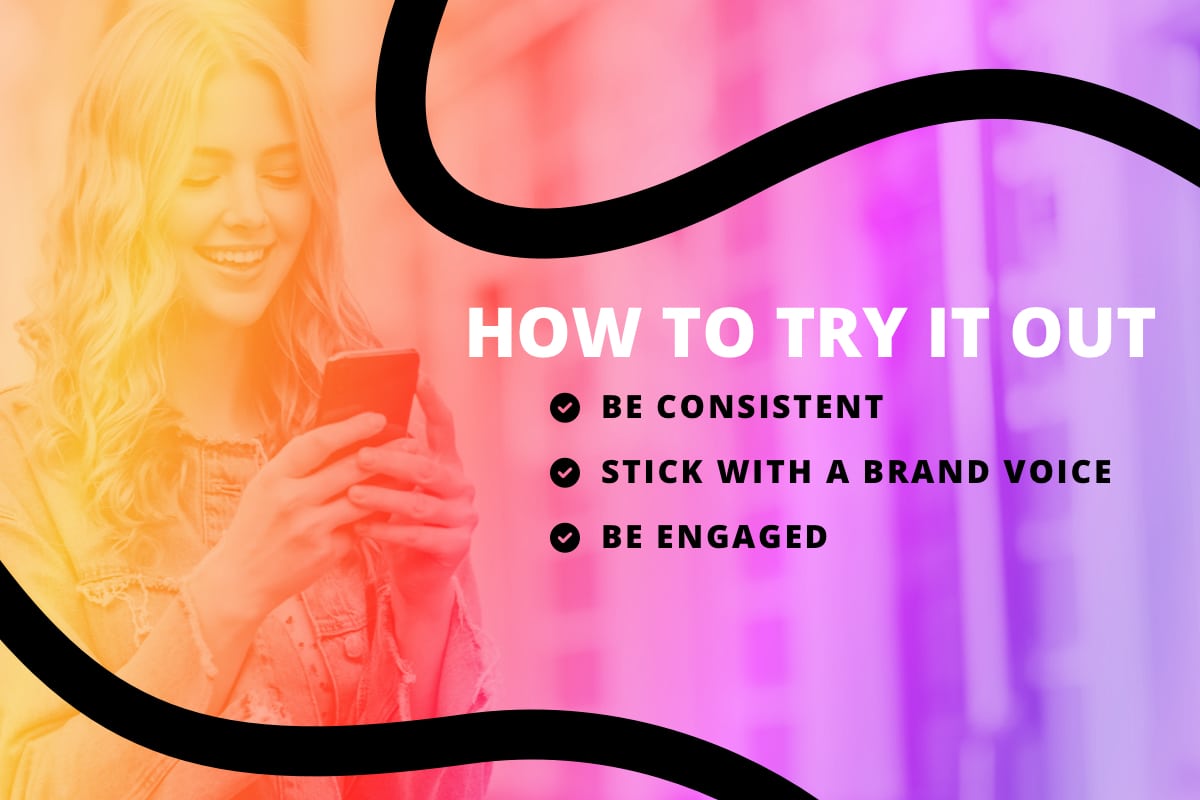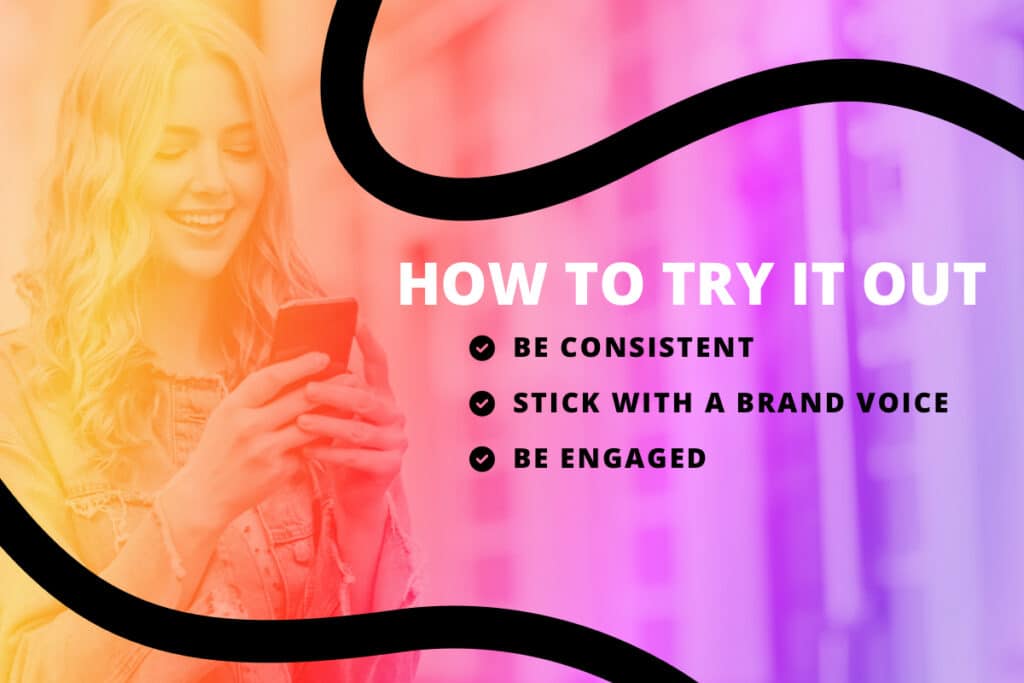 The easiest way to try out Threads, if you decide to do so, is by using your existing Instagram account to get started. You can just log in to Threads with your Instagram name and password and get started immediately. This is nice as it makes brand consistency a breeze – the branding that is already in place and people are familiar with on your Instagram account will be carried over so there won't be any confusion as to who you are or what you are offering.
Once you have made your account, the same fundamentals of using any social media platform for business purposes will apply here. Some of those keys include –
Be consistent. Just posting every once in a while isn't going to do much good, and you might as well not even bother. Try to set up and maintain a consistent schedule of posting so those who follow you will regularly see your content and be encouraged to engage further. You don't have to post several times each day or anything like that, but it is necessary to have consistency on your side if you hope to make an impact.
Stick with a brand voice. Speaking of consistency, you also need to be consistent with how you present content to the audience and what tone you take in your messages. Some brands choose to be pretty safe and neutral, while others take on a persona and really lean into it. For example, some brands are sarcastic and even confrontational (to a point), while others are overly friendly and engaging. Whatever approach you decide to take, carry it over from one post to the next and also across all of your social media accounts.
Be engaged. This might be the most important point of all. The big advantage of social media for businesses, and what makes it such a powerful tool, is the fact that you can connect directly with your target audience. When someone replies to one of your posts, you can send a message back to them, even if only to say thank you. There is little point in using social media regularly for your brand if you aren't going to take advantage of the opportunity to demonstrate your attentiveness and commitment to customer service. Set up a schedule where someone will check in on the various social accounts, including your new Threads account, to see comments and reply appropriately. Being active is one of the best ways to grow your reach and get even more engagement moving forward.
Threads is just getting started in the social media landscape, so it certainly doesn't yet have the user base or potential for exposure that is offered by the big players in this market. That doesn't mean you should automatically ignore it, however, as there might be room here to get in relatively early and carve out a niche for yourself. Take some time to sign up and review the platform more closely and decide if you would like to give it a try.