LookSm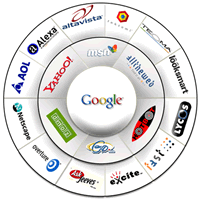 art, FindWhat.com, Mahalo, ChaCha, Business.com, Hoovers, MetaCafe, BOTW.org…. these are just some examples of what are called 'Tier 2' search engines.  Maybe you've heard of them, maybe you haven't.  But they're scrappy, they're focused and they're serving audiences you might just be missing if your SEO strategy is only investing in Google.
There may well be niche advertising providers in your industry that give you a better return on investment (ROI) on your pay-per-click (PPC) campaigns than you have been getting from Google, Yahoo!, or Microsoft.
The landscape of search engine marketing changed last year when Yahoo! And Bing joined forces. If you aren't aware, search results on Yahoo! are now provided by Microsoft's Bing. And Yahoo!'s Search Marketing Platform has moved to Microsoft's adCenter.
For most search engine marketers – those who use pay-per-click (PPC) or another form of advertising through the major search engines – that means the field is down from three to two.
Google is still by far the biggest player. And now that the merger of Yahoo! and Bing takes one advertising platform out of the picture, search marketers have a bit more free time on their hands to explore other venues for bringing new customers and revenues to their websites.
And sometimes, that new revenue can come with less investment.
A picture of Search Engine Marketing today
Google and the Yahoo!/Bing platforms account for 92% of Internet searches. For this reason, they are considered "Tier One" search platforms.
But what of the other eight percent?
For years, marketers have found ways to cash in on the remaining search traffic through what are called "Tier Two" advertising platforms, usually advertising networks that cash in on traffic that doesn't originally come from the biggest search engines.
Some of these platforms work better than others. And now that search engine marketers have more time to explore new options, it is likely that competition and innovation will be increased in 2011 among these secondary advertising platforms.
What will Search Engine Marketers demand from second-tier ad platforms?
Though SEM specialists will have more time now that Yahoo! and Bing have merged to investigate new advertising venues, it's not like they have time to waste.
They will expect similar functions and benefits that they get from the major players – and preferably at a lower cost.
In other words, these platforms need to deliver enough traffic to make advertising efforts worthwhile. The traffic needs to be good quality so it will convert into sales. And the platform that the advertisements are delivered from should be sophisticated enough to give advertisers tools for reporting, targeting and tracking. Safeguards must also be in place to prevent click fraud, which has been a major problem on secondary ad networks in the past.
With minimum effort, however, a savvy Search Engine Marketer can find one or more secondary search engine advertising platforms that provide high-quality traffic with a respectable ROI.
Some Resources to Locate Tier 2 Search Engines:
http://searchenginewatch.com/article/2065500/Pay-Per-Click-Search-Engines-CPCPPC
http://www.ppchero.com/don't-forget-about-the-smaller-search-engines-7search/