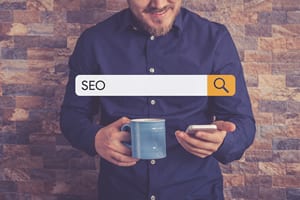 Have you started to notice that Google Search results look a little different lately? If you've Googled a question, it's likely you've seen information in position zero and you just haven't realized that this is a new feature. Since ranking high is the ultimate SEO goal, why wouldn't you want your content to end up at the very top of the list?
What is Position Zero?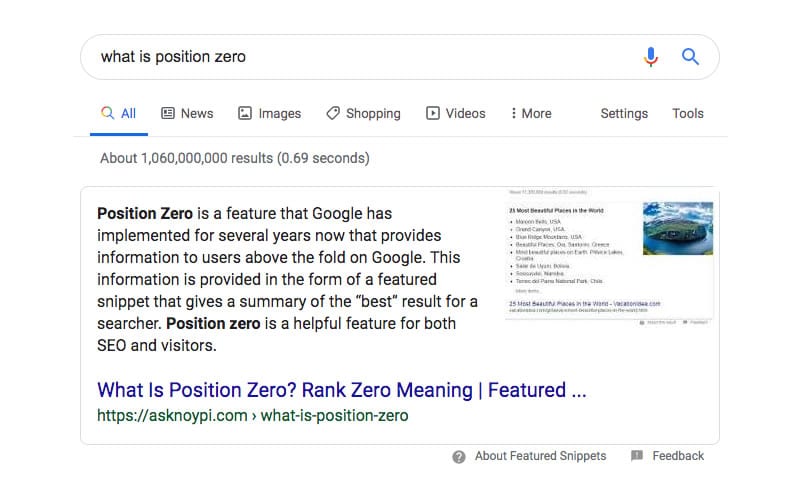 Position zero, also called a "Featured Snippet", is the information that shows up in Google Search results before the first result. A featured snippet is a chunk of content that's extracted from a website that's shown in response to a user's question. This is obviously a highly coveted spot to be in on Google Search results because it's seen as the ultimate resource or answer to the question asked. So how do you achieve position zero?
How to Land Your Content in Position Zero
Rank high in search results.
Google chooses from popular content (the first page of search results) for the featured snippet, so be sure your content is ranking at least on that first page, preferably within the first five results. Here are just a few things you can do to rank better:
Improve page load speed
Create new content on your website regularly
Optimize images
Break up content with header tags
Include outbound links
Optimize your site for mobile
Incorporate more keywords
Maintain a good URL structure across your site

Find out what your audience is asking.
Brainstorm a list of questions that your audience is likely asking about your product or service, then type those into Google Search to see who's currently ranking in position zero. Choose questions that contain the most relevant keywords for your business and work on creating content around those questions, or optimizing content that's already on your site. For some lower competition phrases to rank for, take a look at the "people also ask" section that's usually just below the featured snippet.

Create relevant content.
Write landing pages and blog posts centered around a common long-tail keyword. The featured snippets that get used have an exact answer to the exact search typed in, so it's recommended that you focus on question-form, long-tail keywords or phrases that begin with words like:
You can see some great examples of this in the screenshot of the "people also ask" section above. As opposed to a keyword, a long-tail keyword or key phrase expands on a single keyword. For example, instead of focusing on "SEO", you'll want to drill down further to "improve SEO on a website". To make your content relevant for featured snippets, you'll want to then add in a few words to turn it into a question, such as, "How to improve SEO on a website."
Rather than creating brand new content in hopes that it'll get used as a featured snippet, you might consider reframing your existing content to fit within this framework. Pull a report of the highest trafficked pages on your site, and consider rephrasing it to focus on a question that contains a long-tail keyword.
Format your content so it's easy to digest.
If your content is answering a question, make sure that's obvious! After all, the reason you write content is so that someone else finds it helpful and is compelled to take action. Google will be more likely to display content that's already formatted in a desirable way.
Content that is likely to be pulled out into a featured snippet would come from a "how to" or FAQ page—any page that has a question and answer format. Consider adding a page like this to your site if you don't have one already. Here are a few tips on how to format content on that kind of a page:
According to Search Engine Journal, "An SEMRush analysis has shown that most featured snippet result answers are between 40 to 50 words." Keep answers to your FAQs around 50 words so that it's even easier for Google to pull your content.
Label each question as a subheading with the question directly below. Be sure that the question subheading includes a long-tail keyword.
Use bulleted lists, numbered lists, charts, tables and graphs where applicable.
Get Help Ranking Higher in Google Search Results
If you feel like your SEO efforts aren't paying off (i.e. You still aren't on the first page of search results or you're still very low down on the page), there are steps our team can take to help your website rank higher. Talk to us about putting together a strategy!
Sources: Search Engine Journal