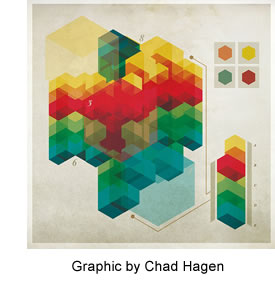 I've been asked to distill down the world of Google Analytics to the top 10 most important metrics for a small business website. For those who do not know, Google Analytics is a free service offered by Google that provides you with endless, valuable information about your website and your visitors. Every site should install Google Analytics even if all you need to know is how many people come to your site each month. But it can tell you so much more. Without further adieu here is my list as well as a short description of why each is essential.
1. Dashboard:
Even if you skip all the other sections in Google Analytics, The Dashboard is a great place to see a lot of important information at a glance. (We'll describe most of these below) All of the most important stats are shown here for your viewing pleasure as well as a nice visual chart that displays your traffic trends.

2. Visitors/Visitor Trending/Absolute Unique Visitors:
The mother of all statistics is how many visitors come to your site on a monthly basis. Unique visitors will tell you exactly how many real people came to your site which is a "golden" statistic. Compare your Unique Visitors to website sales to get an idea of how well your website converts visitors.
3. Visitors/Visitor Trending/Visits:
The "Visits" stat is similar to Unique Visitors but know that this could show one visitor returning to your site multiple times. (You'll notice that visitors is almost always greater than unique visitors) It's a good stat to use when measuring how people use your site, but don't be misled that "visits" can be used to measure your overall traffic.
4. Visitors/Visitor Trending/Average Pageviews:
Pageviews is a good way to measure how deep users are going on your site. (How many pages they've viewed overall) If you have a wide range of content and information and your average pageviews is 2.3 pages per visit, users are not being engaged by your site. Sometimes this is not necessarily a bad thing. It could mean that your site is designed to quickly give visitors the information that they want and then they leave. But normally you want visitors to be engaged and utilize more than a few pages of your site.
5. Visitors/Visitor Trending/Bounce Rate:
The bounce rate is another "golden" stat. The bounce rate shows you how many people came to your site and immediately leave. Usually this is not a good thing. Compare your bounce rate with your traffic increases. Ideally we want unique visitors to increase and the bounce rate to decrease. Many people get excited about traffic increases but are not aware that their bounce rate is also increasing. Not a good thing.
6. Visitors/New vs Returning:
Just as it sounds, this stat will show you the number of new visitors (first time) vs. returning visitors (people that have been to your site before). This would be a great statistic if it actually worked like we needed it to. It's still a useful measurement, just don't take it too seriously. The thing to keep in mind is that if a cookie is not present on the visitor's computer – for example, they cleared cookies – they will be shown as a new visitor each time they come back.
7. Traffic Sources:
There is a lot of information here so I won't break out specific sections. Just know that you can go within this section and learn about how users find you.
Direct traffic is when someone types in your website URL (your address) and comes to your site.
Referring sites shows when someone clicks on a link from another site and then arrives at your site.
Search Engines will show you the traffic that you receive from the major search engines. If Google is not the top search engine you are probably missing a lot of opportunities.
Keywords is a great stat that shows you the words that people have used to find you. If important keywords are not showing up here then you know you're missing out on an opportunity. Equally important is to exploit opportunities where people ARE finding you for relevant keywords. You might show up on page 2 of a Google search for a specific keyphrase, yet it's still driving traffic. Just imagine how much you could get if you ranked on page one. Exploit these opportunities!

8. Content:
This is another section that breaks down to provide you with a wealth of information. If you need to know what people are most interested in on your website, the stats in this section will answer the question.
9. Content/Top Landing Pages:
Most people take for granted that visitors arrive through the homepage. This is usually true but you should be aware that this is not always the case. Users will arrive in any number of different ways so we should always make sure that they can easily navigate the site from any page. We should also make sure that every page is designed to convert and fulfill the top goals of our website.
10. Content/In-Page Analytics:
I love this section of Google Analytics. For every link on your site, it will show you an overall percentage for the people that click that link. This is the ultimate statistic that will help you determine if your site design is converting your visitors and fulfilling your goals. Check this section out and I'm sure you'll be very surprised.
Bonus: 11. Comparisons:
It's not immediately obvious and not really a "metric" so I'll break this out as a "bonus" essential tip. Be aware that Google Analytics provides many ways throughout the interface to compare time periods. This is a great way to show progress and to determine if your site and investments are paying off over time.