As the gradual shift from Universal Analytics (UA) to GA4 continues to progress, plenty of website owners and managers are a bit confused about what the change means and what new features will be available in this updated version of the service. And, with the end of the timeline fast approaching – Universal Analytics 360 will stop working on October 1st, 2023, now is the time to make sure you are fully versed in what GA4 has to offer.
In this post, we are going to take a big-picture look at some of the new features available within GA4. We are going to aim to keep things simple to help you understand the functional purpose of these new features and how they can help you run a better site and a better business. The best way to overcome any apprehension you have about the switch to GA4 is simply through education, so let's get started!
The Value of Analytics
Before getting into the specific features that you may want to leverage for your business, it's important to step back and think about why you have analytics in place on your website in the first place. On an extremely simple level, you might have it installed just so you can see how many people are coming to the site each day. That's a good start, and that's useful information, but it doesn't do much for you.
If analytics is going to be a driver of growth and positive change in your business, it needs to be used strategically to learn important things about your audience. By pulling out insights that can tell you something interesting about the behaviors of those who land on your pages, you can use that information to make smart choices about where to invest your time and money moving forward. In other words, analytics – when used correctly – can tell you what is working, what isn't, and how you should proceed as a result.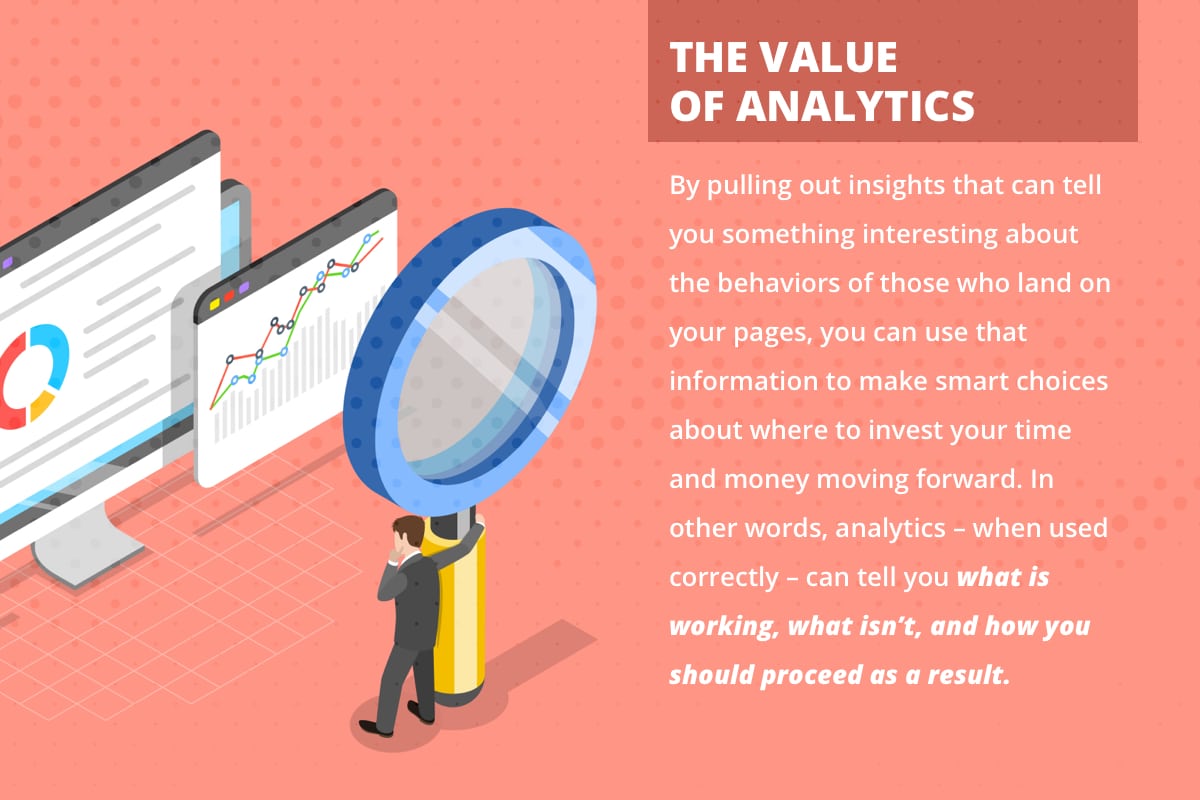 So, as you continue to get to know GA4, keep the ultimate goal in mind. As you use the interface and check on the stats that your site is collecting, remember that those stats need to be actionable to be meaningful. Put the various features to work for you in order to bring the numbers to life and inform the choices you make in the future.
It's All About Events
Perhaps the biggest change of all is the way GA4 focuses on events rather than page views. Everything you gather up in your GA4 account for your site is going to be one type of event or another. There is a set of automatically tracked events that you will start with when GA4 is first installed on your site, and you can then create custom events to make sure the tracking is working as you wish. 
This switch toward an event-centric system makes it easier to track the paths that visitors take through your site, and much more. While it's probably a bit more work to get the system up and running properly for your business (because you'll need to think through what events you want to track and then set them up) the end result is a more customized solution that is going to be more likely to deliver actionable insights. This change probably explains the frustration that many long-time UA users have expressed during the transition process, but it's quite possible that many of them will come around and wind up loving GA4 in the end.
Customization as a Feature
There was a lot to like about the experience offered by UA, but it wasn't always as easy to customize as you might have liked. If you did want to create something custom for your business, it may have taken quite a bit of time or some advanced know-how to make it happen.
As we shift to GA4, customization takes center stage. In many ways, if you can think of an event that you would like to track, GA4 can make it happen with a bit of setup. The events that come standard in GA4 are customizable, or you can set up a new one from scratch, if that makes more sense for your needs.
Let's go through a specific example to highlight just how deep you can go with customizations in this platform. Imagine that you are driving some traffic to your website through social media posting. Specifically, you have been posting informational content on social media that is linked to blog posts with more details on the topics you cover. What you would like to know is how many times someone follows the chain of clicking on a link in a social post, landing on the blog post, then using a link in the blog post to a related product page where they make a purchase. That's a very specific action for a user to take, but you can set up an event in GA4 that perfectly matches that path and then see how many times it is triggered. 
The customization capabilities of GA4 really force the user to change the way they think about analytics as a whole. Traditionally, you were offered some reports as standard, and you pretty much just used those to gather what information you could. Now, the format has essentially been flipped, and it's up to you to think about what you want to know, and then use this tool to track down that information. It might be more work, at least at first, but it can be far more useful when used properly.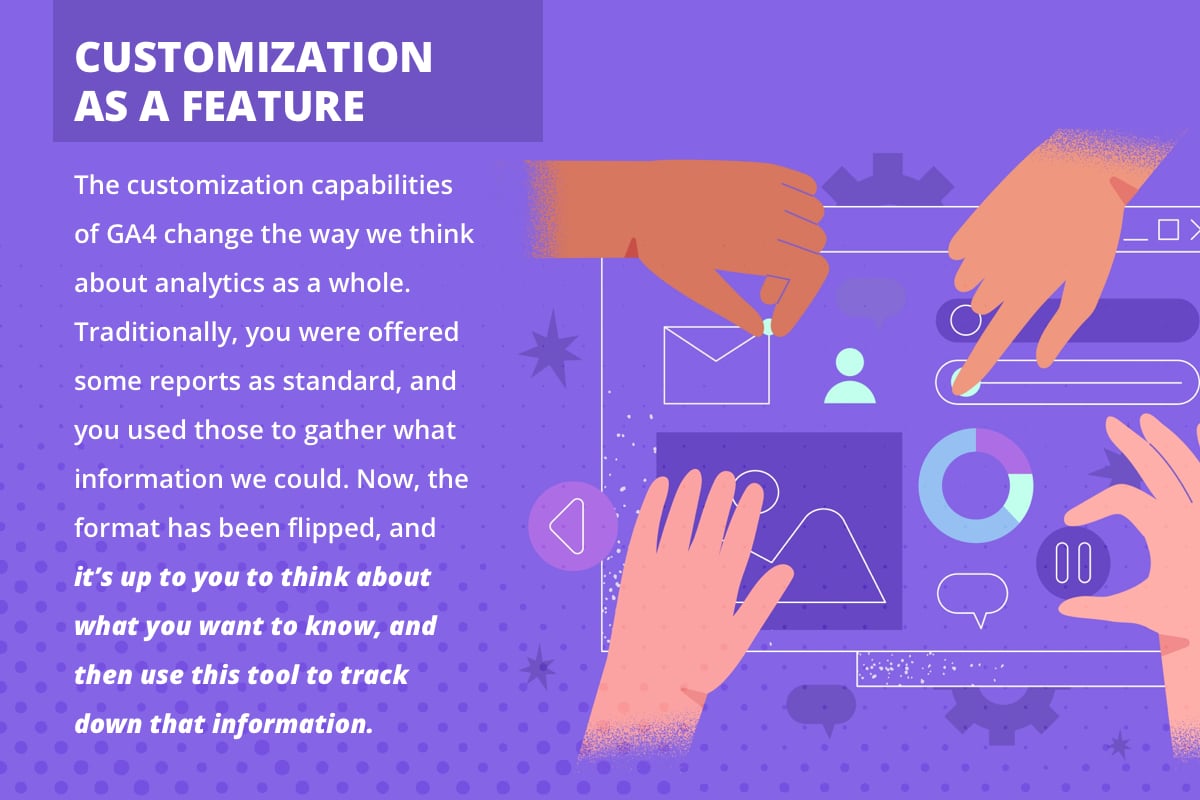 Upgraded Search Function
If you spend much time reading about GA4, you are sure to find opinion pieces and comments about how hard it is to use. There seems to be a feeling among a meaningful portion of the user base that this version of analytics is just harder to use than the previous iteration. Some of that feeling comes down to familiarity, to be sure – digital marketers and others around the industry tend to use Google Analytics every day, so when it changed so dramatically, it was a shock. 
For those who have been feeling like GA4 is hard to approach, the search bar can be a huge help. The search bar is far more capable than it was in UA, so you can quickly get help with problems that you are having, or quickly grab basic nuggets of information. Rather than manually going into the support docs to find the direction you need, just type a question into the search bar and let it lead the way. Most likely, using this function will provide you with the right guidance, and you'll gradually get more and more comfortable with GA4 as a whole.
Integrated Machine Learning
You won't be surprised to know that there is an AI component to GA4, as AI seems to be everywhere these days. For example, if you set up some events to track purchases on your site, GA4 can use its technology to develop predictive audiences regarding who else would be likely to buy those same products or services. This capability could allow you to more accurately target the people who want to purchase what you sell, driving costs down and padding the bottom line along the way. 
Improved Flexibility with Conversions
Using conversion tracking is one of the best ways to get value from analytics. Previously, while you could enable conversion tracking on UA, it was not as flexible as many users would have liked. You were only allowed to create a total of 20 conversions, and once you created them, they were permanent within your account.
Within GA4, you have access to more volume and more flexibility. As a starting point, you can create 30 conversions rather than just 20, so large sites won't bump into that limit so quickly. Also, if you don't want to use a given conversion any longer, you can just delete it. All you have to do to create a conversion is simply create an event that lines up with what you want to monitor, and then mark that event as a conversion.
Detecting Unusual Data
One of the things you might use analytics for is to watch for unexpected events day after day. You likely understand the patterns of your site in a general sense, but it's hard to keep track of every little data point and variable that comes into play with a properly that is live on the web all day, every day. 
Anomaly detection is a feature built into GA4 that enables the software to watch for things that aren't expected and highlight them for you to look at later. This is a function that leverages machine learning, so it will get more accurate and more reliable the longer your site runs GA4 and the more data that is collected in the background.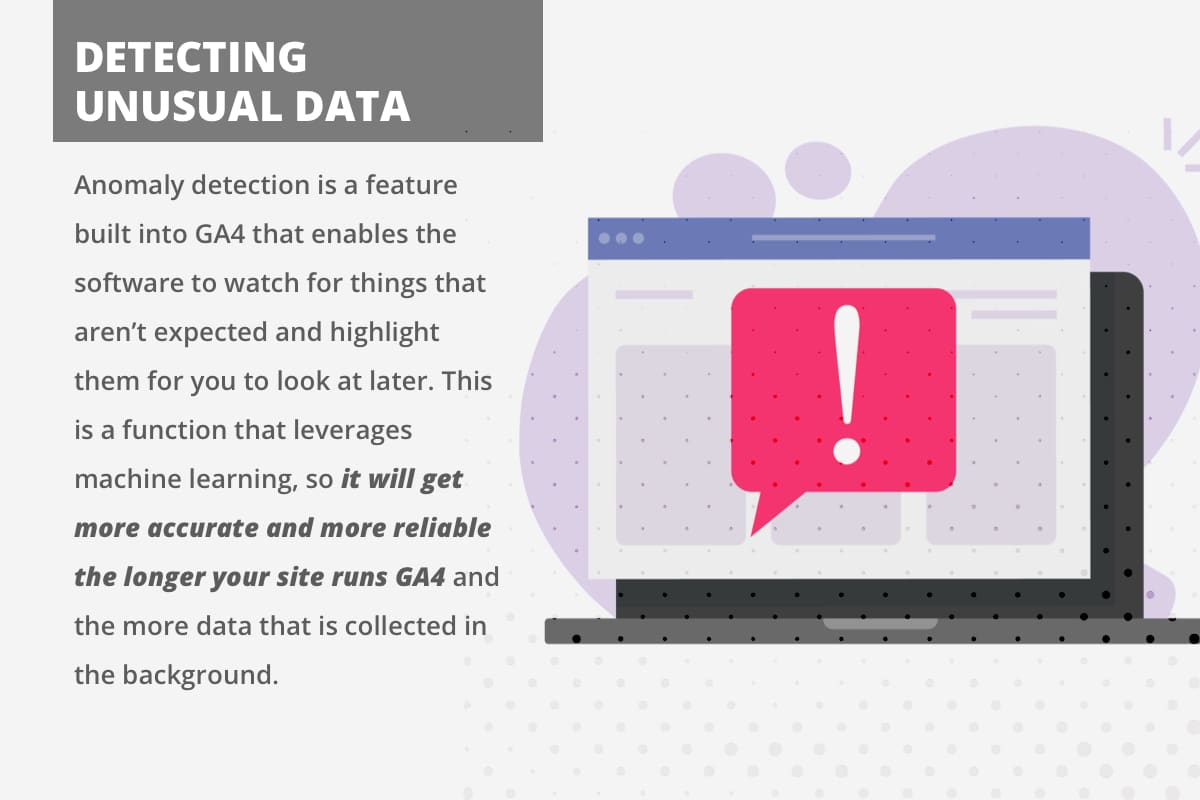 In-Depth Custom Reports
To be sure, this feature isn't something that everyone will use, and that's okay. If the standard reports provide the information you need, it might not be necessary to spend your time going any further. However, there is the ability within GA4 to build custom reports, and doing so can make it easier to get the view you need of data that is important to how your site operates.
If you would like to experiment with creating some of your own custom reports, you can visit the Explorations section within your dashboard to get started. You may be able to create powerful reports if you have a bit of data modeling knowledge, or this might be a one-time task that you outsource to an expert so you can then use the custom reports they create to keep an eye on specific aspects of your site's performance moving forward. 
Anyone who has used the current version of Google Analytics for years is bound to be a little nervous, and even frustrated, about the switch. However, things are always changing in the digital landscape, and while that means there are some growing pains, there are also plenty of opportunities that come along at the same time. We hope this discussion has helped you understand some of what is new and exciting in GA4, and we wish you well in your online endeavors!