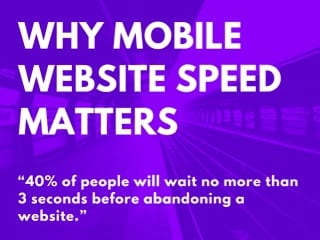 Own a smartphone? What ways do you use it? Well the answer for most of us is "for nearly everything." Facebook, Google, email, maps, games and on and on, we use these features on our smartphones to access information. And nothing is more frustrating than when that information loads slowly.
Google has worked hard to make their mobile search results contain websites that are mobile friendly to help alleviate user frustration. But we are still faced with slow-loading mobile sites.
We've talked several times about mobile usability, Google mobile friendless and mobile success but we haven't discussed the issue of speed.
Why Mobile Website Speed Matters
Our lives are fast paced and our customers expect things to be delivered quickly. So it's not a surprise to learn that when using a mobile device, 40% of people will wait no more than 3 seconds for a page to load before they abandon the site. The hard work of getting people to the site can potentially be trumped by how quickly it loads.
What would sales or revenue possibly look like if a site could retain that 40%?
A speed study by SOASTA looked at how load speed correlated with bounce rates and conversion rates. They concluded that mobile pages that are 1-second faster experience up to a 27% increase in conversion rates. The fact is, making a site load faster keeps people around longer and allows them to convert more often.

The challenge with increasing speed is that many times we are at the mercy of wifi bandwidths and network & data streams.
Developers, backed by major publishers and Google, believe they have found a solution.
Accelerated Mobile Pages
"The Accelerated Mobile Pages ("AMP") Project is an open source initiative that came out of discussions between publishers and technology companies about the need to improve the entire mobile content ecosystem for everyone." AMP Project
The goal of the AMP project is to provide a way to achieve instant load times, everywhere. No matter what network or wifi a user is on, AMP can allow for nearly instantaneous page loads.
At their core, AMP pages are just like any other HTML pages except they are "lean" and don't include scripts or items that take longer to load. By limiting the structure of these pages to a set of allowed technical functionality, which is defined and governed by the open source AMP spec, developers can achieve faster load times without a significant impact on the usability of the site. Just like all web pages, Accelerated Mobile Pages will load in any modern browser or app web view.
The content that can be presented on accelerated mobile pages is not limited, and all types of published content including stories, videos, photographs, and GIFs can be displayed.
Major publishers such as CBS News, Forbes, MSNBC, ABC News, CNN, E! News, USA Today and more are already using accelerated mobile pages, achieving outstanding load times and growing in users.
Your website should be mobile friendly and fast no matter what type of network a user is on. If it's not, you are probably missing out on business. Let us do the legwork for you and find out if you are missing out on potential customers.
Sanctuary Marketing Group has industry experts who focus on the mobile experience. Contact us and see how we can help grow your business.