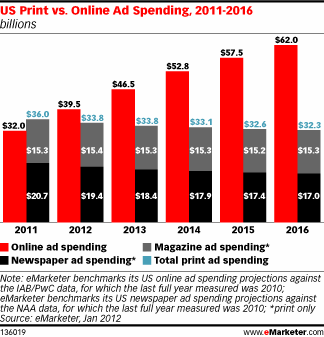 Database Marketing and CRM have always been about leveraging information (transactions, demographics, lifestyles, behaviors) to optimize company-to-customer relationships, right? It's a win-win whereby:
Customers are more satisfied due to receiving relevant offers and more meaningful communication.
Companies achieve increased profits through incremental customer spending and stronger loyalty.
I'm hesitant to apologize for this blunt, yet obvious dynamic… because it works! As a consumer I don't want to be hounded by irrelevant ads; as a digital marketer I don't want to waste time and money on non-responders.
Is your CRM strategy living in the past?
Don't panic. The foundation remains the same. It's still about providing the best offer, with personalized messaging for the right demographic for optimal conversion.
The channels, however, are shifting. Newspaper & magazine ad spend continues to decline.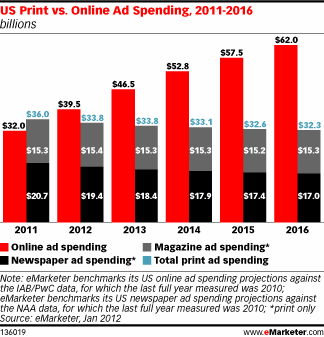 eMarketer projects U.S. online ad spend will reach $62 billion by 2016 (double what it was in 2011).
Online ad growth is a result of two things:
a) our audience spends more time with digital over print and;
b) online behavior is measurable and accessible to marketers enabling them to respond with 1:1 messaging.
It's still about being relevant and Facebook understands this best.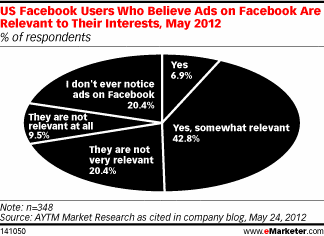 In 2008, only 9% of internet users considered online display ads relevant.
Year over year, Facebook has tracked behavior and engagement to improve the relevancy of the newsfeed and ads displayed.
By the end of 2012, 50% of Facebook users believed ads to be at least somewhat relevant.
The good news is this: Big Data Just Met Social Advertising!!!
Facebook isn't going to settle for just 50% relevancy.
In April 2013, Facebook partnered with Axciom, Datalogix and Epsilon. These big data partners provide more than 500 targeting categories based on offline purchase history, job roles and lifestyle. Prior to that, Facebook enabled a feature called 'Custom Audiences' whereby you can upload your customer data and explicitly advertise to them.
Put these together and you have Database Marketing 2.0. Mark my words, other social channels are soon to follow.
Facebook partner categories enables you to target prospects based on what they actually buy and want to buy (both online and offline). Now layer that with those that have the most friends on Facebook and you have a multiplier effect.
You can now layer a demographic slice with a demand slice and multiply by influencers… across multiple channels!
Here is a glimpse of 10 of 500 partner categories now available for Facebook social media advertisers.
| | |
| --- | --- |
| Teacher/educator | 223,000 users |
| Upscale department store buyer | 34,618,400 users |
| Household size of 6 | 8,842,800 users |
| Baby food & products buyers | 10,497,100 users |
| Home office supply purchases | 2,638,300 users |
| Aftermarket vehicle purchase | 11,952,800 users |
| Dog owner | 12,643,500 users |
| Casino vacationers | 4,242,000 users |
| Donate to veteran causes | 7,016,400 users |
| Fitness buyers—runners | 5,950,600 users |
2014 is the year for CRM to be relevant & successful in social.
If you haven't already started taking advantage of Facebook Partner Categories as part of your customer relationship strategy, NOW is the time to do so.
Imagine this concept:
Reinvent your 'A' list personas in the social sphere
Precision target more like your 'A' list – Facebook finally makes this a reality!
Remarket to your 'A' list prospects with endorsements from your loyals for impeccable credibility
Stay tuned and check back for my follow-up post where I will show you a case study of Database Marketing 2.0 in action. In the meantime, if you have any questions or are looking for a professional to assist you in your efforts, feel free to contact us.