The most valuable resource your organization has available is time. It's easy to focus on how much money you have available for certain initiatives, or how many people you have to work on those projects, but in the end, everything comes down to time. You can't expand your supply of this critical resource, so you need to be persistent about getting as much out of each day as possible.
With that background in place, we'd like to focus this article on the value of B2B marketing automation. Through automation, you can essentially regain time that had previously been lost to repetitive, ongoing tasks. When used properly, automation allows specific functions to continue with no loss of quality while you redirect the time of your team members in other directions. It's an incredibly powerful concept, but it has to be done right to avoid any negative side effects. We'll dive into the details of B2B marketing automation in the article below.
What Does B2B Marketing Automation Mean?
This is a case where the name pretty much says it all; B2B marketing automation uses technology to automate various key parts of the marketing process in your organization. We've already talked about the value of time and how you might be able to save some of it through automation, but the reality is that time savings is just the start of what you stand to gain here. As you will come to see, an automated B2B marketing process is one that has fewer holes, performs more efficiently, can be easily tested, and yes, can save you time in the long run.
Automation can be put into place both as a means to acquire new leads and as a method for nurturing the leads that enter your funnel. As with anything in marketing, the systems you create need to be carefully thought out to improve the odds of moving a lead all the way from the top of the funnel down to the point of making a purchase. When done properly, that journey can be made with minimal direct involvement on the part of your team, making it possible to scale up conversions without expanding your marketing staff accordingly.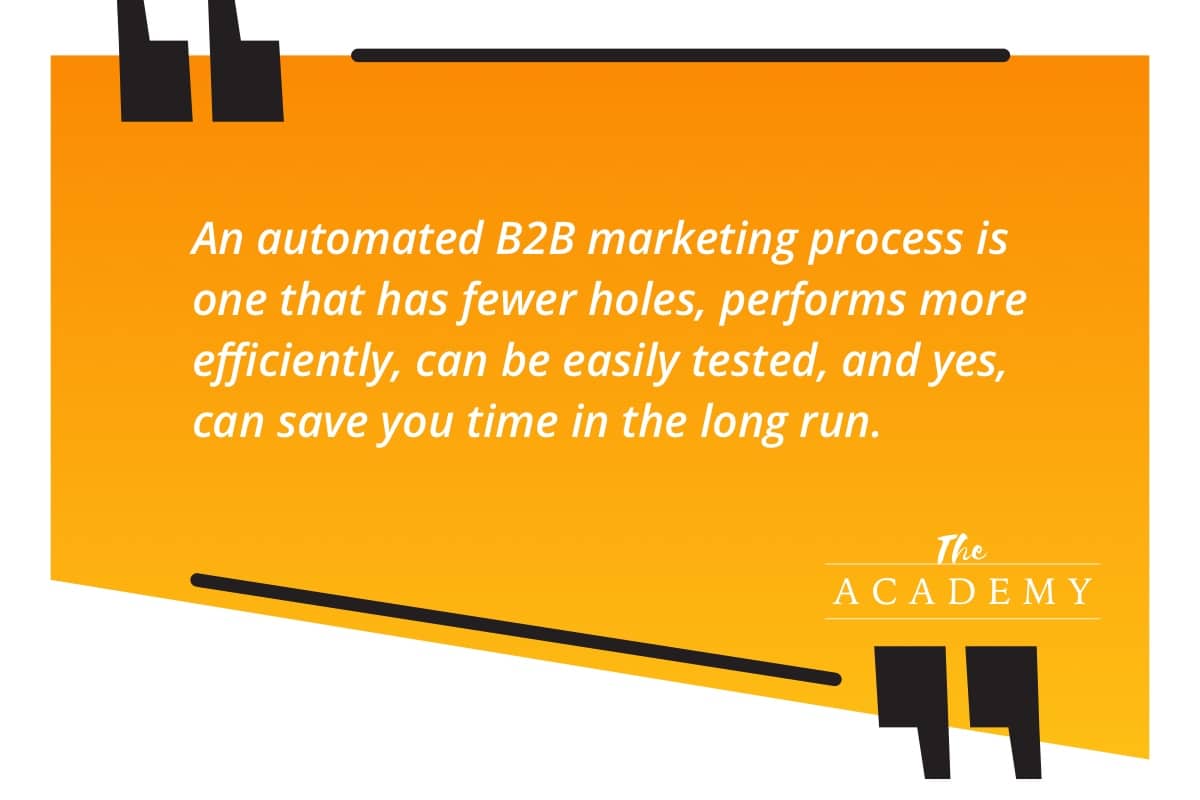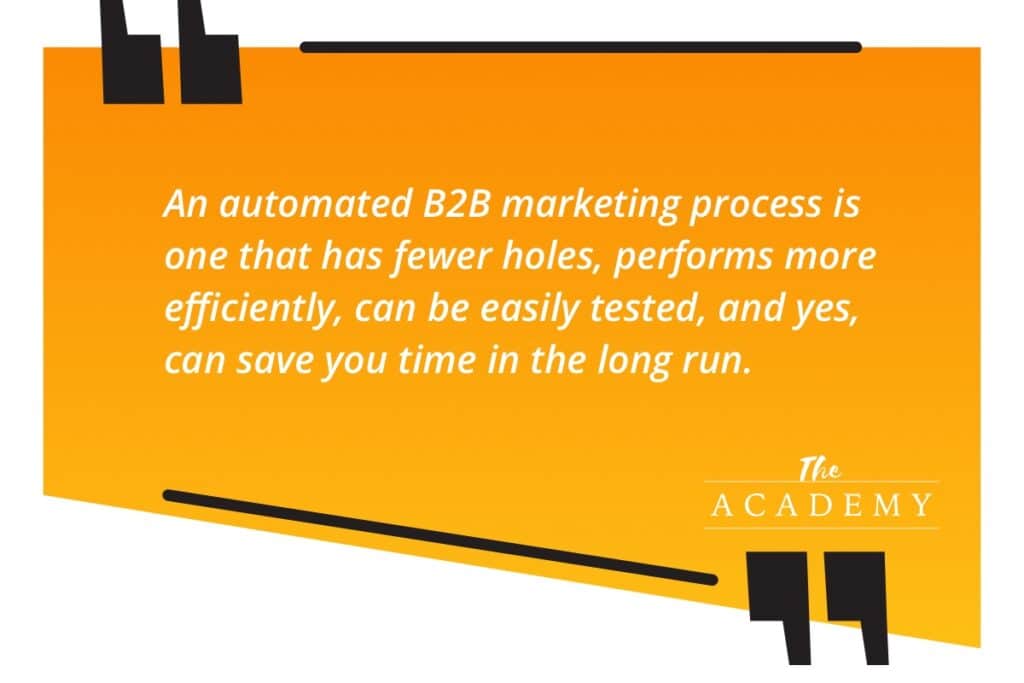 It's Not Just for B2C
Marketing automation is commonplace in the B2C world. In that space, email automation tends to be the primary focus, as things like drip sequences after newsletter signups and abandoned cart messages are standard practice. Why has automation become such a staple in B2C marketing? Simple—it works. And, if it works for marketing to consumers, it stands to reason that it will work nicely when marketing to businesses, as well.
Of course, you can't just copy/paste the same methods that are used in the B2C environment and expect them to work for B2B purposes. There are important differences in marketing to businesses as opposed to consumers, and those differences need to be considered when creating your automation plan. Here are some points to keep in mind:
B2B sales are commonly made at a higher price point, meaning the lead nurturing process is typically longer and more involved
Building relationships is an important part of B2B sales and marketing, where that aspect tends to be less of a factor in the B2C world
To close B2B deals, it's necessary to make a practical, logical case for why your products or services are a smart investment. When selling B2C, emotions play a bigger role in the process
Despite these differences, many of the benefits of automation transfer over from B2C to B2B, and the companies who lean into everything that B2B has to offer will stand to gain a big advantage in the marketplace.
A Few of the Many Possibilities
There is little limit to what you can do with B2B marketing automation in our current digital age. With so many tools available (more on that later), you will face very few restrictions on what is possible with automation. In other words, if you can dream it up, there is probably a tool available that can make it happen.
Below, we have provided a list of some of the many ways in which you might be able to automate your B2B marketing efforts. Of course, not all of these ideas will apply logically to the way your business operates, so review the list and move forward with those that have the potential to positively impact your organization in a powerful way.
Automated email sequences. This is the classic form of marketing automation and it applies just as well here as it does with B2C sales. When someone provides their email address—whether it is after they have inquired about your services or just signed up for a mailing list—they should get an automated sequence of emails that takes them through the early stages of the buying journey. These emails can touch on things like common pain points for businesses in their position, the unique selling proposition for what you have to offer, frequently asked questions, and more. Basically, a good email sequence will take some of the load off your sales team by answering common questions and helping prospects move down the funnel on their own. When this all happens automatically and in the background, you can be rewarded with leads who are more educated and further along while freeing up resources to work on other things at the same time. 
Follow up after web visits. When someone lands on your website, the page or pages they choose to visit says a lot about where they are in the buying process. If someone comes to some of your high-intent pages, like sales pages, they are likely getting close to buying from you or someone else. So, this is a good time to automatically follow up on those visits. One way to do that is with retargeting ads that are set to display for people who have come not only to your site, but specifically to those higher-intent pages on your site. This retargeting approach will keep your brand fresh in their mind and hopefully cause them to return and actually close the deal. 
Rewards program system. There is nothing new about the idea of rewarding your best customers with discounts, special events, and more. Rewards are a nice way to incentivize your best customers to stay with you over the long run. Where the update to this technique comes into play is through the use of automation. Now, instead of manually providing rewards, you'll have them delivered automatically—likely via email—when certain levels of loyalty are reached. This not only saves time but also eliminates the risk of a client falling through the cracks and not being provided with the right rewards. 
Notifications to the sales team. Usually, we think about automation as something that is used to take the human element out of the picture. And, often, that is the case, such as when you are using an automated email drip sequence to send messages without taking any manual action. However, it's also suitable to use automation as a simple reminder tool to trigger your team to jump into action. For instance, if a prospect is moving through the funnel and reaches a certain point of engagement, you could have a notification pushed to your sales team—or a specific member of your sales team—so they can reach out and add a personal touch to the process. In an age where most of your competitors will also be leaning more and more on automation techniques, you can stand out by mixing in human connection with your automated tactics to create a well-rounded sales process. 
Educational assets automatically deployed. Creating educational materials is a valuable way to help prospects understand both how your products and services work, and how they are so useful. These could be instructional videos, in-depth articles about technical topics, and more. Posting this kind of content to your website or social channels is a decent approach, but it's even better to use automation to deploy this information to the right people at the right time.
This is, of course, only a partial list of the many ways that automation can improve your B2B marketing efforts. There is sure to be a strong element of trial and error at play here, as you'll need to test out many techniques to figure out which ones work for you and which come up short.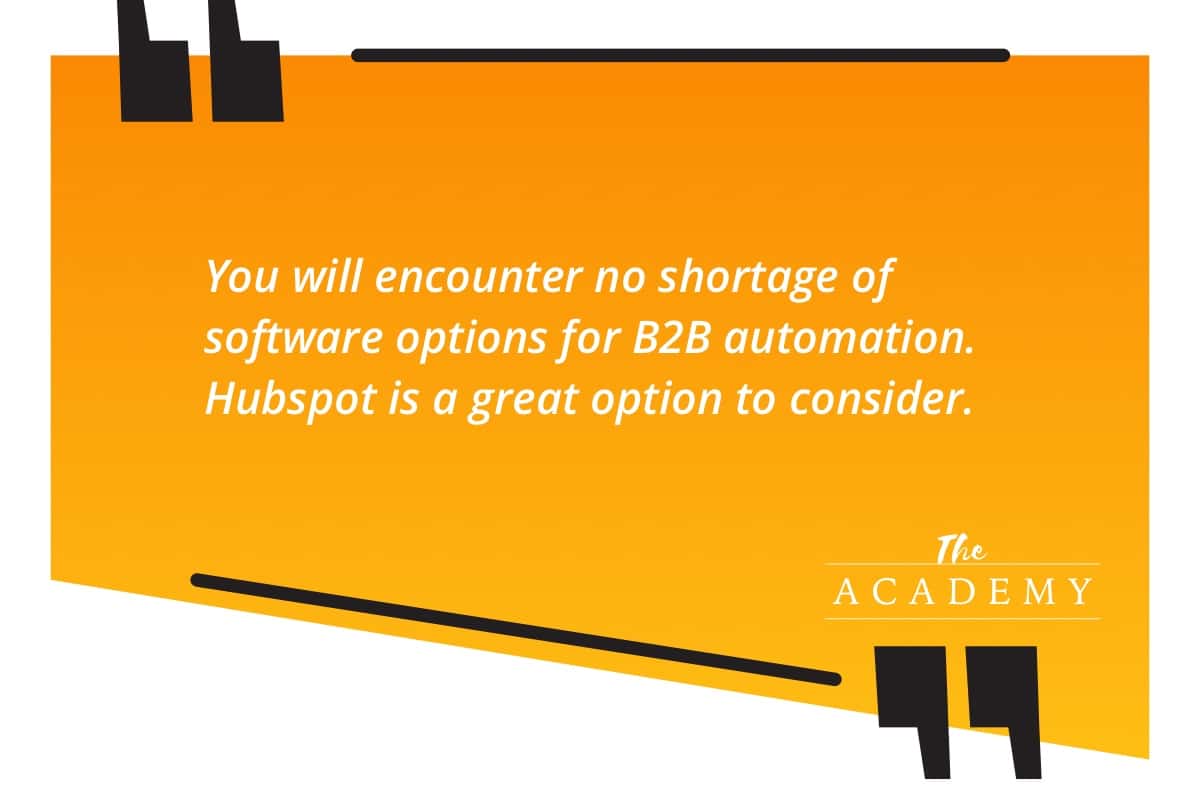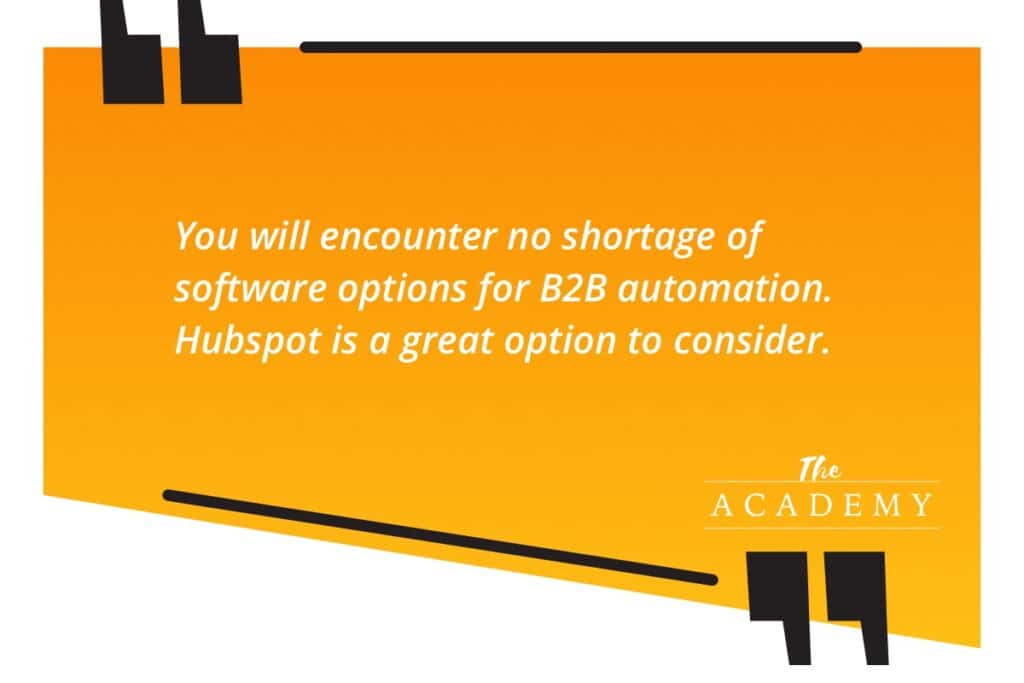 Leveraging the Right Tech
The best place to start when getting ready to deploy marketing automation is to think from a big picture perspective about what you want the automation to accomplish. Once you figure out how you can streamline your marketing methods, the next step is to head out and find the tech you need to make it happen. In other words, you'll have to locate the right software tools to bring your vision to life and make your automation processes run smoothly day after day.
Fortunately, this is a market that is already well-developed and you will encounter no shortage of software options for B2B automation. Hubspot is a great option to consider. While you can browse those possibilities and pick for yourself what is going to work best, one thing to keep in mind is finding a tool that can easily scale with you as your automation efforts expand. For instance, if you want to start with one or two simple automations to see how it goes, find a tool that will let you do that for a minimal investment before diving into a larger purchase. 
Implementing B2B marketing automation is something that is easy to keep putting off for another day. As long as you are getting your marketing tasks done, you may be tempted to call that good enough—even though those tasks could be made far more efficient through the use of automation. 
Start with One Automated Tactic
To avoid this complacency trap, make it a point to get started with at least one marketing automation technique as soon as possible. Once you jump in and see what kinds of results are available, it's likely that you will want to expand your efforts in this area until your B2B marketing is a well-oiled machine that runs largely on its own. We wish you luck with this new venture!