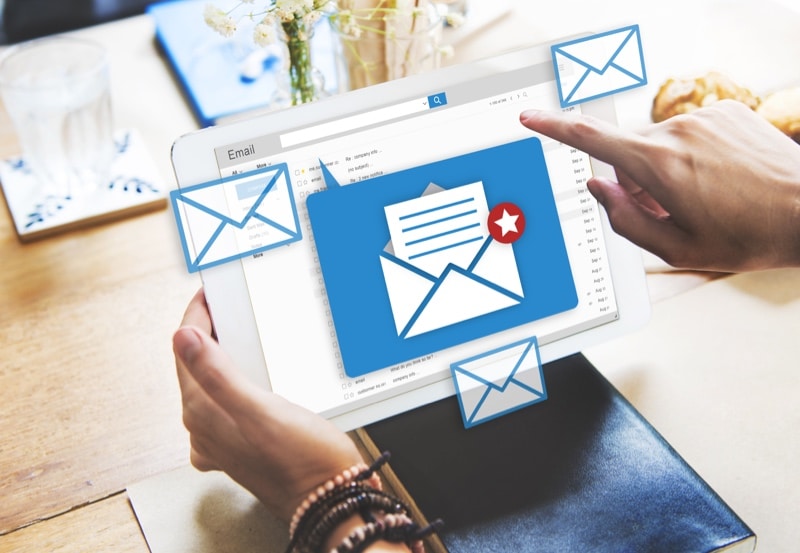 I believe in the power of email marketing if it's used properly in your digital marketing strategy. That should include everything from properly setting up an double opt-in system, to effectively writing content that actually drives traffic. Part of our mission here at Sanctuary is to help you learn how to use email marketing effectively and I'd like to start off the year by offering up several suggestions on how to improve your results. This is not a "best of" list or the final word on best practices, but a list of suggestions to jump-start your campaigns.
1) Improve your Opt-Ins – Converting Click to customers.
Before you focus on any other issue, you need to build a decent list of subscribers with the goal of converting those subscribers into customers. How you do this is the big question and one that we'll spend a lot of time on in the future. But right out of the gates, you need to focus your efforts on creative ways to get highly qualified and targeted subscribers to sign-up – that have actually granted permission to receive your emails.
The words "highly qualified" and "targeted" are key here because the last thing you want is a herd of freebie hunters scamming you out of your incentives – or worse – populating the list with addresses that you think are potential targets, just to find out that they could care less about your message, or worse, they consider your efforts to be spam because you manually added their address to the list without their permission.
So, what to do? Well, that will be a discussion of future articles too, but some of the most important tactics used to get subscribers include:
Build an effective landing page that provides a clear way to subscribe. Make it easy and clear.
Promote your email newsletter in all your print materials and other advertising venues.
Send out press releases about relevant aspects of your product or service
Work hard to provide effective sales copy. Volumes have been written on the art of persuasion – use them and model your message off the masters!
Provide incentives for signing up, but don't make the offer too big or extravagant. It needs to appeal to your target audience, not freebie-hunters that have no interest in your services.
Consider using sweepstakes incentives – according to Jupiter research, nearly one of every three users say they made his or her first transaction with an online marketer as the result of a promotion.
Provide a bonus audio podcasts or interviews on a specific subject for signing up. Even consider giving away a free information-based podcast that summarizes your services and newsletter with the goal of convincing them to sign-up.
Use partner endorsements where you rent partner lists. Messages that come from trusted or known sources have a much better chance of making it into the inbox and opened if they come from a trusted source.
2) Avoid being accused of spamming:
Once you've worked hard to build a list, the last thing you want is for people to opt-out or worse yet, mark your message as spam. So the delicate dance of getting your message to the masses can be a tricky one if you don't know the best practices for sending legit email marketing. For those of you that don't completely understand the difference, let me be clear – many people call email markering "permission" marketing for a reason. You HAVE to have permission to send emails. And yes, that even means when you feel the recipient REALLY would be interested in what you have to say or sell.
In short, get permission, don't send your messages too often or not often enough, personalize your message, use appropriate sales copy in your title and body that will get you in the front door but not flag your message as spam.
Make sure your message is relevant and always presents your message as more than just another sales pitch. Keep your message short and to the point, provide a way to easily "opt-out", even though that's the last thing you want from an email send. If you believe in the value of your message, you should feel pretty confident that people won't use this option too often. Be courteous and offer an easy way to unsubscribe. Because they always have the option to just mark your message as spam to get you out of their hair. That's the last thing you want to accomplish.
3) Build rapport and trust:
Show that you're a trusted and reliable and helpful friend. The most critically important element of making a sale is to build trust between yourself and your potential customers. How you structure and present your message is important here. You want to appear that you're truly interested in a mutually beneficial relationship where you both benefit. Make your customers feel important. Personalize, target, show they're special in some way, give them control, say "please" and "thank you", and frame your message as "help" rather than another company trying to take their hard earned dollars.
Normally, an important aspect of building trust is your tone and body language. Since we're talking about email here and the digital world, these aspects are thrown out the window and we're left with our words on the page, right? If you think you're limited, think again. It's very easy to present a tone and an "image" with words on a page.
For starters, present your message like you're a friend and not a salesperson. Study how to present a written tone or hire a professional to help. Establish your credentials without bragging too much. Provide testimonials where you let others brag for you. Make sure you provide contact information, a clear link to your web site where they can click to learn more about you, and provide a way to unsubscribe. All of these aspects confirm that you're a legitimate business owner that's interested in providing a reliable product or service.
In addition to the tone of your message, the presentation is very important. If you're email arrives and looks like it was sent from someone working from a basement instead of a board room then you won't be trusted. Spend the time to present your email marketing in a professional manner. The graphic design industry has been built on presenting text properly and it's no easy task. Your email will either have a feeling of quality or it will look like shlock. If you have any doubts, spend a few bucks and hire a designer to layout your template and format your design for future mailings. It will be well worth the investment.
4) Demonstrate that you provide value:
I've learned a lot over the years about selling value and I believe that it's a great way to present your sales message. Talk about value in every aspect of your presentation and back up your claims. Most people really don't care how much they pay for something. Just as long as they're getting what they want in the end.
Here are just a few ways that you can sell the value of what you do or sell:
Present your message in the customers terms. By that I mean, you need to speak in their language. You don't want to tell them what they need, you need to find out what they want and tell them why you're the best person to fulfill that need. Your ability to provide just the right solution for a given client is real value.
Constantly give them the feeling that they're getting more than they're paying for. Discuss the long term benefits of what they're paying for and break down the cost vs. overall lifetime benefits.
Discuss the value you and your team bring to the table vs. the competition.
Discuss immediate product and service availability vs. the competitors wait time.
Discuss how your support is better than the competition and how you're available after the sale and how you can be contacted.
Provide warranties and a money-back guarantee.
Discuss your product and services direct impact on their profitability, operational efficiencies, safety, waste reduction, operation costs, convenience and timeliness, etc. All of these elements can be improved in business so you need to demonstrate how your product or service can improve all these aspects.
Finally, you need to accomplish all this without writing volumes. Get to the point and refine your message so the real value is presented quickly and efficiently. Even if you use it in your headline or first sentence. Hit them over the head with value in their terms. Then give them links to read more information if you draw them in.
There's also value added by your company that's intangible. Your company reputation should be presented effectively. If you provide leadership in your industry, tell them about that too. Is it easy to business with you? Make sure they know how fast they can get help if they need it. Discuss your hours of operation, your commitment to innovation, your company history and stability and the training that you have available vs. the competition.
5) Focus on our subject line:
Your key to the kingdom is your subject line. It is the big decision maker when it comes to whether your potential customer even opens the email so take the time to get it right. Getting it right involves two things – a) choosing the right words and, b) knowing which words may flag your email as spam. There is a delicate balance here that involves knowing what sells and what's considered a typical spam term. I've spent some time in the past showing examples of this but for example, words like "free" in your subject line will almost always flag your email as spam so look for other words and creative ways to say the same thing. Also, spend some time testing. Test and get opinions, test to make sure your email makes it into your inbox, test to make sure that the email looks the way it's supposed to in various email clients and popular web-based email services, etc.
Another important part of your subject line is not really the subject at all but it plays an equally important role in the grand plan. Your "from" address often presents your email as legit. Make sure you send from the same address, use a human name and not a generic term like "info@" or "sales@" and always use your domain. I've noticed that I'll sometimes scan my inbox or spam box by looking for "from" addresses that look legit at a glance and then my eyes jump over to the the subject to see if it makes sense. The combination of the two fields are very important to getting your email opened on a regular basis so give them the attention they deserve.
Your ultimate goal when sending an email campaign is to use verbs. Verbs show action, imperatives, and power. You want to use words that command attention and require immediate action. That action could be to just open the email or it could mean that they need to buy your product or service now or else they'll lose out. Try to create a sense of urgency with the words you choose. For example, should your subject line say "visit" your local store or "Rush" to your local store? Hopefully this illustrates my point.
6) When to send your emails? Timing is everything.
Before I answer that question, we need to consider your industry. If you're after someone that might sign-up for a business service, you obviously want to send that email during the work week and on a day that may not be as busy like a Wednesday or Friday around mid-morning. If you're looking for someone to use your coupon to buy a pizza then you might send that on a Monday or Friday afternoon when people might be thinking about an easy dinner after a hectic day or to pick up dinner for a Friday night card game.
That being said, delivery consultancy Return Path analyzed over 3.4 million email messages and found that email sent on Monday is more likely to get opened. That research also included that an email sent between 6 and 10 am was the most likely to get opened by the recipient.
Of course there's all kinds of information out there that appears to be conflicting regarding the best day to send email campaigns, but overall you just need to do your homework and plan to send your campaign on the ideal day for your industry and message. Don't be afraid to test and switch things around too. The great thing about marketing these days is that you can get stats and analytics that help you get concrete answers on what works and what doesn't. Make sure your email marketing system has a way to analyze your clicks, opens and unsubscribes so you can record that information and find what works the best for you.
7) Study your stats
Since we're on the subject of stats, let's talk about them a little more. Studying your reporting stats to find out what works and what doesn't when you send a newsletter to your subscribers is an often overlooked aspect of your email marketing. Study how many emails were opened, what they click on, which headlines result in more clicks and more conversions. When you try different layouts or headlines, you're able to analyze how each new tactic did it's job. Then you have good data about when to change elements of your future campaigns.
8) Build an effective landing page – Invest in your conversion creative
The most successful email marketing campaigns aren't just accomplished in the email that's sent to the potential customers, but on the page that they land on after your spark their interest. This page should hardly ever be your homepage. You should construct a page that specifically works with your email campaign. This is called the landing page.
This page should be a continuation of your email message so try not to repeat too many things. Use this an an opportunity to take the sale to the next level. It's a good chance that the user clicked on a link that promised something, so give it to them, don't just repeat yourself. If you promised more information, then don't beat around the bush and make them work for it.
Again, make sure that you don't drag out the sale too much. Give them the most important information first and then links to more information if they need it. The last thing you want is for your potential customer to get bored or frustrated and abandon their efforts or bookmark it for later. Make sure you give them what they want, give it to them fast, and make sure to only give them what they came for. Don't distract them with all your other services and products. If you can make this sale, then you'll have your chance down the road to sell them more.
A few additional suggestions in closing:
I'm sure we'll have more time to discuss email marketing, because as I've said, I believe it's a great way to stay top-of-mind with people that are really interested in what you sell. In fact they've probably already purchased something from you already and you're looking to sell them more! That's why I believe so strongly that you should make the effort to subscribe to an affordable email marketing service that allows you to collect data and emails about the people that you drive to your site. There are is a lot of email marketing companies and services available online and the prices range from affordable to downright expensive. Some of the most popular services are Hubspot, MailChimp and Constant Contact.
So, in closing, here are a few bonus suggestions on how you might be able to improve your email campaigns and grow your subscriber list.
1) Include a link to refer a friend or prompt the user to forward the email to a friend.
2) Occasionally send surveys to your subscriber base and ask them how you can improve your services and what they'd like to see more of.
3) Segment your subscriber database so that your message is as relevant as possible.
4) Prompt the reader to bookmark your landing page or flag the email for reading later.
5) Give them a deadline (Act now!)