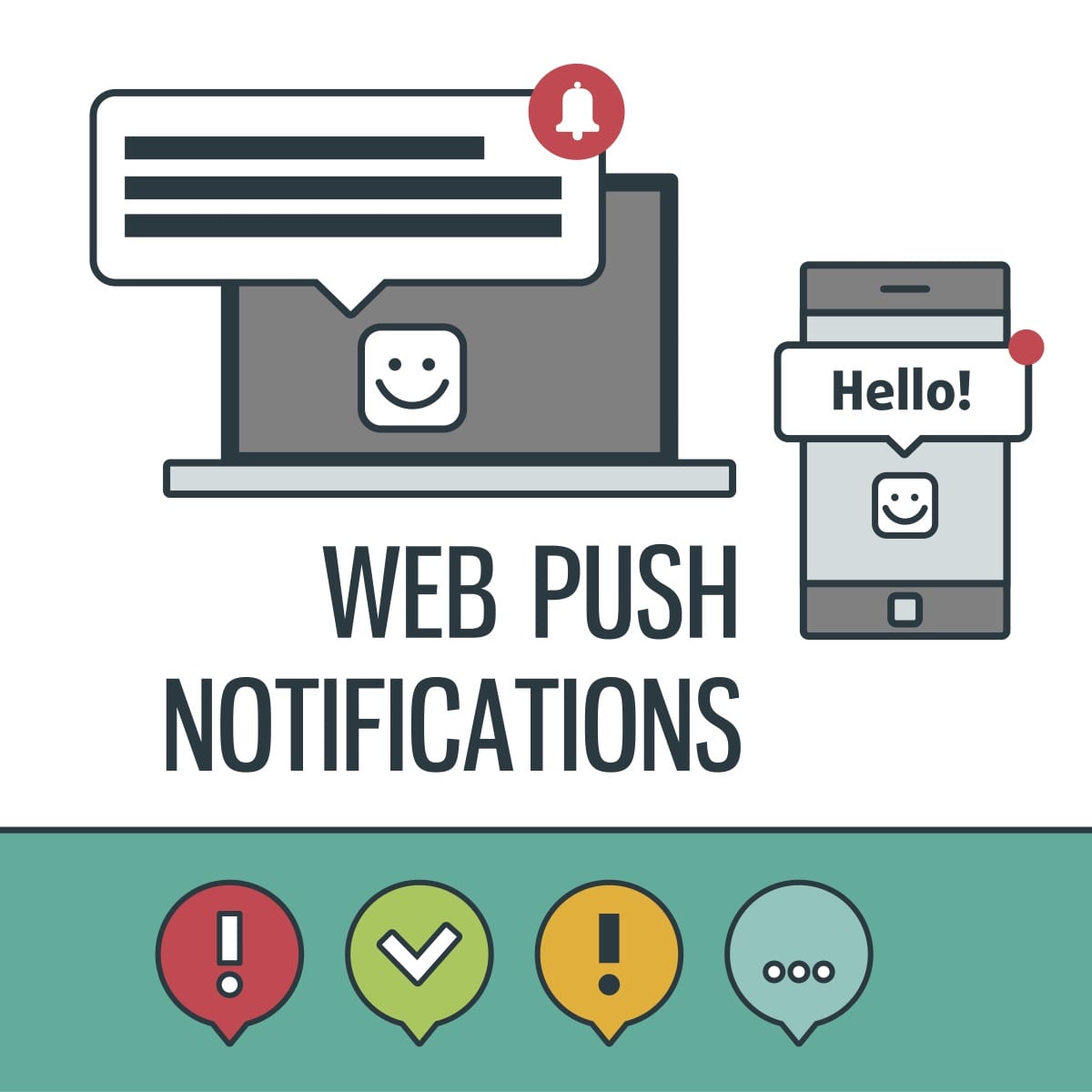 When a notification pops up on your phone or computer, it's pretty hard to ignore, right? That's the whole idea behind push notifications, and the reason why they're becoming more prevalent. Push notifications are something you will see more brands adopting in 2020 as they find ways to engage with customers on a variety of channels.
Push notifications can be viewed across several devices including desktop, mobile and tablet—meaning more ways to reach users. They can be delivered as long as the user has consented to receiving them and if they have their internet browser open. They also work on some mobile browsers like Chrome and Firefox.
Why are Push Notifications Important?
Sign-up rate is higher.
Twice as many people will sign up to receive push notifications compared to receiving a newsletter. Only 10% of the top email marketers achieve a sign-up rate that matches web push notifications.
People see push notifications quicker.
The average time that passes for when a person will open a newsletter is 6.4 hours compared to someone opening a push notification immediately or within the hour of receiving it.
Click Rate is higher for push notifications than email.
Businesses using push notifications report a 7 times higher click rate.
Different Types of Push Notification Campaigns
Promotional – Promote a product, service or event. Unlike an email that can get buried, a push notification is a bit more of an active approach to spreading news and inciting urgency.
Transactional – These campaigns are triggered after a person completes a transaction on your website. They would go into a campaign based on the transaction completed. For example, if the customer recently completed a purchase, you could send them tracking information on receiving their purchase.
Alerts – These alerts should entice the user to take an action. For example, maybe a sale is ending soon and the message notifies the user of the last chance to participate in the sale. This helps create a sense of urgency for the user.
Best Practices for Using Push Notifications
Personalizing messages is important. Personalized push notifications increase open rate by 4% and 54% of users will convert if they receive a personalized push notification, compared to a broadcast message to a larger audience.
Timing matters. Send notifications based on a customer's local time zone. If sent at the wrong time, a customer may view your message as intrusive and they may unsubscribe.
Create short and clear content. The basic messaging to include in a notification is a Push Title, Push Description, Website Icon, Notification Image and Call To Action.
Target messaging to segmented audiences. The user experience will be enhanced by sending them messages that provide them with value and also increase click rate.
Call To Action should be easy to understand. After the user has read your messaging, the Call To Action should guide them on what you want them to do next.
Where you are landing the user after clicking the Call To Action is very important. The landing page should be relevant to the push notification because the user cannot go back and re-check the notification after they have clicked on it. If there is important messaging on the push notification (example: discount code), make sure the discount code is also on the landing page.
Limit the number of messages sent per day. You should not be sending more than one push notification per day. Sending more than that decreases click rate and can increase your opt-out rate.
Integrate Push Notifications Into Your Digital Marketing Plan
Overall, push notifications are a great tool to explore and see if it makes sense to integrate them into your digital marketing plan. They offer a lot of benefits when done right, and ultimately can lead to increased customer retention and conversion. Contact us today to see if push notifications will help you reach your goals!
Sources: Single Grain, e-goi, PushEngage