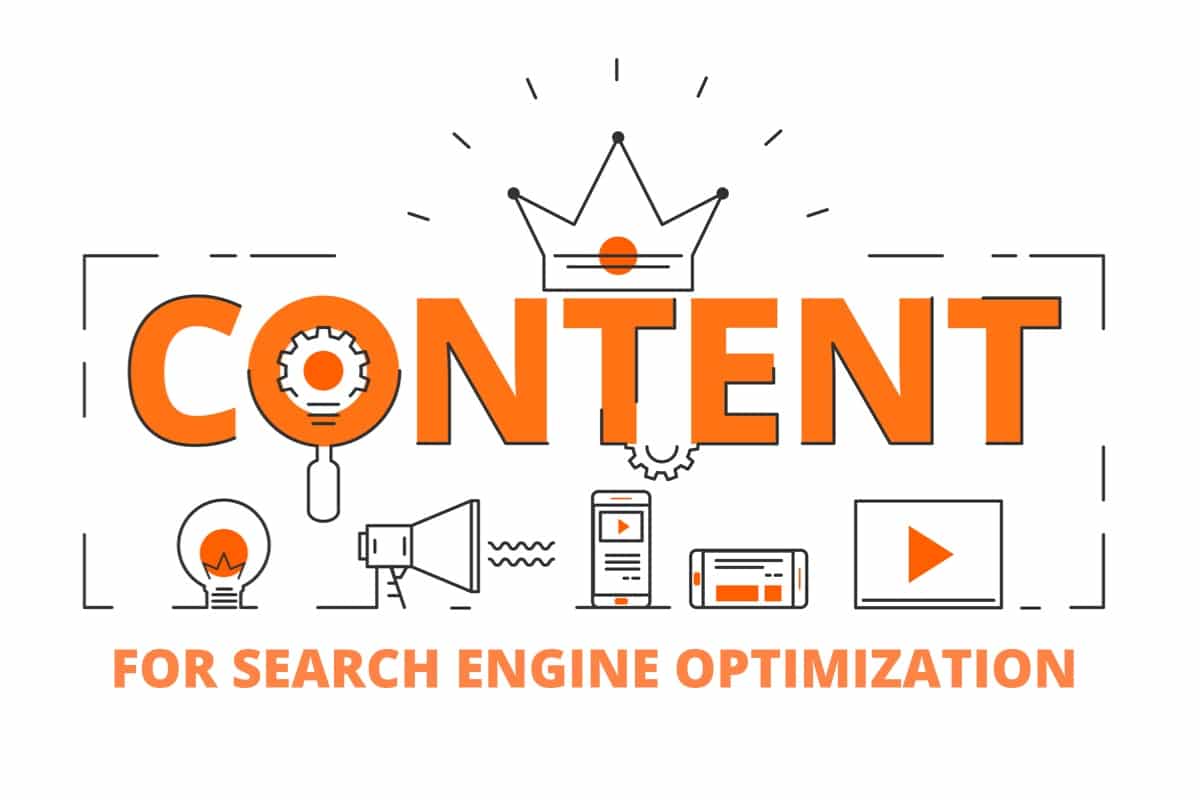 For many marketing departments, SEO is an all-consuming topic. It's easy to understand the appeal of SEO, as a stream of "free" traffic to a website is a potential gold mine. SEO in most markets is extremely competitive, however, so striving for that number one spot in organic rankings can quickly eat up significant amounts of time and money in your digital marketing strategy.
It doesn't have to be that way. Your business can focus on SEO without letting it take over everything you do each day. To streamline your SEO efforts while still seeing great results, we recommend focusing on content above all else. If you have been feeling overwhelmed with everything you are supposed to do to master the SEO game, this article should be a breath of fresh air. Take the time to put together a quality content creation strategy and let that content lift your rankings across key search terms.
What is Content?
Before we get ahead of ourselves in this SEO discussion, let's slow down for a minute and clearly define what we mean by "content". In this case, as it relates to SEO, we are speaking mostly about written content like web pages and blog posts. This type of content can be extremely powerful for SEO purposes, as we will explain later in this article.
Other forms of content include things like videos, eBooks, and even podcasts. Those can all be extremely useful for an overall marketing plan, but they aren't the focus of this discussion. As you read on, assume that the word content is being used to describe the various written elements you add to your website.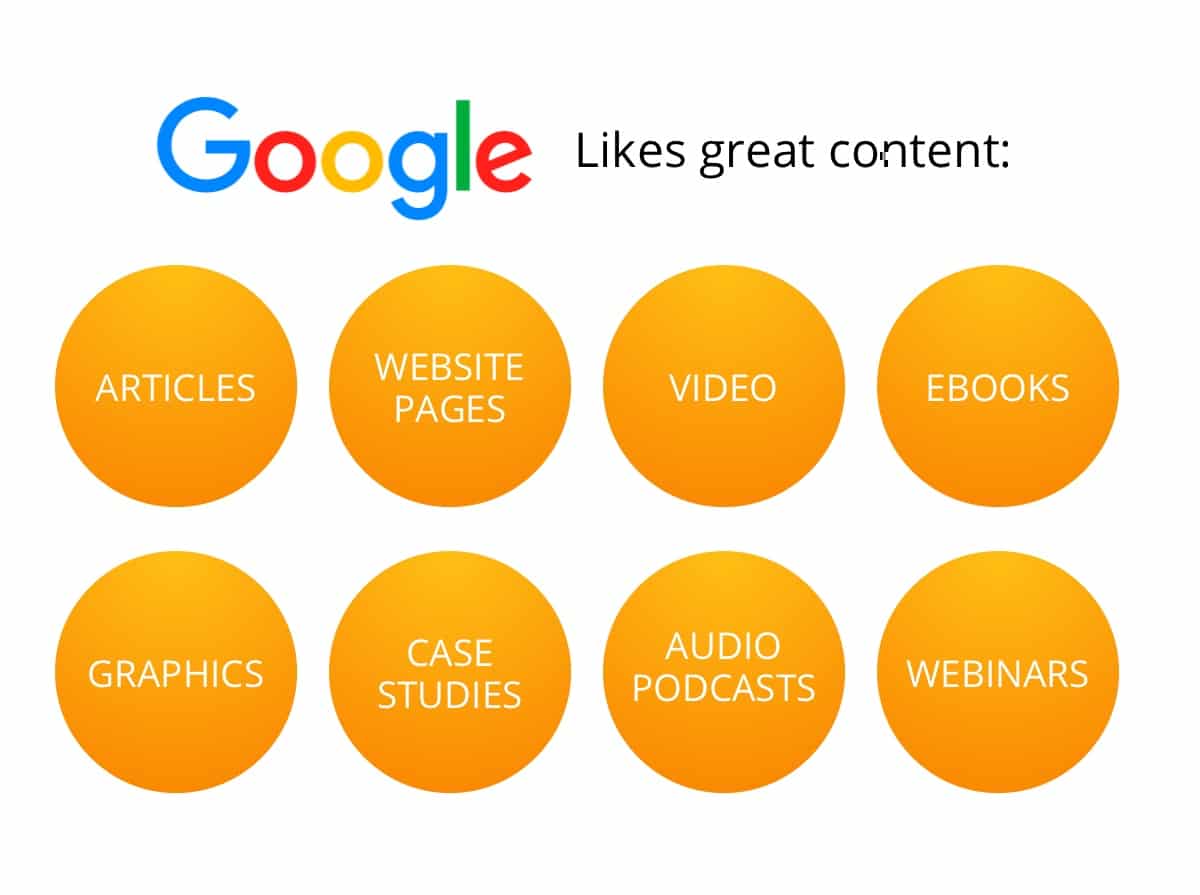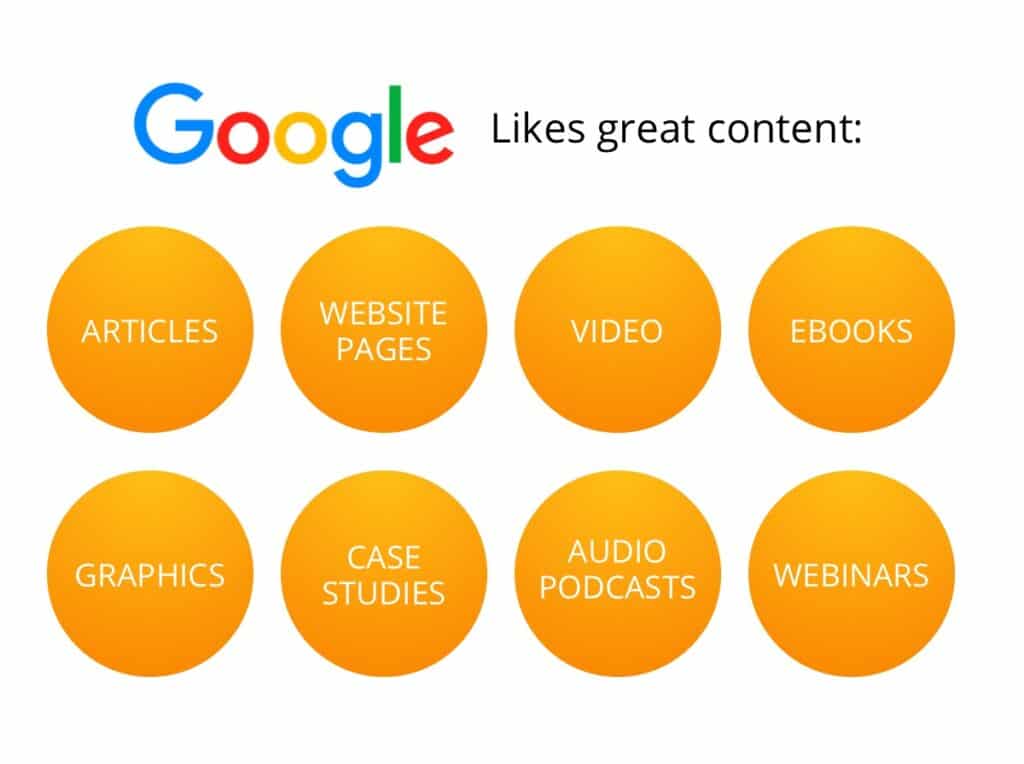 How Content Can Work SEO Magic
On some level, writing content can seem a little old-fashioned in the context of the modern digital landscape. With so much video and audio being passed around, is there still room for blog posts and static pages of content? The answer is yes, and that is due both to the demand for written content and the value those written pages can play from an SEO perspective.
Before talking about SEO specifically, let's talk about reading and writing in general. Even in the modern, high-tech world, people still spend plenty of their time reading – and that isn't going to change anytime soon. Remember, Amazon got its start selling books, and became hugely popular doing just that. Many forms of information are simply delivered best through the written word, and millions of people still prefer reading over other forms of media.
With that said, there is also the massive SEO piece of the puzzle to unpack. Here are a few reasons why written content deserves to play a starring role in your modern SEO game plan.
Include the right keywords.

One of the first things you learn about SEO is that it is driven by keywords. These are the words and phrases that are entered into search engines to discover web pages on every topic under the sun. By targeting the right keywords, you'll have a chance to rank for terms that are suitable for your business and that will be searched by your target customers. If those keywords don't appear anywhere on your site, it will be nearly impossible for Google and other search engines to know what you are all about. Written content in the form of web pages and blog posts will give you a place to put these keywords. The more you write, the more keywords will naturally be included on your site. Even if you add content for no other reason than to hit as many keywords as possible, your efforts are likely to be rewarded if the content is high quality and helpful.
Establish topical authority.

More and more, the emphasis within the SEO world has been on developing authority in a specific industry. For example, if your business is in the automotive industry, publishing content regularly that is related to your niche within the auto space can help position you nicely as an expert. That's not only good for SEO reasons, but it may also help you convert more visitors into customers. When they read your content and realize you have a wealth of knowledge in the space, those visitors may come to trust your opinion and want to turn to you to solve their problems. Basically, the written words on your site are the perfect opportunity to show off what you know and impress both search engines and human visitors.
Attracting links.

As you may know, accumulating backlinks is one of many important factors in the SEO landscape. When another site adds a link to your site, that is called a "backlink" and it is seen as a vote of confidence for your page by the search engines. So, collecting as many links as possible from authoritative sites is highly useful.
There are many methods to gaining links, but posting quality content on your site is one of the most effective. Rather than begging another site to give you a link, create some content that is so valuable they won't hesitate to add a link without you even asking. You aren't going to get links from direct competitors in this way, but it's likely that websites in adjacent markets will mention your article and add a link.
We can go back to our automotive example to see how this can play out in the real world. If your business sells off-road equipment for vehicles, you may write a piece on how to pick out the right gear for a long trip on dirt roads. That article could be seen as a valuable resource by a business that services cars but doesn't deal in the off-road market. Rather than trying to answer questions about off-roading from their customers, this other business may simply link to your page and reference you as an authority. No matter what industry you serve, this same general concept can work nicely.
These three points alone should be more than enough to convince you of the value of content in your SEO strategy. With the opportunity to feature plenty of keywords, build your authority, and bring in links, your content should start to pay off in short order. So, how do you go about developing a content plan that will allow you to bring this SEO vision to life? We're glad you asked…
Building a Powerful Content Plan
Let's get this first statement out of the way right off the bat – consistently creating quality content is hard. It's easy enough to understand the value of content, but it's another thing entirely to build good content that impresses Google and satisfies your readers. We believe strongly in diving into the content game for SEO purposes, but don't expect this to be an easy win. Only those who create a solid plan and stick with that plan consistently are going to see results in the end.
The content strategy you deploy is going to depend on the specific needs and limitations of your business, but the points below are a great place to start when crafting a plan.


Set a schedule. Many businesses decide that they are going to post a new article to their blog "once a week or so", only to quickly fall off that plan. To stay on track for an extended period, you need to be specific with when new content will go live on your site. For example, you should pick a posting date for each new article over the next few months and record those dates on a shared calendar in your office. This could be as simple as posting new content every Friday, or you could be more aggressive and pick a couple of days each week. Also, there is a lag between doing the writing and putting up the article, since you'll need to do some editing and maybe have some graphics created. So, if you target Friday as the day you'll post, plan to have each article written by Tuesday so it can go through a production process before it hits the web.
Picking the right topics. One of the hardest things about posting content is thinking of great topics to cover. This is something you should do as far ahead as possible, so you don't run into a deadline and find yourself struggling for an idea. As a starting point, you can look to the sites of some of your competitors for inspiration. You aren't going to directly copy their content, of course, but you can see what topics they address and think of a new angle to use for your own piece. It's also worthwhile to think about what niche within your market that you want to dominate with your business. Is there a specific part of the industry that you know better than anyone and you can share that knowledge and experience with your audience? The topics you pick will impact the public perception of what your business does, so this matter deserves your full attention in the planning process.
Who will do the writing? Some business owners or managers are surprised to find how difficult it is to write a quality blog post. Despite having plenty of knowledge and experience on the topic at hand, those individuals sometimes struggle to get their thoughts out onto the screen effectively. On this point, you have two basic options – do the writing yourself or outsource the work. If you don't feel like you are up to the challenge of writing articles, or if you simply don't have time, bringing in a freelance writer is an effective plan. For articles that are meant to demonstrate topical authority, you'll want to provide the writer with a detailed outline, so the key points are hit. Then, after the article is written, you need to review the content and make sure the information has been delivered accurately. You'll bring the knowledge of the topic, the writer will bring the writing skill, and the finished product should be something you'll be proud to post.
The biggest point to take away from this section is that you need to be organized and prepared to keep up with a content posting schedule. It's easy to fall behind on this task, especially with so many other things to manage in your business. Put a detailed, structured plan in place so content creation can be an enjoyable, productive task, rather than a source of frustration.
Find Experienced Help
If you have never published content regularly, you might find this challenge to be more significant than you expected at first. Don't worry – help is available. By turning to an experienced marketing agency for assistance with this project, you can nail down both your content strategy and how to execute that strategy.
Take small steps today to bring your content vision to life!