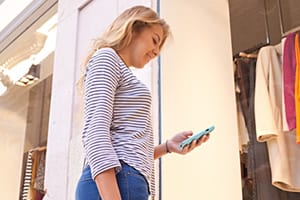 Did you know that you have the ability to track offline store visits in your Google Ads account? This can be extremely helpful when bringing customers into your location instead of solely focusing on online conversions, as both online and offline conversions are important to your business.
Google will use phone location information to determine if anyone that had clicked on your search ad came into your physical store location. Alternatively, they may have seen your display ad and then came into your store. This is valuable information so you can optimize your account based off of all conversion data available to you, online and offline.
Advertisers Must Meet Specific Requirements
This is only available to certain advertisers. You must…
Have multiple physical store locations
Receive thousands of ad clicks and viewable impressions
Have a Google My Business account linked to your Google Ads account
Create a listing for each one of your stores in Google My Business
Have at least 90% of your linked locations verified in Google My Business
Ensure location extensions are active in your account
Have sufficient store visits data on the backend to attribute to ad click or viewable impressions traffic and pass our user privacy thresholds
Protecting the Privacy of Users
Google makes sure to ensure the privacy of users. You will not be able to trace these store visits back to individual clicks or people. You also, at this time, cannot see which store locations received the visits. However, you can see enough data to be able to optimize your account around which keywords and ads brought in visits and leads. You can also choose to include this data in Google's automated bidding option to Maximize Conversions.
Customize Your Conversion Window
You can edit the conversion window and the value of the conversion in Google Ads. You may be able to create an average value that you determine these visits are worth or you can leave this information out. The conversion window would differ depending on your products/services. If it's a quick buying cycle, consider a shorter conversion window. However, if it's something people need more time to make a purchase, like buying a car, a longer conversion window would be ideal.
If your business meets all the requirements and tracking store visits could be beneficial to your account, you can reach out to a Google representative for more information on how to begin. Or, we'd be happy to look into that for you! Contact Sanctuary to see how you can do more with Google Ads.
Source: Google