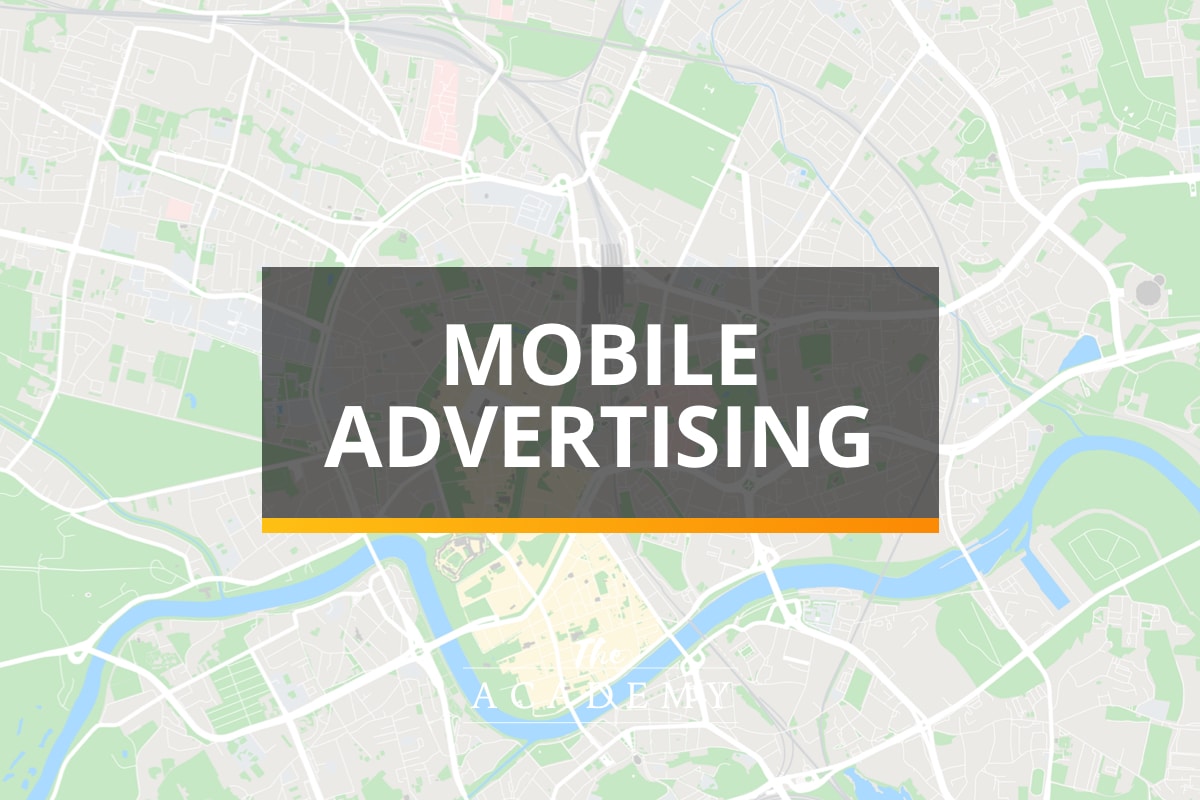 The navigational capability of mobile smartphones is one of the features that have caused these devices to play such a major role in modern life. Where you would once need to pull a map out of your glovebox or ask someone for directions, you can now plug in a destination to your chosen GPS system and let the phone tell you exactly where to go.
Google Maps and Waze
Google Maps and Waze have long been two of the major players in this space. Most people have at least tried one of these two products, and some people use them on a daily basis. For a business, this is an exciting opportunity – when people use something regularly, there might be a chance to put a message in front of those people at just the right time.
This article is going to take a closer look at advertising in Waze and how it might be able to help your business. Google recently announced that the teams that work on these two products would be merging, but the apps will remain separate. Let's check out what advertising looks like on Waze so you can make an informed choice as to whether or not it is right for your needs.
The difference between Google Maps and Waze
Google owns both Google Maps and Waze, which is a little confusing. Why would they want to own two different platforms that, on the surface, seem to do the same thing? But, each platform brings unique strengths and features to the table, catering to different user preferences and needs.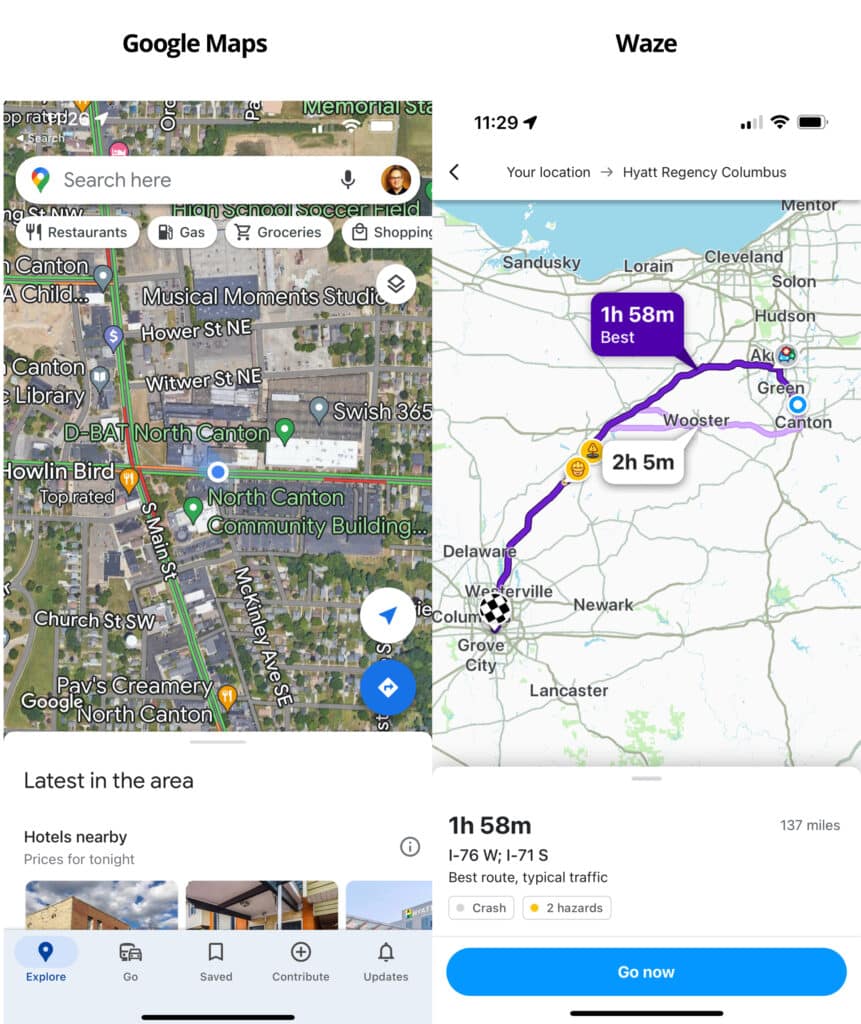 Google Maps Strengths
Google Maps is a popular and comprehensive mapping and navigation service that offers a wide range of features beyond just navigation. It provides detailed maps, directions, satellite imagery, Street View, transit information, business listings, and more.
Google Maps has a massive user base and is widely recognized as one of the most popular mapping services globally. It is known for its accuracy, extensive coverage, and integration with other Google services.
It's important to note that, according to this review, Google's primary strength is not navigation, and this is key.
Waze Strengths
The strength of Waze is navigation for driving on the move. Waze focuses on real-time traffic updates and crowd-sourced data. It relies heavily on its user community to report accidents, traffic congestion, and other incidents, allowing for highly accurate and up-to-date navigational information while driving.
Waze has a strong reputation for its ability to help drivers navigate around traffic and find the fastest routes. It also offers features like gas station recommendations, nearby parking information, and user-generated points of interest. This is where advertising opportunities are focused.
Why Advertise on Waze?
You have plenty of options as to where you are going to put your digital advertising dollars. Selecting the right platform for your business can take a bit of trial and error, and for many businesses, one of those trials should be testing out what Waze has to offer.
Before we get into the specific types of ads that Waze offers and how those might be leveraged to help your business find new customers, we are going to talk more generally about the benefits of using this popular app for promotion.
Powerful local targeting.
Perhaps the single biggest advantage of going with Waze for digital advertising is the ability to present your ads to people who you know are physically within the area you'd like to target.
For some businesses, those that operate purely online, geotargeting doesn't matter much. For businesses that have physical locations, however, the ability to present ads only to people within a certain distance is a huge advantage.
Since Waze is an app that's based around physical location and helping people get where they need to go, it's a perfect fit for this type of ad campaign. If you have been frustrated by the inconsistent results you've been getting with other methods of location targeting with your advertising, you are likely to love what Waze has to offer.
Control your spending.
Advertising on Waze can be surprisingly affordable. This is likely due in part to the local nature of the ads that we mentioned above. Rather than competing with major businesses across the country for the attention of your potential customers, you're only battling with other businesses in the area that want to target a specific geographic location.
You will still need to set aside some amount of your budget to try out these ads and see how they work for you, but many small businesses have had success carving out a niche on this platform without breaking the bank.
Tremendous reach.
Waze enjoys a massive user base of well over 100 million people. No matter where your business is located, it's a safe bet that plenty of people in that area already use Waze actively. Not only are there plenty of people on the app in general, but those people are, by definition, out and active around town. These aren't people sitting at home on the couch using their mobile phones – they are already in the car going from place to place, meaning they are prime candidates to bring into your business for a purchase.
Advertising is all about putting your information in front of the right people at the right time, and Waze is an excellent way to do just that.
Bring them to you.
Not only will Waze help you promote your goods and services to the right people, but it will also help to bring those people to you once they are interested. Navigation is what Waze is all about, of course, so if someone sees an ad for your business and wants to come and pay you a visit, they'll be able to simply update their destination to your location and the app will lead the way. This is another huge advantage to using Waze for ads, as you won't have to explain where you are located or hope that your leads take the initiative to figure out where they can find you. That capability is core to the Waze app, so anyone who wants to visit your business should have no problem doing so.
To be clear, advertising on Waze won't be right for every business, and we'll get into that subject a little later in the article. However, advertising on this app is going to be a great pick for many businesses because of the benefits listed above and more. If you aren't sure whether or not this app might be able to help you, it's important to remember that you can easily try out these ads with very little expense or obligation. Testing out Waze in the real world is the only way to know for sure if it's a good fit for your needs.
Types of Waze Ads
If you decide to take a closer look at this kind of advertising, you'll need to know what types of ads are available, so you can decide which of those options is most likely to line up with your plans.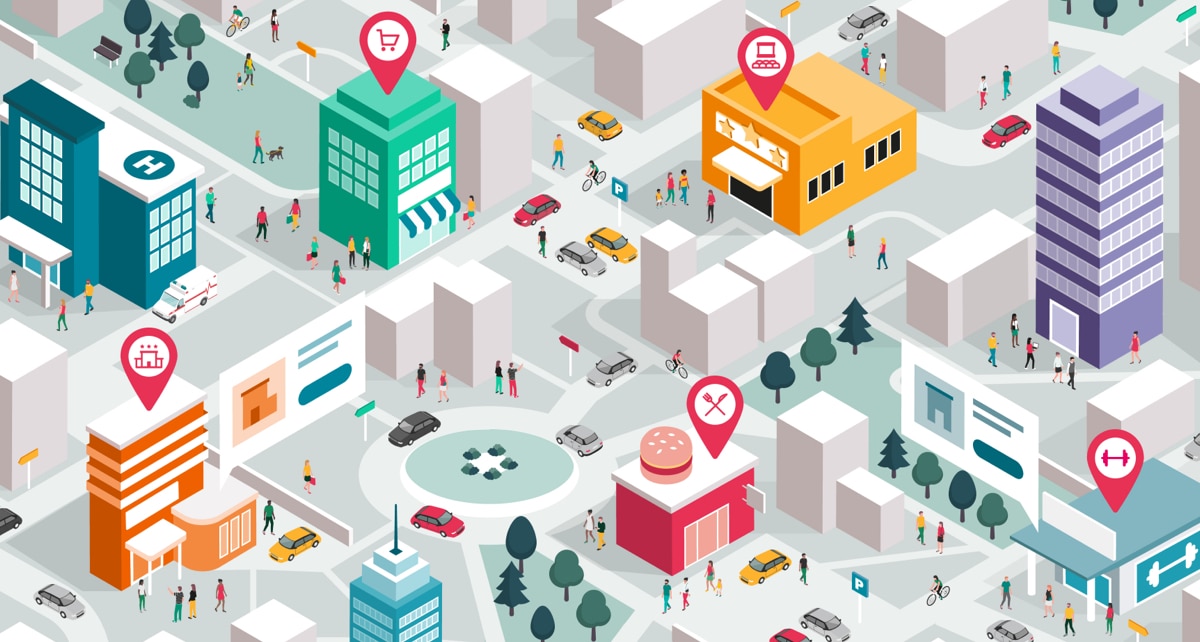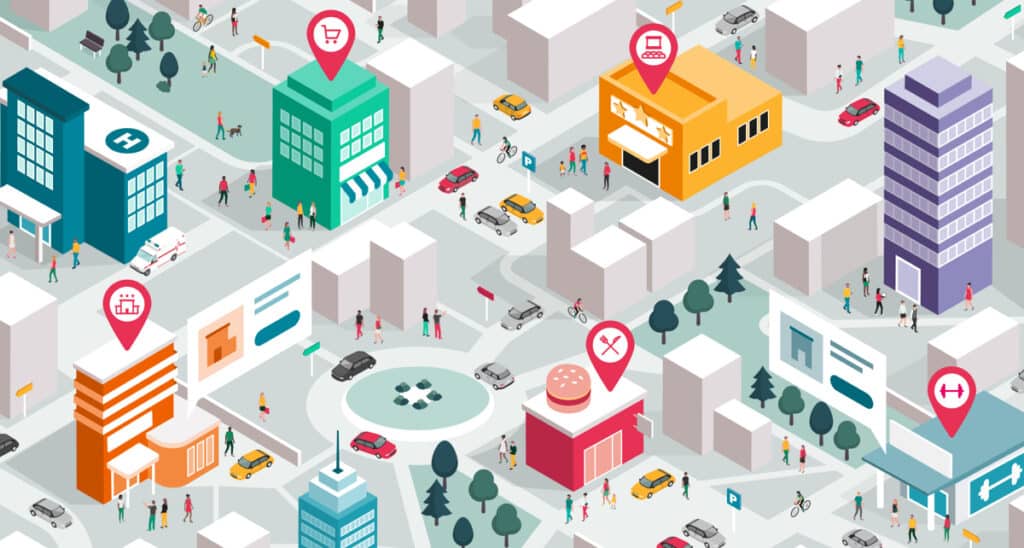 Fortunately, four different types of Waze ads are offered, so plenty of different businesses will be able to make this platform work. It's not so much a matter of deciding which of these types of ads is best in general, but rather which one is the best match for the way you hope to promote your goods and services.
Pins. Perhaps the most basic form of advertising on Waze is the branded pin. This is an ad that will appear on the user's screen when navigating from one place to another. As they approach your location, a pin with your logo will be placed on the map, alerting the user to your presence in the area. This is a great way for businesses to grab attention and make people in the area aware of their location in a natural, passive manner. You might think of Waze Pins as being the modern-day equivalent of a traditional billboard.

Takeovers. As the name suggests, this type of ad is more intrusive than a pin, and it makes more of an impression on the user. When someone using the Waze app enters a given radius around your location, the takeover app will show up at the top of the screen. This is sure to get attention, and you'll have some valuable screen space on which you can make an offer. Most likely, you'll want to have something specific to present with this type of ad, like a special offer that is good for just a limited time.

Arrows. If you would like to grab the attention of people in the general area of your business, but not necessarily right on your street, you might consider the use of arrow ads. This is a great option for businesses that aren't located on a main street that will get plenty of traffic throughout the daily commute. For locations that are in a quieter area, pins might not be as effective as they are in other places, so arrows are a better choice. This way, as long as someone is close enough to trigger the ad, they'll be able to see your location and decide if they are interested in learning more.

Search. When using the Waze app, most people will start out by searching for a destination. As they perform that search, you can present your advertising message at the top of the search results if you use this kind of ad, so you can capture as many of these leads as possible. An obvious example of how this type of ad can be used is in the restaurant industry, as people might be generally searching for somewhere to eat without knowing exactly where they want to go.
A Few Ideas
Now that you know how Waze ads work, you might already have some ideas in mind for how you can use this platform to reach your target audience. To help you keep those wheels turning, we've presented a few of our own ideas below.
For gas stations, Waze is a great way to make sure drivers know about your location and can quickly stop in when looking for somewhere to fill up

Movie theaters could use takeover ads to promote a new release that has just become available, perhaps capturing visitors who were looking for something to do while out and about

Seasonal businesses could run short-term Waze campaigns to grab as much of their market as possible. For example, this technique could work for holiday pop-up shops that sell things for Halloween or Christmas

Healthcare offices might use pins to help drivers locate urgent care facilities and other drop-in locations

Restaurants with significant and similar competition in a given area might draw additional traffic through Waze. For example, if multiple Mexican restaurants exist in a small area, searchers for that type of cuisine could be captured with an effective search ad on the Waze platform
How you choose to use Waze will depend largely on what your goals happen to be with your first campaign. Do you simply want to create some awareness for your brand and the presence you have in the local area? Pins might be a great place to start. To actually drive traffic and work toward securing conversions, takeovers, and search ads are likely to be more effective.
With so many digital marketing options out there today, you certainly don't have to advertise on Waze to find success. With that said, some businesses will find Waze to be a great fit for their objectives and budget, so it's worth at least exploring a little bit closer to determine if this platform is somewhere that you want to distribute your message.
We highly recommend giving Waze advertising a shot if it sounds like a good fit for your organization.
Bonus Background: The Google and Waze Merger
In June 2013, Google acquired Waze for a reported sum of over $1 billion. The acquisition was seen as a strategic move by Google to enhance its mapping and navigation services, particularly in the area of real-time traffic updates and crowd-sourced data. The community-driven model attracted a large and dedicated user base which was an obvious plus for Google.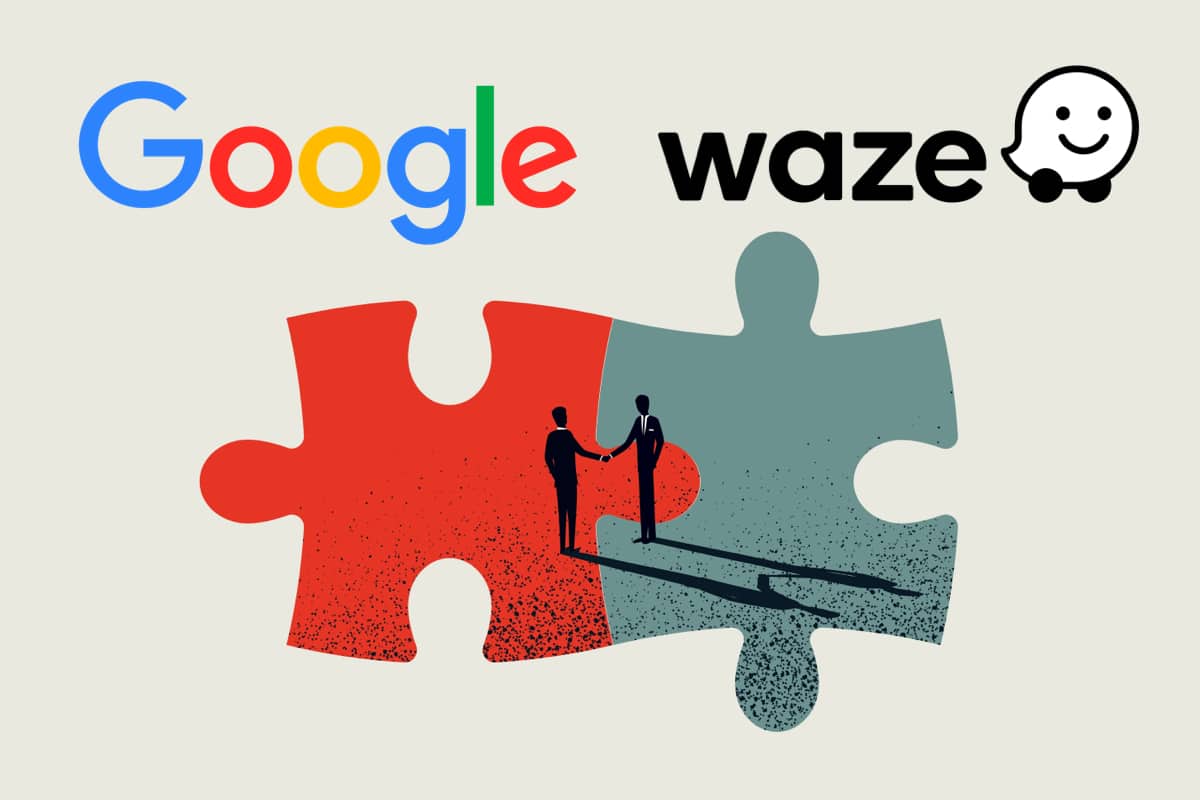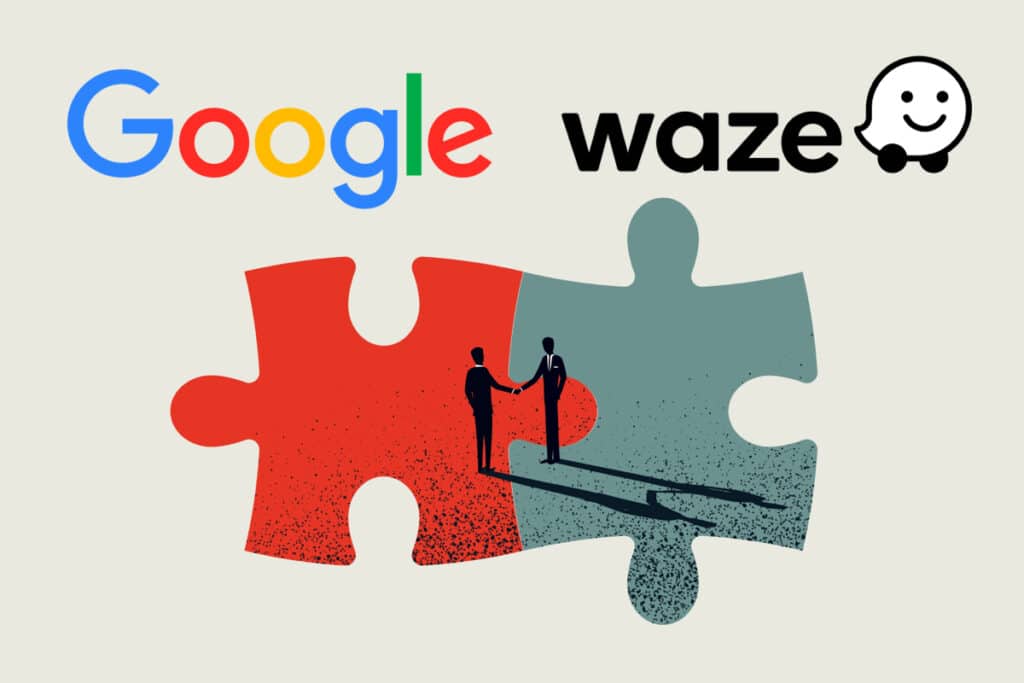 By purchasing Waze, Google aimed to incorporate its real-time traffic data and community-driven features into its existing mapping platform, Google Maps. The acquisition provided Google with an opportunity to strengthen its navigation capabilities and offer more comprehensive and accurate information to its users — not to mention more opportunities to present more real-time advertising opportunities.
Following the acquisition, Waze continues to operate as a separate brand under Google's ownership. Waze's development team works closely with Google Maps to continually integrate Waze's features and data into the Google Maps app. For example, Google Maps started incorporating real-time incident reports and traffic conditions based on user inputs, similar to what Waze had been offering.
The acquisition of Waze by Google showcased the importance of real-time and community-based data in the navigation and mapping industry. It also demonstrates Google's commitment to enhancing its mapping services by leveraging the strengths of innovative companies like Waze.
Will Google do away with Waze in the future and consolidate under one product? Only time will tell. But for now, advertising on Waze is a great option to consider if you're trying to reach people on the move.
Beyond Waze: Exploring Mobile Advertising Opportunities
Mobile advertising is a broad topic. It generally refers to the practice of delivering advertisements to mobile devices in many different ways. With the widespread use of mobile devices and the increasing amount of time people spend on their mobile devices, mobile advertising can be a crucial channel for marketers to reach their target audiences.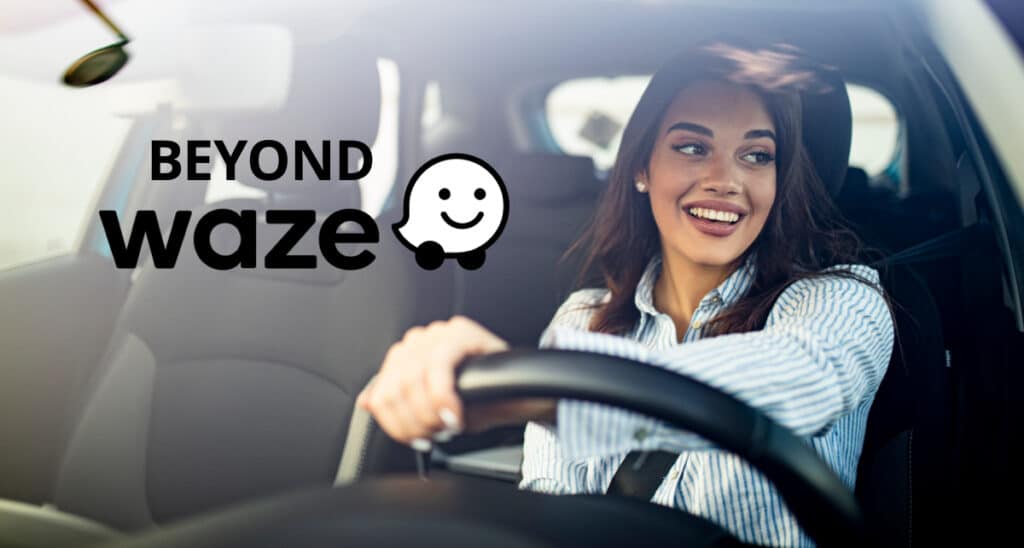 Here are just a few more opportunities and trends in mobile advertising that you may want to consider going forward:
Mobile Apps:
Beyond Waze, location-specific mobile apps offer a prime opportunity for advertising, as they have a captive and engaged user base. Marketers can leverage in-app advertising to display targeted ads within mobile apps. This can be done through various formats, including banner ads, interstitial ads, native ads, rewarded videos, and more.
One good example to explore would be Yelp. Yelp is a popular online platform and mobile app that connects people with local businesses. It allows users to search for and discover various types of businesses, read and write reviews, view business information, and engage with the Yelp community. Yelp is a great opportunity for local businesses to connect with local customers through targeted advertising campaigns.
Mobile Search Advertising:
Mobile search ads, on Google specifically, are displayed within search engine results on mobile devices. Marketers can target users based on their search queries and display relevant ads at the top of the search results page.
Mobile Social Media Advertising:
Social media platforms such as Facebook, Instagram, Twitter, and Snapchat have robust mobile advertising capabilities. Marketers and agencies can leverage these platforms to target specific audience segments based on demographics, interests, and behaviors.
Mobile Gaming Advertising:
Mobile gaming is a highly popular and engaging activity on mobile devices. Marketers can utilize in-game advertising, such as branded placements, rewarded videos, or interstitial ads, to reach a large and captive gaming audience.
Mobile Messaging Apps:
Messaging apps like WhatsApp, Facebook Messenger, and WeChat provide opportunities for advertising through sponsored messages, branded stickers, or targeted display ads within the app interface.
Mobile Wallet Advertising:
Mobile wallets like Apple Pay and Google Pay offer the ability to deliver targeted sale offers, coupons, or loyalty rewards directly to users' mobile devices based on their purchase history or location.
Mobile Voice Search Advertising:
As voice assistants like Siri, Google Assistant, and Amazon Alexa become more popular, marketers can optimize their advertising for voice search queries and provide voice-based responses or sponsored suggestions.
Mobile Audio Advertising:
With the rise of mobile music streaming services and podcast apps, advertisers can reach audiences through audio ads that play during music or video streaming or within podcasts.
Mobile Retargeting:
Marketers can use mobile advertising to retarget users who have previously interacted with their brand through mobile apps or mobile websites. Retargeting ads can help remind users about products they have viewed or abandoned in their shopping carts.
Mobile Push Notifications:
Marketers can send targeted push notifications to users who have opted in to receive notifications from specific mobile apps. Push notifications can be used to deliver personalized offers, updates, or reminders.
Augmented Reality (AR) and Virtual Reality (VR):
As AR and VR technologies continue to advance, they present new opportunities for immersive and interactive mobile advertising experiences. Brands can leverage these technologies to engage users through virtual product demonstrations, interactive games, or branded AR filters.
Mobile Native Advertising:
Native ads blend seamlessly with the user interface of mobile apps or websites, offering a non-disruptive advertising experience. Native ads are designed to match the look and feel of the platform and provide relevant content to users.
The final word
These are just a few examples of modern advertising strategies that demonstrate the extremely diverse range of mobile advertising opportunities available to marketers beyond Waze. They cater to various formats, technologies, and user experiences. It's essential for advertisers to select the most suitable options based on their target audience, campaign objectives, and budget.
And finally, it's also important for marketers to consider factors like mobile device compatibility, responsive design, user experience, and ad targeting capabilities when planning mobile advertising campaigns. Additionally, adherence to privacy regulations, advertising standards, and best practices for user consent and data protection is crucial in mobile advertising.
Mobile advertising provides businesses with the opportunity to connect with a wide range of users who use mobile devices on the go, allowing for effective targeting based on user characteristics and behaviors.
By capitalizing on the popularity of apps like Waze and mobile devices in general, and utilizing location-based targeting, businesses can benefit greatly from location-based targeting and engage users through different ad formats and experiences. Mobile advertising enables businesses to be found and connect with customers locally, enhance brand visibility, interact directly with customers, and drive real conversions and sales that create new revenue.