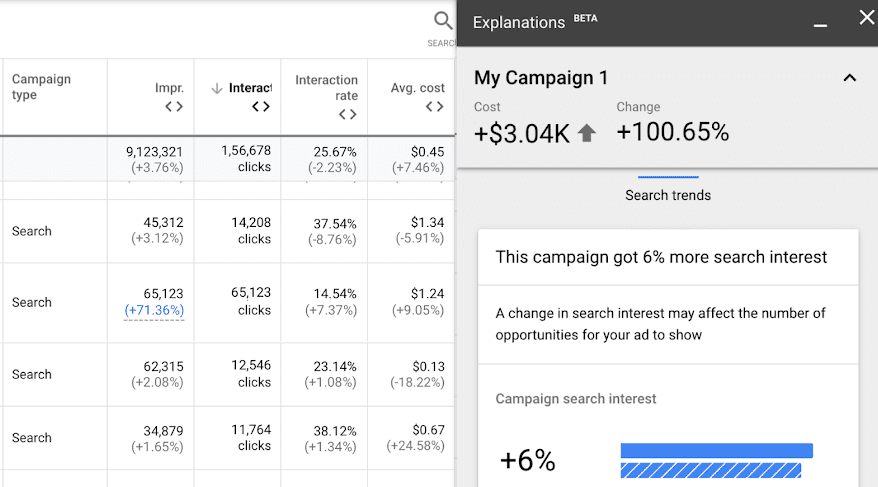 Google ads can be a great way to advertise your product or company. They can help drive traffic to your website and generate more leads and sales for your business. With that said, if you are advertising through Google, it's important to stay up to date on changes within Google Ads—especially changes that can really help better understand impressions, click and cost changes. There's a new "explanations" tool that will help you do just that!
Understanding Performance Changes
Within Google Ads, you can now request an explanation (available on certain campaigns) to see why things like impressions, clicks and costs have changed. This is especially helpful if you have seen a big increase or decrease in certain metrics. Google Ads can provide an explanation for these changes, which allows you to focus more on optimizing your ads and less time investigating why your costs or number of clicks have changed.
Factors That Can Affect Your Performance
There are numerous items that can affect your campaign or ad group performance, which will be helpful as you create new ads or change existing campaigns.
Bid changes: How changes to your bids may have affected where and how often your ads showed.
Bid Modifier changes: How changes to your device bid modifier, location bid modifier, demographic bid modifier, and audience bid modifier may have affected performance.
Budget changes: How changes to your budget may have affected how many clicks and impressions your ads received.
Budget allocation: How spreading your budget across multiple entities (for example, ad groups) may have affected the performance of other entities.
Budget exhaustion rate: How changing your average cost-per-click (CPC) may have caused your budget to run out more quickly or slowly than usual.
Eligibility: How different factors may have affected how often your ads were eligible for traffic (for example, budget exhaustion or pausing an ad group or campaign, when all ads in an ad group were disapproved).
Change history: How changes to your account may have affected your account's performance.
Targeting changes: How changes to location targeting, keywords targeting, keyword status, and adding/removing an audience may affect performance.
Auction competitions and search interest: How changes in search volume on Search partners and opt-in/opt-out of Search partners may affect performance.
Using Google Ad Explanations
To access this tool, sign in to your Google Ads account. Click Search Campaigns from the navigation menu on the left. Next, click Campaigns or Ad Groups from the page menu on the left. In the upper right corner, choose your date range, and check the compare box, then select the dates you want to compare, and hit apply. Make sure the time periods are of equal length, or explanations won't show up.
You will see a percentage change below the numbers in your performance metrics columns.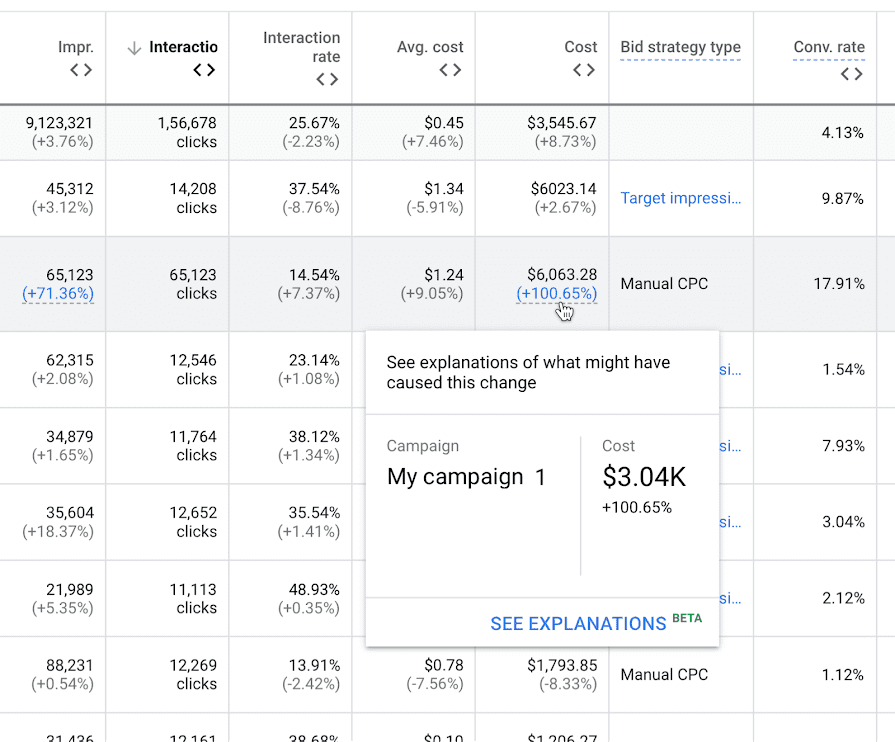 Image Source: Google
Next, click See Explanations in the box to get more details about the campaign or ad changes.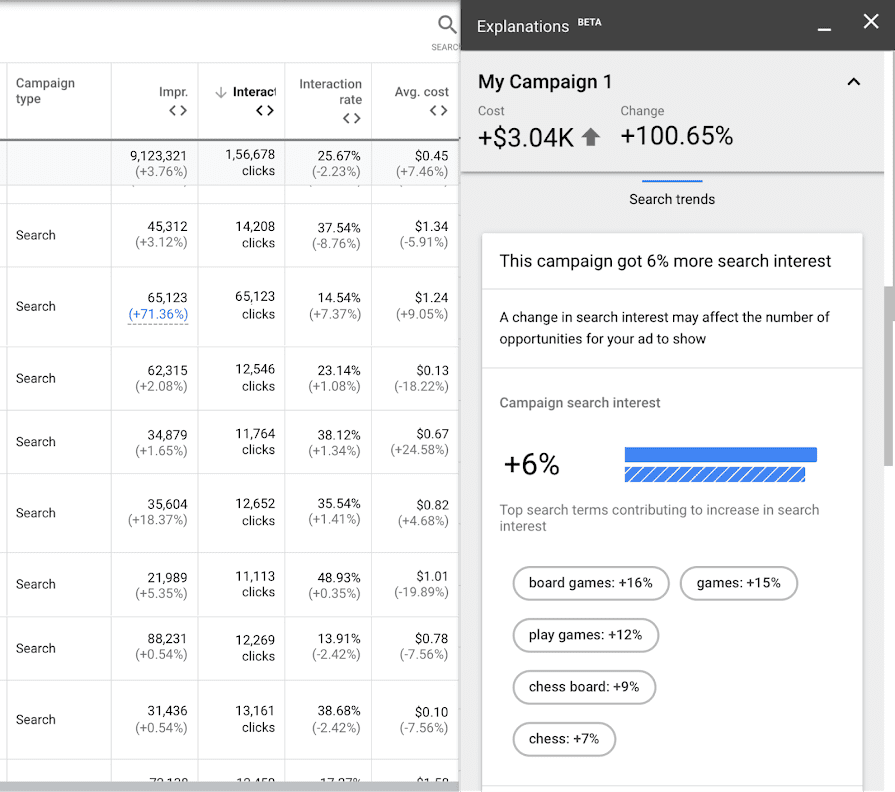 Image Source: Google
After utilizing this tool, you are able to learn why your campaigns increased or decreased, and can use that information to improve the next ads you run.
Things to Keep in Mind About Explanations
The Google Ad explanations tool is fairly new and there are a few things to keep in mind about it. It is currently only available for Search campaigns using manual bidding or enhanced CPC. You won't see an explanation option for Search+Display, Video, Shopping, or Dynamic Search ads.
Secondly, this tool can compare two time periods of equal length within the last 90 days, which helps the system from making inaccurate explanations. Another thing to keep in mind, explanations may only show for campaigns with significant performance changes.
Lastly, the tool is currently in beta, but its functionality will be expanded on over the coming months.
Get Help with Google Ads
If the Explanations tool isn't really satisfying your urge to better understand or even optimize your Google ads, we'd be happy to help make sense of it all! Contact Sanctuary to learn more.