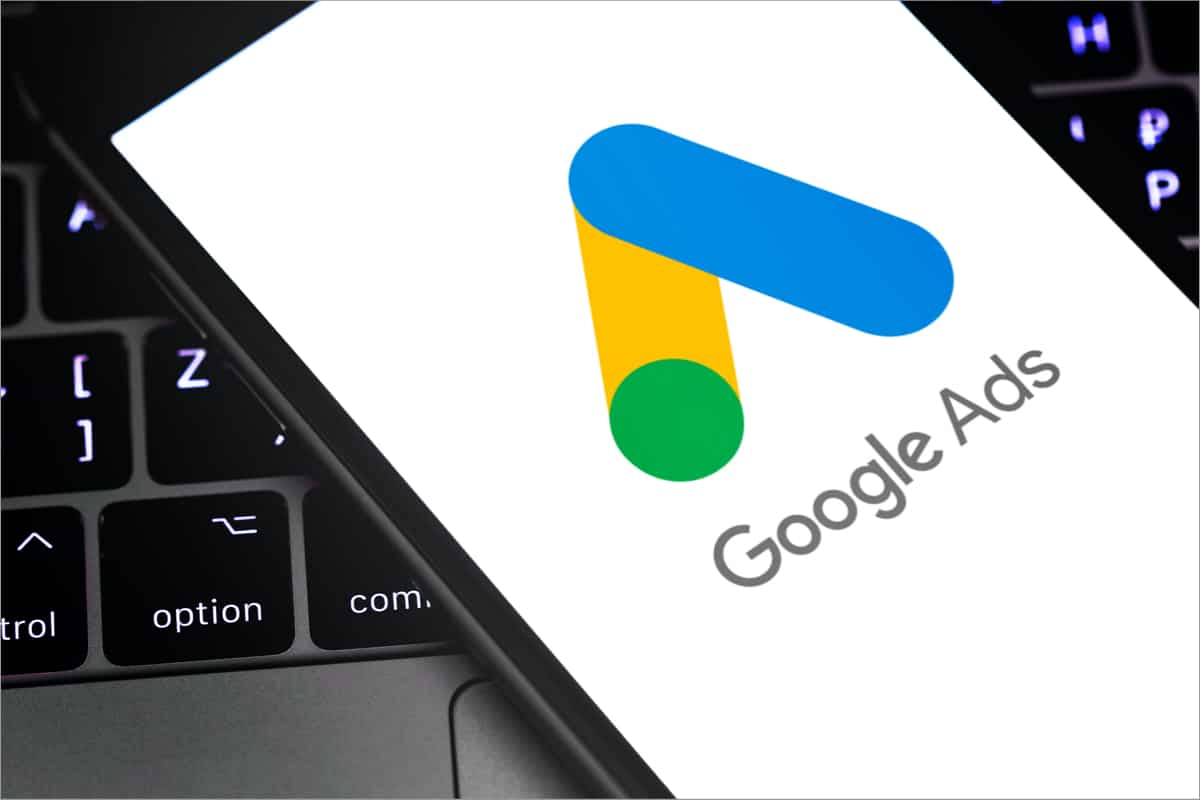 The power of Google Ads is no secret. In fact, when you were first getting started in digital marketing – or, maybe you are just getting started right now – Google Ads may have been your first introduction to the idea of promoting goods and services with pay-per-click advertising. It's a massive player in this industry, and while there are many other platforms worthy of your attention, everyone should understand what Google Ads are and what they can do. 
This article is going to highlight the many different types of ads offered by Google today. The platform has expanded significantly since its rather humble beginnings, and it now offers a diverse set of campaigns and ad types, meaning it has something for just about everyone. Let's get started!
Wait, There's How Many Google Ads?
When you think of a Google ad, you probably think first of the standard text-based search ads that show up at the top of the organic results page. For many searches, paid results will appear at the top of the results before the organic listings, and these spots can be purchased by the highest bidder with a relevant ad to run. For many people, those types of text ads are what it means to use the Google platform as a marketing tool. 
But the reality isn't nearly so simple. Once you get into it, you'll find that there are many different types of Google Ads – more than 20 – and the way you use those ads will determine how effectively your marketing dollars turn into sales. It's fair to say that advertising on Google is a potential gold mine of new leads, but it's also easy to waste a lot of money buying ads that aren't really the right fit for your goals. 
To help you get your head wrapped around the many options available on the Google Ads platform, you might want to start by getting familiar with the campaign types that you can pick from when getting started. There are nine of those available –
Search
Local
Display
Shopping
Video
App
Smart
Discovery
Performance Max
The standard ads we discussed previously reside in the search campaign type, so that is where many people will get started. Even if you start with just running a few simple ads in the search ads campaign category, you may soon enough find yourself branching out to see what else is possible in some of these other areas. 
With the rest of this article, we'd like to dive into some of the specifics regarding these various ad campaigns, and we'll discuss some of the ad types within the categories.
Google Search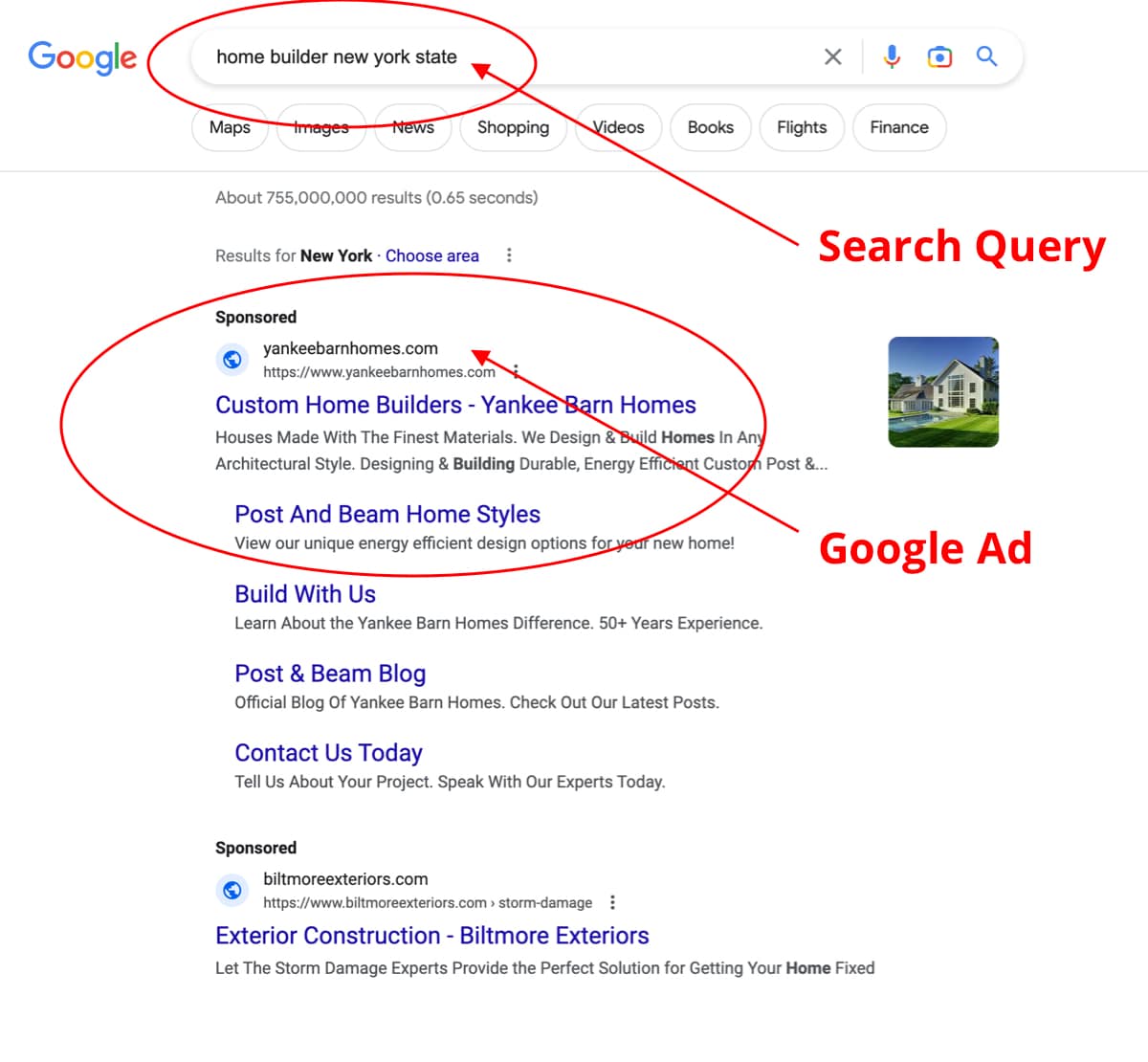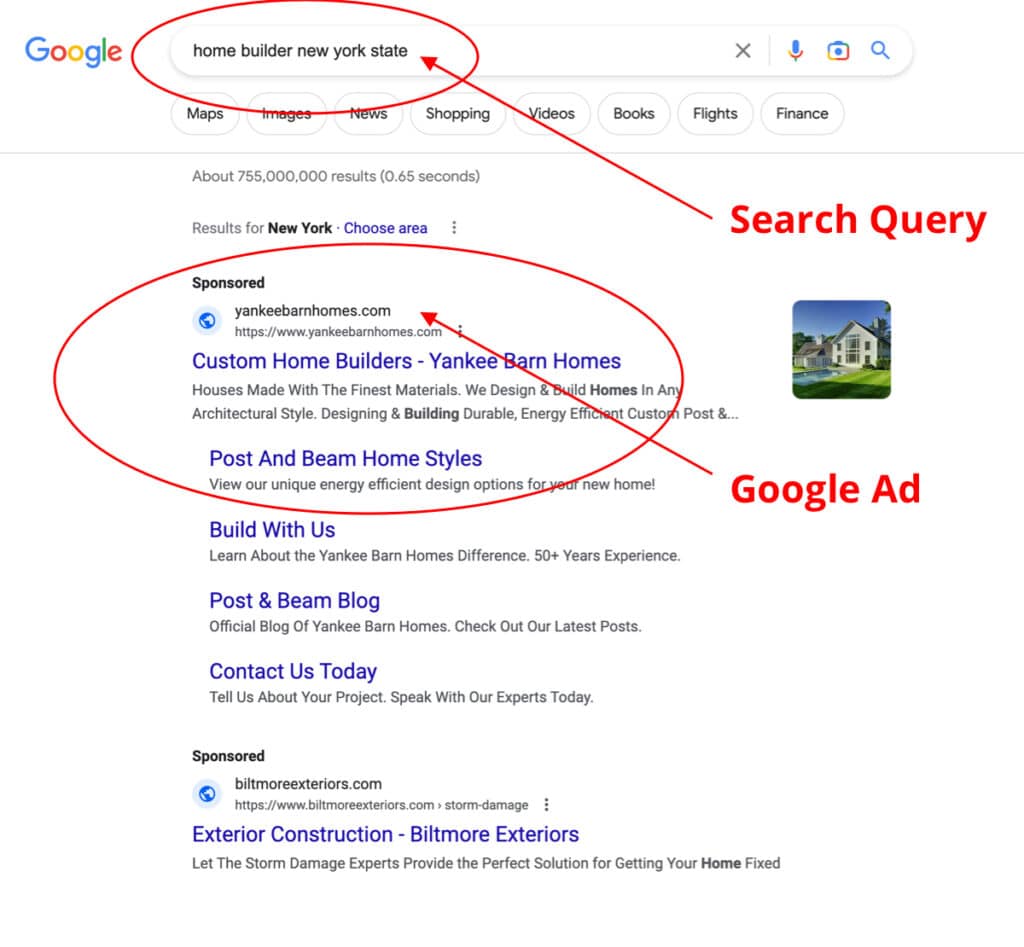 This is the big one, so it's the obvious place to start. We've talked a bit about this already, but let's look a little closer at how these ads work and why they are so popular.
If you are hoping to find potential customers based on the keywords they are searching, start with traditional search ads. You'll be able to control what search queries your ads display on, and you can even add negative keywords to avoid paying for ads on searches that aren't relevant. Most likely, you are going to want to use these types of ads specifically for capturing leads or making sales, rather than for general brand awareness. 
Of course, given the effectiveness of these kinds of ads and the way they can be accurately targeted, there is a lot of competition here. Countless businesses use Google Search Ads to target their ideal audience, so you can count on having to fight for those top spots with quality ads and aggressive bids. It will take some testing and experimentation to figure out how to get the most out of your advertising dollars.
Within the search campaign type, you'll have a few different ad options. Beyond standard ads, you can also use call ads, responsive search ads, and dynamic ads. Of these, consider trying out responsive ads sooner rather than later, as the way this technology cycles through various combinations of headlines and ad copy can help you test options to find which ones work best.
Google Shopping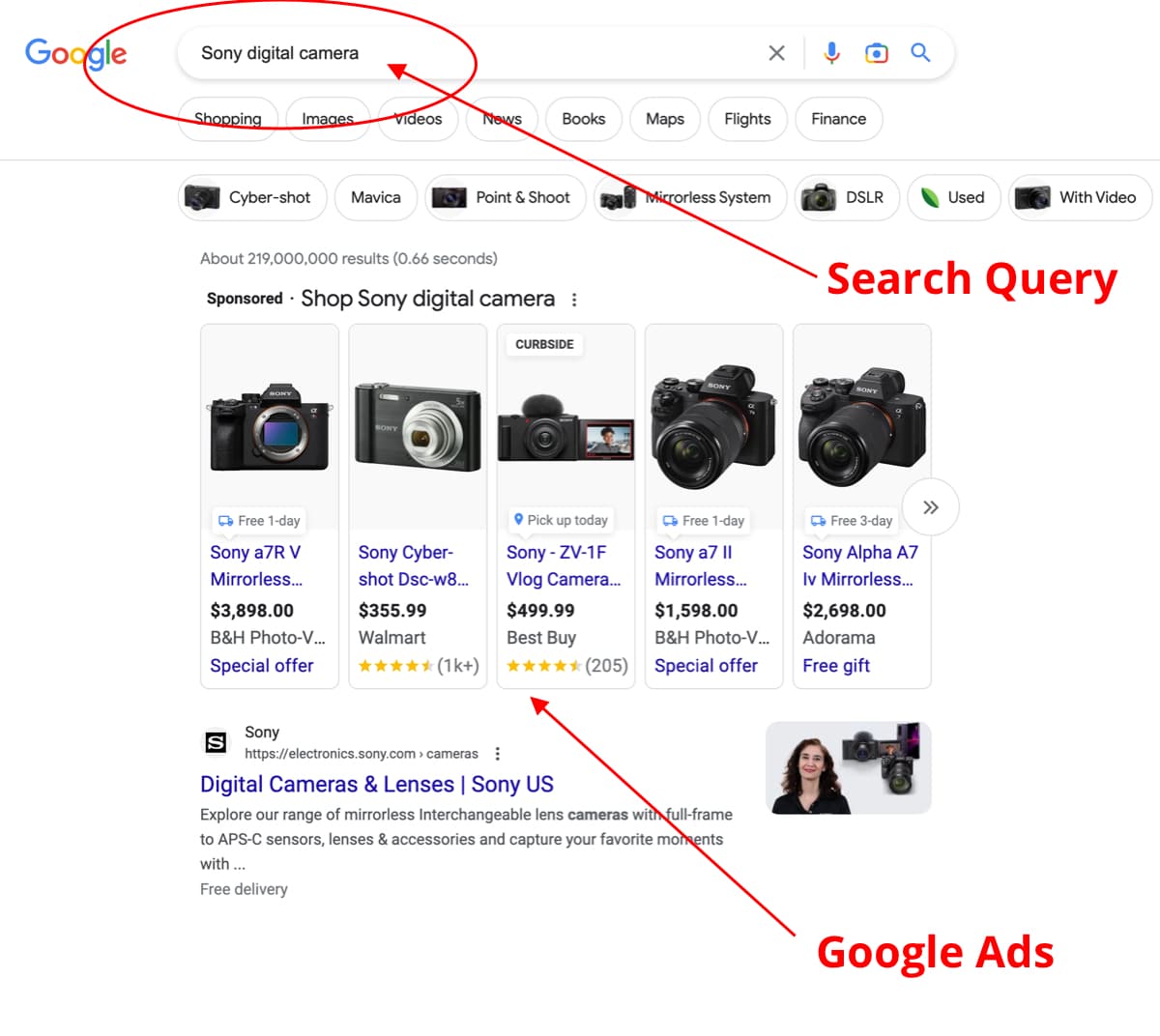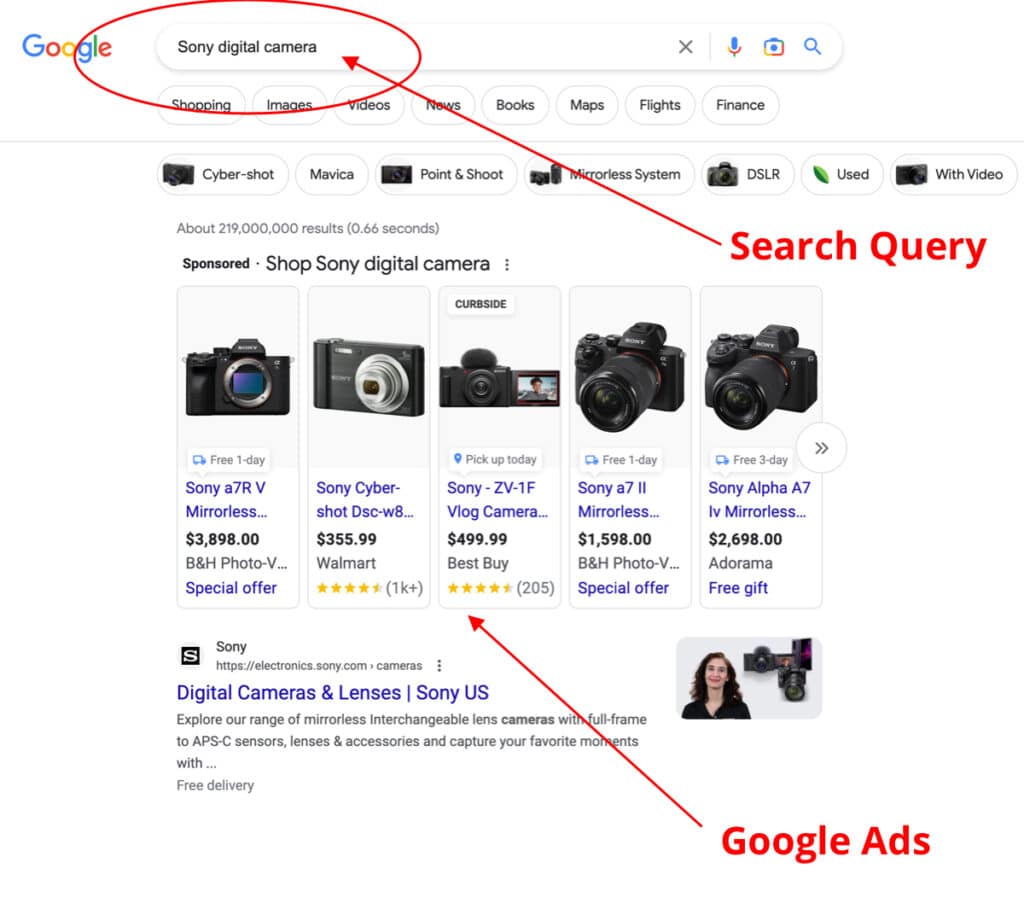 The name alone tells the story here. If you sell your goods online, running shopping campaigns within Google ads is an option you'll want to consider. There is some setup time that will be required to get up and running with this kind of ad, but that time can be a worthwhile investment when you start to see sales come through.
Once you have created your product feed of items that you would like to promote and sell, Google will do a lot of the heavy lifting in terms of determining when to show these ads and to whom. You can exert some level of control over your campaigns through the use of negative keywords, however, so you can narrow down the target audience to something that fits the demographics you are trying to reach.
In addition to the standard product shopping ads in this campaign type, you can also use the local version of shopping ads. This format will display your ads specifically to people who are searching from a nearby location, and they will also offer information about inventory levels, so searchers know if the product is currently available.
Given the setup process and integration with your site that is required, this is probably not where you are going to start with your Google Ads experience. However, if you are in the e-commerce space, diving into Google Shopping after you get some experience with the simpler ad types is certainly worth the time and effort. 
Google Display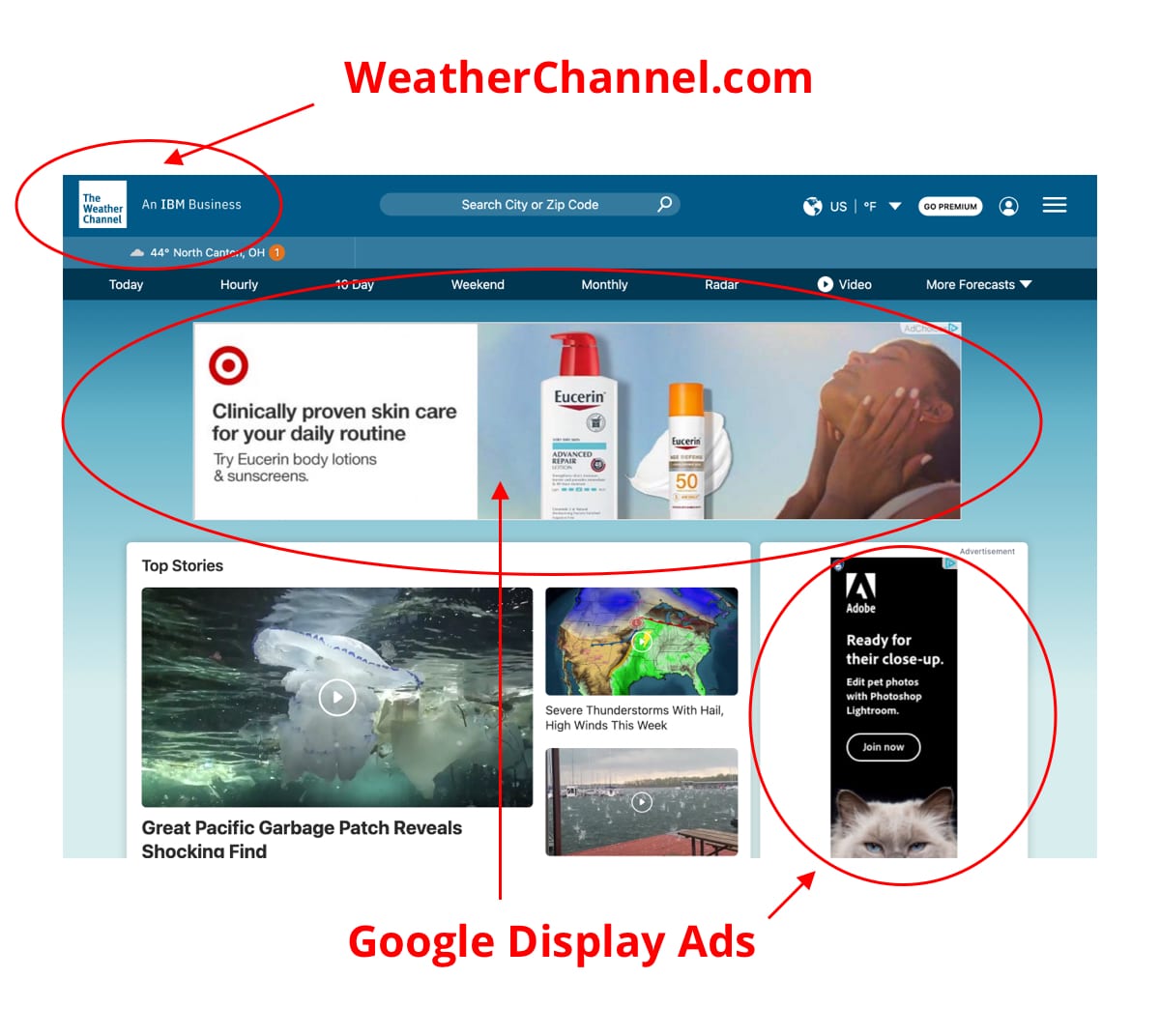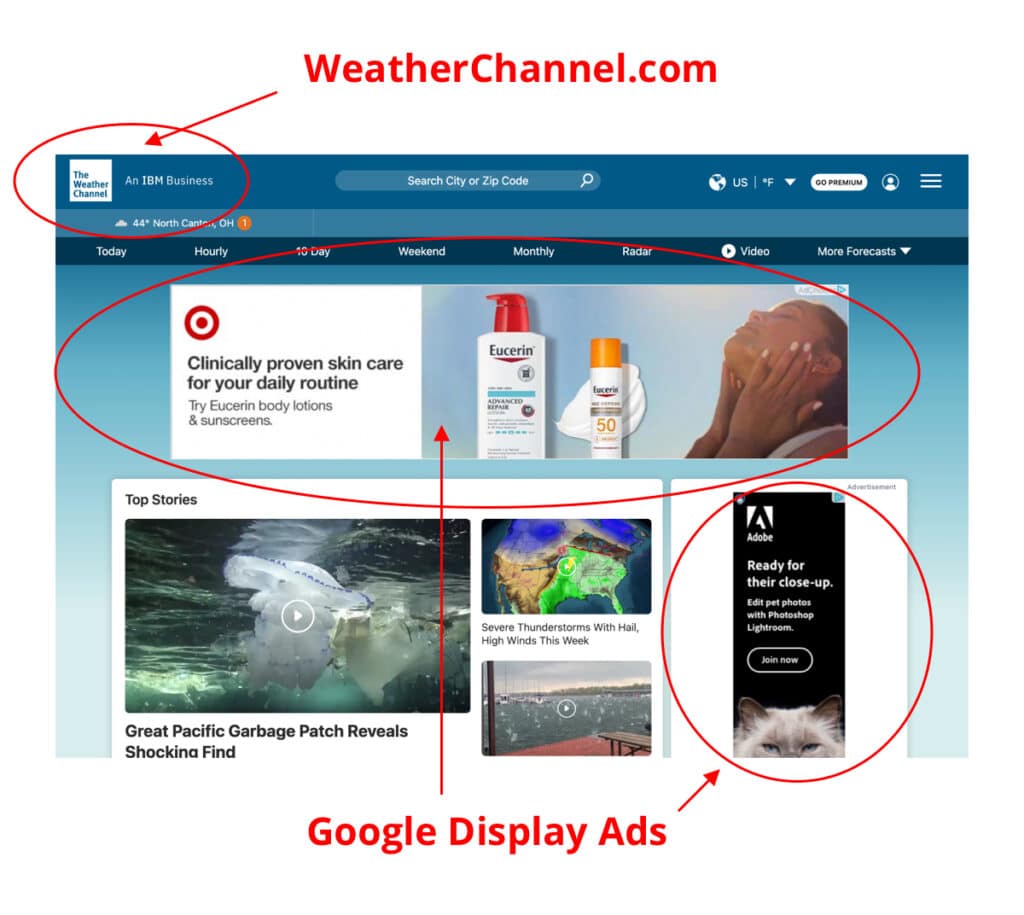 One of the common misconceptions about running ads with Google is that those ads are only going to be shown on Google properties. That simply isn't the case. Through the use of Display ads, you can have your image-based ads shown on the Google Display Network, which includes countless websites all across the internet.
This type of advertising is a shift from Search ads because you won't be basing your targeting on keywords. Rather, you'll be focused on displaying these ads on sites that align with the products or services that you are promoting. It could be sites that are in a similar niche to your own – but not competitors – or it could be that you target the kinds of sites that cater to a similar demographic as your own. You'll generally get a lower click-through rate with Display ads since they are passive and not served based on user input like a search, but you can still achieve great results once you dial in this type of campaign. 
For a low-cost option that can help you to put your brand in front of a large number of people, Display ads are hard to beat. Most likely, this isn't going to be the only kind of ad that is needed to bring potential leads all the way through your funnel and turn them into customers, but it can be a nice starting point.
Reviewing the Other Campaign Types
Most likely, some combination of the campaign and ad options we've discussed above will be more than enough to keep you busy (and may occupy all of your digital ads budget for a while). To wrap up, let's quickly go over the basics of the remaining campaign types.
Local. This type of ad is being phased out by Google, so if you are just getting started with a new account, you may not even have access to this campaign as one of your options. If you do have an account that provides you the opportunity to local ads, consider this option to reach customers in a specific geographic area and drive them to your physical location.  
Video. Using video in your ads is a great way to engage with your audience and form a quick connection. If you are having trouble getting your message across successfully with written ads, you might have more luck exploring the video ad options. You'll be able to use various types of formats and targeting to find the right audience, but there is going to be quite a bit more time and money required to make video ads as compared to writing standard ad copy. These ads can be shown on YouTube in addition to various other places. 
App. This specialized type of ad campaign is specifically for businesses that have an app to promote. If you have built an app for your business and you want to maximize download numbers, this format can help make that happen. When a user encounters an app ad, they will be able to tap on that ad and quickly download your app to their device. It's also possible to use these ads to push people who already have your app back into it, and you can select the page of the app they will land on after engaging with the ad. 
Smart. If you are hoping for a hands-off experience that will allow you to promote your brand without putting much time into the process, the Smart campaign type is for you. As you might imagine, you are giving up nearly all of the control over the process with this approach, so it might not work out as well as putting the time and effort into building your own campaign from the ground up. With that said, the advertiser who simply can't spare the time to build a traditional campaign might want to test the waters with this option just to see how it goes. 
Performance Max. When you are ready to go all-in with Google Ads to find customers and drive revenue, Performance Max may be something to consider. This is a type of ad campaign that is centered around a specific goal you set. With a goal established, and plenty of marketing assets loaded into your account, Google will manage the various ads in an automated manner, much like with the Smart campaigns. These ads can wind up being shown in many different places and settings, and the system will learn over time what works and what doesn't. It should be noted that you'll likely need a significant budget to make this system work effectively for you. 
Discovery. Continuing the theme from the previous two points, this is another type of ad that is largely automated. You'll be able to add specific marketing assets to your account and then Google will take over and display those as it sees fit. Again here, you give up quite a bit of control in exchange for having the potential to reach customers that might not have encountered your brand otherwise. 
It can be a little intimidating when getting started with Google Ads, simply because of the many options that are available and the scale of the market you can reach. The best way to approach this challenge is the same as any other big task – start small and work your way up. Consider getting started with just a single ad type if this is your first time advertising with Google, and see how it goes. In time, you'll gain both knowledge and confidence, and you'll be able to branch out into other areas to explore those possibilities. Good luck!