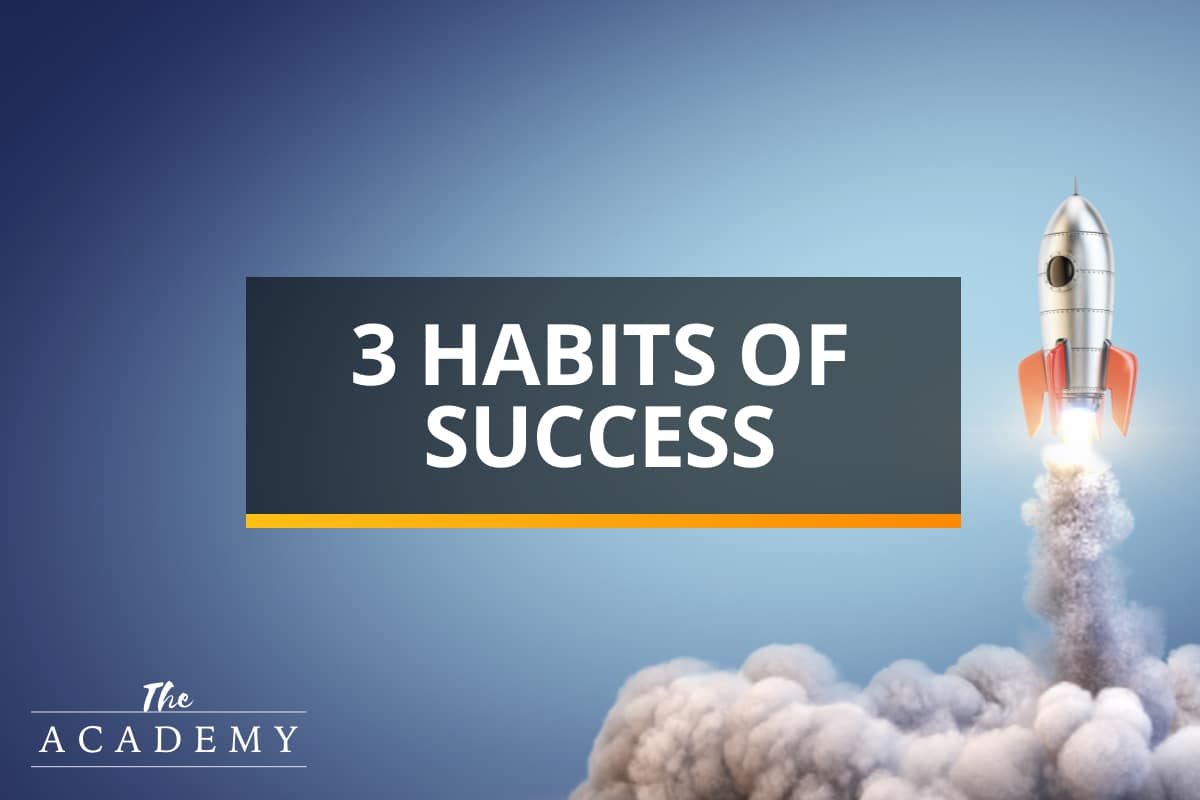 A healthy business is one that consistently hits its goals and sticks to plans for the future. By setting clear goals, and then meeting them time after time, a business can find success in a competitive marketplace.
Success doesn't happen by accident. Instead, achieving goals is the result of intentional, decisive actions that are designed to strive toward those targets. In other words, it's the habits that support your selected goals that will determine whether or not you are successful in the end. 
With this article, we would like to introduce three important habits to consider for your business. It has been seen time and again that businesses that manage to reach their goals tend to respect the importance of these habits, so they are certainly worthy of a closer look. Take some time to review the three ideas below and see if you can incorporate them into your operations moving forward. 
Habit #1: Quarterly Rock Setting
One of the challenges that comes with setting and hitting goals in a business is the various time scales that need to be considered. If you only focus on what needs to get done today, you'll lose sight of the big picture and eventually get off track. On the other hand, if all you do is think about the future, there won't be enough focus on the daily and weekly accomplishments that can add up to long-term achievements.
So, it's important to have a blend of short- and long-term planning when managing your organization. As a starting point, we are going to recommend what is known as a Quarterly Rock Setting meeting. This is a concept introduced by the Entrepreneurial Operating System, or EOS. In this context, the word "rocks" is simply used instead of "goals", but it means the same thing.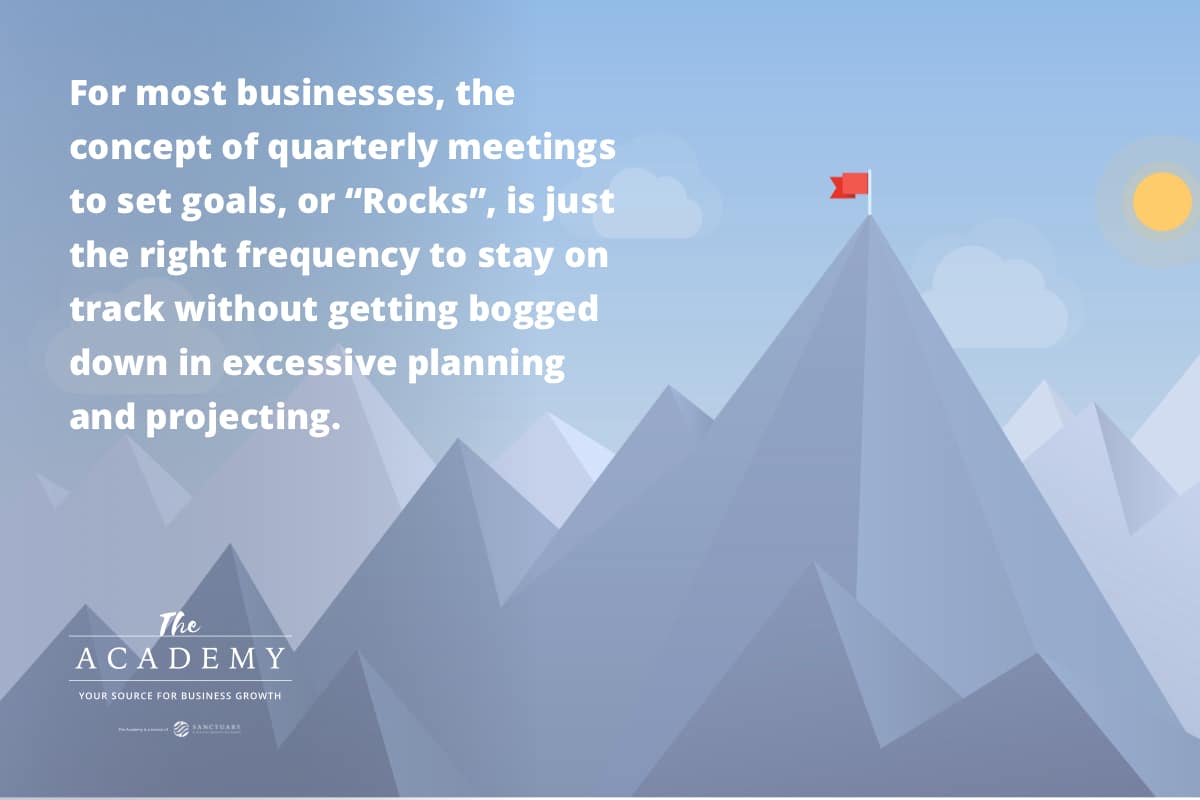 For most businesses, the concept of quarterly meetings to set goals, or "Rocks", is just the right frequency to stay on track without getting bogged down in excessive planning and projecting. Going through the year three months at a time, you can pick out objectives to target, take action on those goals, and then do it all again in 12 weeks' time.
Of course, just sitting down in a conference room and setting a few random goals isn't going to get you very far. The goals you select need to align with the vision you have for the future and need to make sense as far as a realistic trajectory for your company. The list below highlights some fundamentals of quarterly goal setting that you'll want to keep in mind. 
Clear definition. One of the two biggest mistakes you can make when setting a quarterly goal is to make it ambiguous (more on the other big mistake in a moment). These quarterly "Rocks" that you set should be as specific as possible, so you can easily measure your success or failure when the quarter comes to a close. If you want to capture more leads in the next three months, for instance, don't set a goal that simply says, "get more leads". Instead, settle on a realistic but ambitious goal – like maybe getting 10% more leads than the previous quarter – so you can base your practical efforts on that target.
Within reach. The other big mistake we referenced above? This is it… Setting a goal so ambitious that you have no chance of actually reaching it in the end. To carry on our example from the previous point, you might decide that you want to double the leads you collect as compared to the last three months. That would be great, of course, but is it possible? Probably not. In the end, you'll fall short of the goal you set, even if you put together a great plan and executed that plan throughout the quarter. The art of setting good quarterly goals involves walking the line between ambitious and impossible. As you gain experience with this process, you'll learn how to pick out goals that can be accomplished without selling your business short at the same time.
Useful. This is an easy one to take for granted, but you need to confirm that the quarterly goals you set are actually going to drive the business forward. It would be a waste of time and effort to achieve goals that aren't really going to make a difference in the end, anyway. So, something like gathering more leads would certainly have a positive impact, but you might come up with some other ideas that don't really make much of a difference upon closer inspection. During this quarterly meeting, be sure to open up the meeting for discussion on the merits of each goal under consideration, so those that aren't very important can be discarded.
Habit #2: Weekly Sprint Planning
For this next habit, we are going to dip into terminology from Scrum, which uses sprint planning meetings to make sure that each set of five workdays is used to maximum effectiveness. While this idea comes from Scrum, you don't need to be using Scrum formally in your organization to benefit from this concept. Below, we'll provide you with a basic framework for how you can use this type of weekly planning, no matter what it is that you are trying to achieve.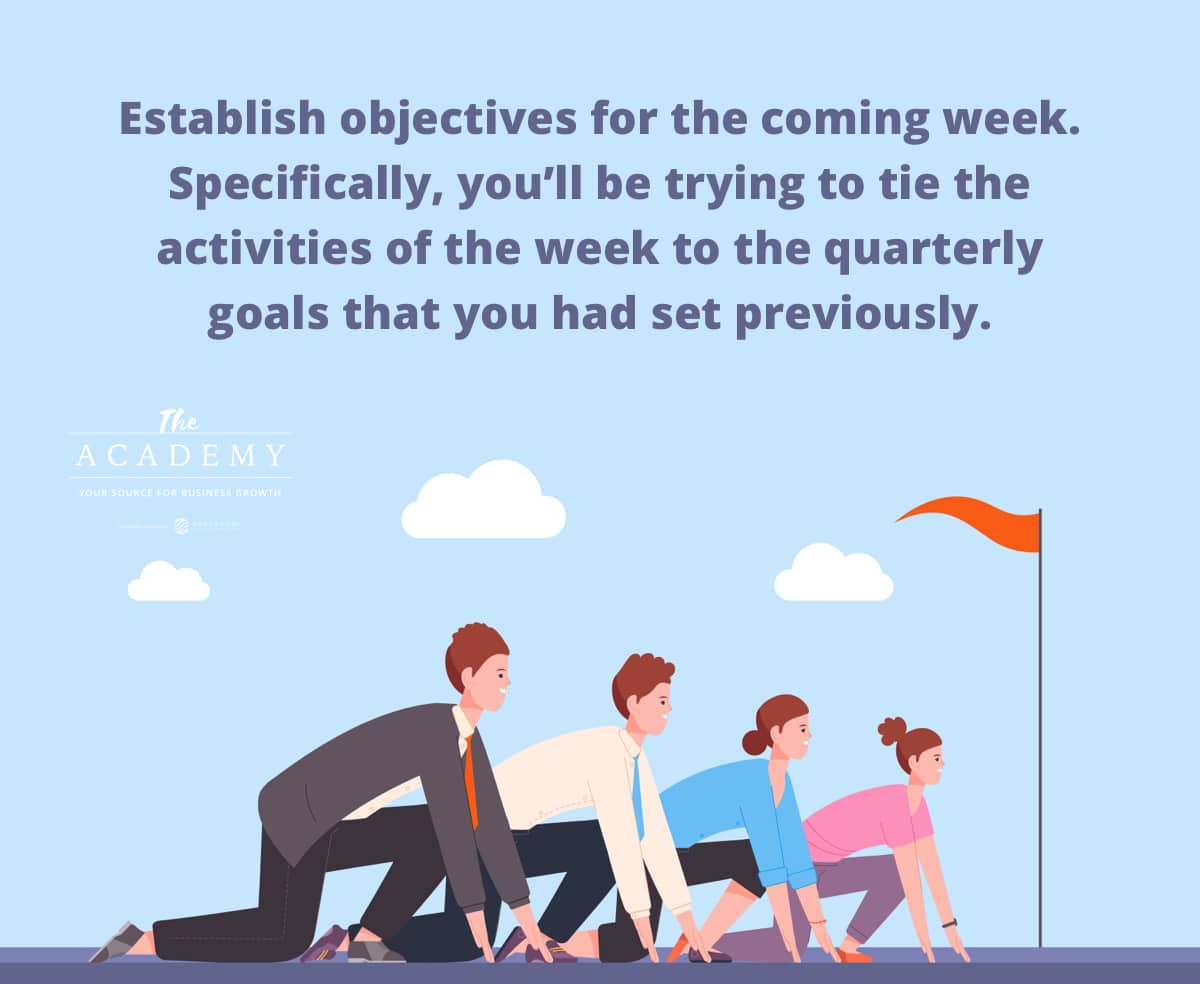 The concept here is to establish objectives for the coming week. Specifically, you'll be trying to tie the activities of the week to the quarterly goals that you had set previously. Of course, what this looks like is going to gradually evolve over the course of the quarter, as you hopefully get closer and closer to the goals that are acting as your targets.
Going back to the goal of getting more leads, here are some examples of what might be planned for various weeks throughout the quarter. 
Early in the quarter, a weekly planning goal might include drafting some new ad copy and designing an updated landing page where the leads will be captured
Later, weekly objectives might include optimizing the ad campaigns, turning up the frequency of ads that are performing well, while pulling back on those that aren't getting great results
By the end of the quarter, a weekly goal could be to aggregate the data that has been gathered through the lead generation campaign to determine how the efforts worked and what could be improved for the coming quarter and beyond
Setting weekly targets and objectives is really what keeps the quarter from getting away from you. Every business owner and manager knows the feeling of setting some goals for a specific point in the future – only to find that date fast approaching without any progress being made. This happens because there is no solid plan for how time will be spent in the meantime to creep up on those bigger goals. This is what weekly planning can do for you.
Through weekly meetings that set priorities for the five days ahead, it will be far easier to stay on track. You'll know exactly what you and your team should be working on, and you can quickly correct course if you stray from the intended direction. So, even if you lose your way for a day or two, you'll be able to redirect and keep making progress toward your goals. Without a weekly plan, it might be many weeks before you realize you've strayed – and by then, it will be too late to save that quarter's goals.
Habit #3: Weekly Meeting Pulse
Finally, we are going to revert back to another concept from EOS – the Weekly Meeting Pulse. Like the previous habit, this is another one that takes place on a weekly basis, but the purpose is a little different and it may involve different people within your organization. If you are able to blend a cornerstone Quarterly Rock Setting meeting with these two types of weekly meetings, the end result should be a reliable system that keeps everyone on track and on the same page.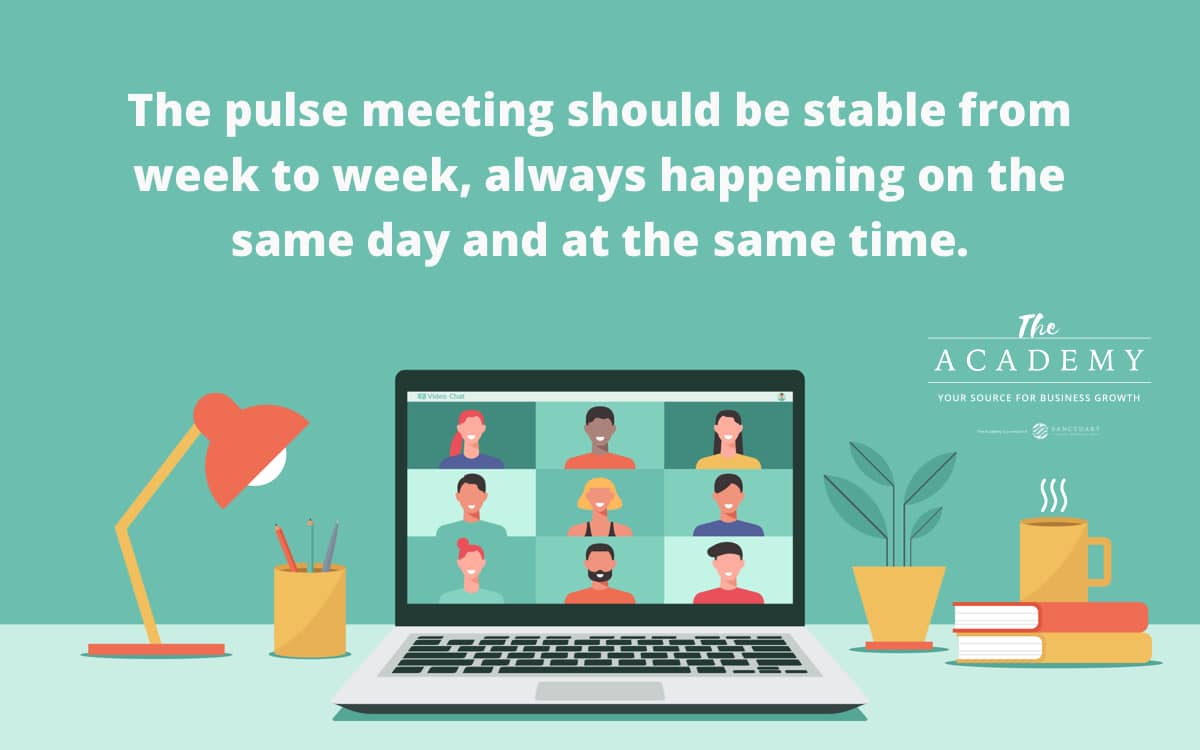 So, what's involved in Weekly Meeting Pulse? Here are the basics:
Ideally, these meetings will last no more than an hour, and 30 minutes would be even better. The amount of time you allocate for the meeting will depend on how many people are involved and how many topics you typically need to discuss
The meeting should be stable from week to week, always happening on the same day and at the same time. Also, the timing of the meeting should be firm, without any delays at the start or end
The primary objective of these kinds of meetings is to solve problems – both those that are already occurring and those that might pop up in the future. Rather than a focus on planning, as was the case with the previous type of weekly meeting we discussed, this meeting will focus on problem-solving and "putting out fires". These kinds of activities are just as important, and having a predictable slot on the calendar where they can be addressed will be good for all involved
For some businesses or departments within those businesses, it will make sense to have this meeting scheduled for late in the day each Friday. For others, doing this first thing Monday morning might be more effective. Work on finding a time that will be as convenient as possible for everyone who needs to attend the meeting, and also pick a location that will make it likely that everyone will attend and be on time. It really is the consistency and predictability of this type of meeting that makes it so effective, so create an environment that will allow it to be as consistent as is reasonably possible. 
As the old saying goes, "the way you spend your days is the way you spend your life". This same concept can be applied to business, as it is the things you do day in and day out that are going to add up to the results you achieve every quarter and year. If you can optimize how time is spent within your organization, with some help from the three habits above, you should find it easier to reach targets and grow the business. Thank you for taking the time to visit and we hope you find success with these concepts.