Search Engine Marketing is the art and craft of positioning a website in the organic (free) search engine listings for a specific keyword or key phrase. You may have heard people mention the term "Search Engine Optimization" or "SEO" which essentially means the same thing. The goal of Search Marketing is to put your business in front of people that are actively searching for your services and that's where Sanctuary Marketing Group can help.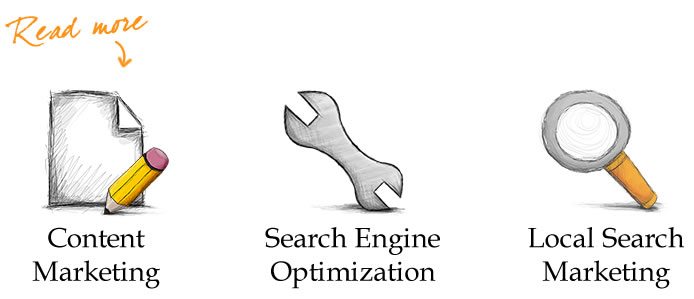 We do this by first establishing a strategy. We need to know your goals and then we work backward from there starting with research. After we have a solid foundation we employ one of the following tactics to get your site to rank in all the possible places and for all the terms that someone might use to find your business. Please read further to learn more about how we can help with local search marketing, content marketing or SEO for your existing website.
Further reading about Search Engine Marketing:
There are many facts that we know about search engine rankings, and based on these facts and our extensive experience, we're able to optimize your website and help you get positioned properly when someone searches for your products and services on the internet. How we get there involves knowledge, experience and a lot of work to reach the top. Our goal is to help our clients get there.
There is one hard and fast rule regarding what search engines like and there's really no magical way around it. Search engines like high quality, relevant content and they like when other relevant, high quality sites link to that content. This is obviously where we focus a lot of our energies but there is a lot more that we do behind the scenes to guarantee that a search engine believes that your content is the most relevant and useful source to return to their visitors.
To learn a little more about the basics of SEO please follow us on our blog or visit some of the direct links below for more information:
What is SEO?
How SEO Works
Why SEO is important for small businesses
How to begin an SEO Campaign
How to create content that will perform well for SEO