We develop internet marketing strategies that return results. How do we do it? What can we do for you? Let us explain…
We all understand the concept of ROI (Return On Investment) and we believe that a website and an ongoing internet marketing campaign is an investment. That investment should continually return results that fulfill your specific business goals. Our services are the building blocks of an effective internet marketing strategy that "works" for your business.
Internet marketing does not have to be complicated and we've narrowed our services down to what we believe are the most effective internet marketing methods available. When you work with one of our consultants we'll talk strategy, we'll talk about your needs and we'll ultimately understand your goals. Then based on those goals we'll combine our services listed below into a plan that fits your budget and sets you on a course to measurable results.
Please click the icons below to read an overview of each of our services and how we can help you take your internet marketing from strategy to success.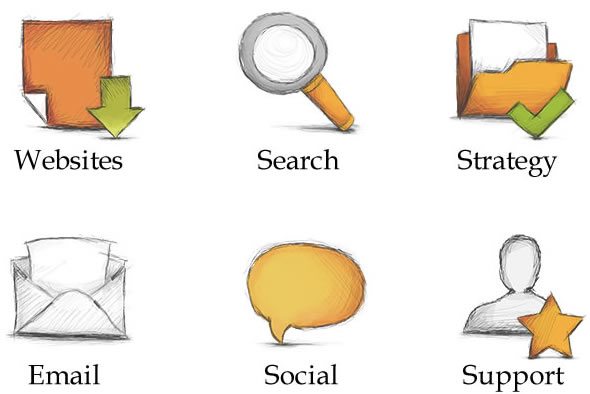 If you are a business owner you should know that 97% of American internet users use search engines to shop online. 78% of Internet users conduct product research online and 93% of consumers world wide use search engines to find and access websites. (NPD Group and Forrester Research)
As a business owner it's critical that you're positioned properly online and actively marketing your business. Today's competitive landscape requires it. It should be well known that attracting visitors to your website is best achieved through top search engine listings (Forrester Research Media Field Study) and staying engaged and top-of-mind with customers through email marketing and social media is extremely affordable and effective.
In 2011, email marketing had an average return on investment of $43.52 for every dollar spent (DMA) and social media is now a powerful opportunity to stay connected to your clients and customers. One in every 9 people on earth is on Facebook and Google+ was the fastest social network to reach 10 million users – It only took 16 days.
Don't miss out on these huge opportunities to actively market your business online. Through national and local search marketing, content marketing, email marketing and social networks you can effectively reach a whole new world of potential business and we can be your guide.
At Sanctuary Marketing Group we specialize in internet marketing – that's all we do. We focus on efficiently turning what can be a time consuming and complicated task into tangible, measurable results for our clients. We allow you to focus on your business and we help you find and stay top-of-mind with your customers and clients online.
If you'd like to schedule a time to talk to one of our internet marketing strategists please use the form in the right column or click here. We look forward to hearing from you and learning more about your business.