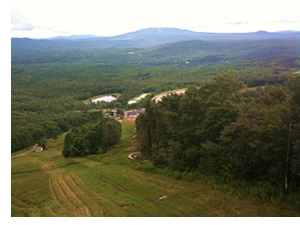 Last week my family and I took a much needed family vacation. We loaded into the car and set off for several random destinations located to our northeast which culminated in our arrival in Vermont at my wife's cousin's house. We visited an old, nostalgic amusement park in Pennsylvania, camped in some cabins in New York for a few days, met a skunk (Ugh…)  and then enjoyed the beauty and comforts that we found in Vermont for a few lazy days. The whole trip was our effort to be creative and experience some different things since our standard vacation is simply to travel south and sit on the beach for a week. We had an amazing time and we considered the trip a great success.
So as I reminisce about our trip, a constant theme runs through our adventures: "Be creative with what you've got". What I mean by this (and how it applies to your business) is that you need to find new and creative ways to be successful. Think outside the box to grow and improve your business and try to utilize the tools that you have available to you already.
Since this blog is about growing your business online through online marketing, a good example would be, well, this blog that you're currently reading. I also utilize Twitter, Facebook, search engine optimization, pay-per-click advertising and many more tools available to me for free. All of these tools require a little effort and creativity but they're affordable ways to market my business online. They just take a little effort and creativity.
See, I come across a lot of people that tell me "I can't afford to market my business online" or "I don't know anything about the internet". Well, that may or may not be true but all I know is that marketing your business online is the most affordable way to grow a business and if you own a business you've already proven that you can learn. You can spend as much or as little as you want and still get results. In the case of the online marketing examples I just gave, you can do it for free if you feel the need. Our trip was a huge success and we had a great time just by trying something different and stepping outside our comfort zone.
Let me give you a couple of other "offline" examples related to our trip that emphasizes how others have stepped outside their comfort zone to improve their business with a little creativity.
The amusement park that we visited in PA called Idlewild is billed as a kids amusement park. It's old but very nostalgic in my opinion. I've heard people say that they didn't like it at all, but I loved it and so did my kids. Well, except for storybook land or whatever that was. Scary. Anyway, what I liked about this park is that they know their place. They've found a niche and they're now considered the #2 kids park in the world. Not bad for an old amusement park. So the point to take away from this is, again, work with what you've got. Idlewild has a couple small roller coasters, the usual amusement park rides, but they've found their niche and they don't try to compete with the big boys. Because of this they're successful.
The next example that I want to give is a place we stopped in Vermont called Bromley Mountain. It's normally a ski resort but since Vermont does have a few sunny summer days, they started to think outside of the box and turn the mountain into a summer fun park. The place would be an amazing destination just to go and stand on top of the mountain but they looked at what they had (nothing but a big grassy mountain and some ski lifts) and succeeded in building a new and exciting destination. They constructed massive 4000 foot slides down the hill, adding a million dollar zip line, huge trampolines, a huge swing contraption – and of course fun bouncy houses and water slides for the kids. It was a blast and it's something that I haven't seen anywhere else.
Anyway, the point of this post is simple. Be creative, try new things, find your niche, use the tools and people that you have available to you and find your way to a larger world of success. Since we're an online marketing company we'd like to help you find affordable ways to step outside your comfort zone and try new things. Please contact us for a free consultation.