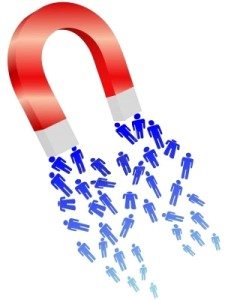 Chances are, you've been hearing a lot about how inbound marketing can increase sales, how important your inbound marketing is…and on and on. The only problem  — you may not know exactly what we mean by 'inbound marketing'. In fact, reading this you may be thinking, "Inbound Marketing. Outbound Marketing. What's the diff'?"
Since all of this is actually quite crucial to your business and digital marketing efforts let us try to explain exactly what we mean when we say "inbound marketing."
Both inbound marketing and outbound marketing are important elements of any business marketing efforts. Outbound has been the more popular among the two, but as consumers become immune to interruption marketing and more attuned to instant gratification and 'on-demand' services, the focus for marketers is now to ATTRACT consumers to your company through search marketing, content marketing and social media.
According to Wikipedia
Inbound marketing is a marketing strategy that focuses on getting found by prospects. This sense is related to relationship marketing and Seth Godin's idea ofpermission marketing. David Meerman Scott recommends[3] that marketers "earn their way in" (via publishing helpful information on a blog etc.) in contrast to outbound marketing where they used to have to "buy, beg, or bug their way in" (via paid advertisements, issuing press releases in the hope they get picked up by the trade press, or paying commissioned sales people, respectively). Brian Halligan, cofounder and CEO of HubSpot, claims[4] he coined the usage of the term in this sense.
Inbound marketing is, in effect, using techniques like SEO, social media & content marketing to attract leads to you instead of hunting down leads. In effect, the goal is to flip polarities so that you become a magnet for people searching for your products & services.
The reason this has become more popular is that people are generally tired of being harassed through email or other methods. A successful inbound marketing campaign means you bring in those potential customers who are interested enough to come to you on their own. Imagine a physical storefront where potential shoppers wander in on their own instead of you bothering them on the street and begging them to come shop at your store.
The Differences
Inbound is also often referred to as attraction marketing because you literally are attracting leads to your blog, site or business. All one has to do is look back to a book from 1999 by Seth Godin titled "Permission Marketing" in which this same idea is studied. Literally, using an approach in which the lead comes to you is less intrusive and bound to be more like asking permission to inform someone about what you have to offer.
You may be wondering what inbound marketing looks like then, as opposed to outbound or interruption marketing. Where outbound marketing is reaching out to people by contacting them through your email list for example, inbound gets potential leads involved. Having a call to action is a great way to create inbound leads. Or if you create a buzz on social networking sites or have a contest in which people participate on their own – these are examples of how to create inbound marketing traffic. Generally, you may use SEO to gain attention, but like everything else with your content marketing and internet marketing, you cannot rely on or focus solely on this.
Why does this work better? Why is the trend to move towards inbound marketing?
The bottom line is that internet users have wised up to a great deal of outbound marketing tactics. While this isn't about tricking potential customers, it is about letting them show interest by coming to you. When consumers think they have found something or stumbled upon a new thing they are much more likely to be interested. With the right approach and techniques, you will even have consumers doing the marketing for you. If someone finds your site, your blog, your product or your brand and wants to share it on Pinterest, LinkedIn, Twitter, Facebook or any other social networking method this does a lot more for attraction marketing as opposed to trying to tell others about your yourself.